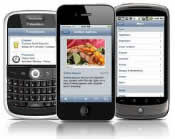 According to the results of Adobe's Mobile Experience Survey done last year consumers prefer using Google to access a mobile website rather than using an app on their phone to make price comparisons, read product reviews and make purchases. A whooping 81% of those doing price comparisons preferred using a mobile website and 79% prefer mobile sites for reading product reviews but just a mere 37% of consumers would be satisfied making purchases using an app on their mobile device. That's why it's more important than ever to offer a mobile version of your website for your customer's use on-the-go.
Google differentiates between a search performed from a desktop or a tablet and a mobile search and returns results accordingly. What happens when you don't have a mobile site for Google to add to its search results? Do you want to risk being left out of the results entirely?
Creating your mobile site not as simple as just banging out a smaller version of your main website or changing the url to something more mobile search friendly. Survey results say that 40% of users would visit your competitor if they did not like the looks or functionality of your mobile site. Mobile website layout and design matters big time and having web professionals make the conversion for you is worth every penny you spend. Give us a call at 866-249-6095 and we'll get your website mobile ready.