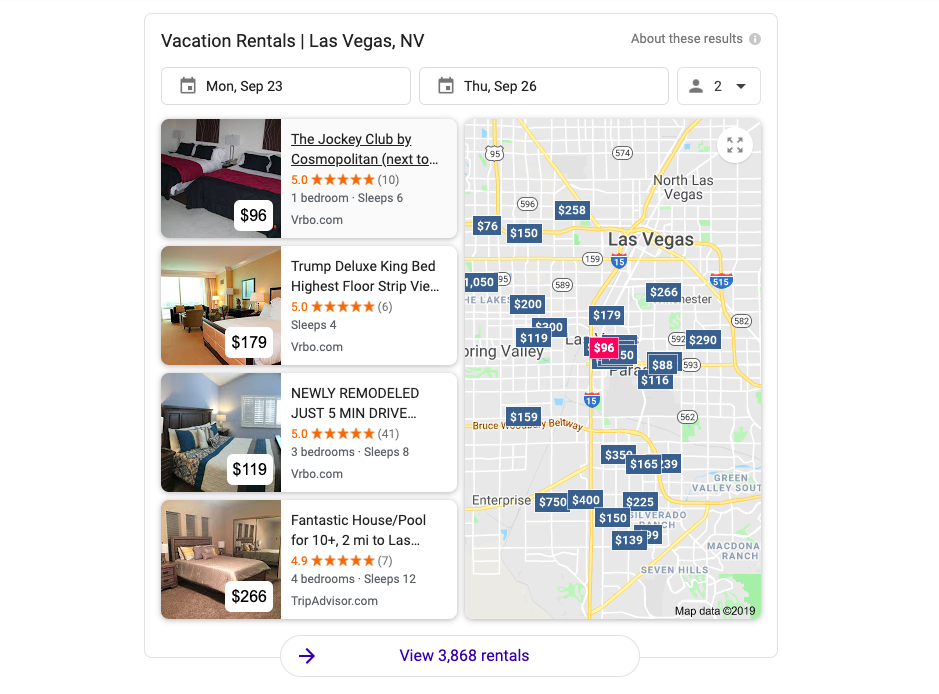 A few weeks ago, Google rolled out their new Vacation Rental Search which they've integrated with Google Hotels. The Vacation Rental Search allows users to browse vacation rentals without the need to ever leave Google.
Much like Google Flights, the Vacation Rental Search enhances user experience by simplifying the booking process. You can now filter vacation rentals by arrival/departure date, number of guests, number of rooms, price, amenities, and guest ratings without ever actually needing to click a website link in Google. Sounds great, right? Well it is… for users… but what exactly does it mean for property managers and vacation rental agencies?
To be frank, this new addition to Google doesn't make things any easier for vacation rental agencies looking to grow their presence in the search results. By no means am I recommending anyone stop SEO or not make further efforts to improve their visibility in Google, but this definitely presents a new challenge.
The reason this is such a concern for local vacation rental agencies is the fact that Google has partnered with the OTAs on this and are only pulling properties from their sites. Let's take the term "Ocean Isle Beach vacation rentals" for example (since OIB is where our office is located). If you check out Google's Vacation Rental Search for that term, you'll find a search results page that looks like it came straight from VRBO's website. That is, until you scroll through the properties and start to find a few others mixed in from RedAwning, Hotels.com, etc: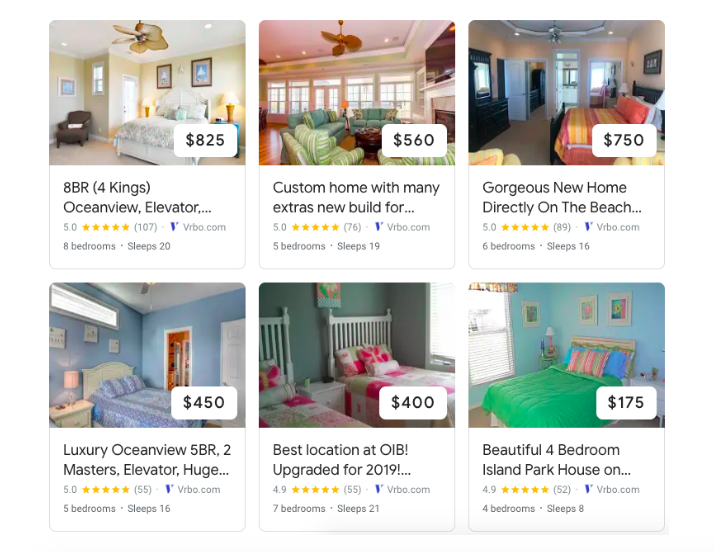 What you won't find are property managers or any Ocean Isle Beach vacation rental agencies, and as of right now, there isn't a way for those companies to get properties into the Vacation Rental Search unless it's through an OTA.
This is a big blow to vacation rental agencies everywhere, especially the ones that outrank the OTAs for their "location + vacation rentals" search. OTAs now have a huge leg up in the battle for organic traffic, even in cases where they rank below the first page for a specific vacation rental keyword.
So what does all of this mean for vacation rental agencies? Who does it affect the most? And what can we do to combat this and minimize the damage?
Below, I'll give my thoughts on the effects this will have, along with some tips you can use to preserve your traffic and bookings.
Who does this impact and how can we compensate for the loss in organic visibility?
This new change is going to affect every company differently; dependent mainly on the company's positions in the search engines. Here are the types of vacation rental agencies that will be impacted the most from the Vacation Rental Search:
Companies that rely heavily on organic traffic and bookings through 'vacation rental' organic searches
If you're a vacation rental agency getting a large share of your traffic from "location + vacation rentals" searches, then you're likely to see a drop in traffic and organic bookings. While you may still have a decent number of users find you in the search results for those vacation rental queries, there are inevitably going to be a large percentage of people who choose to book in the Vacation Rental Search as opposed to scrolling down and selecting a website from the organic results.
To test the impact this has already had on vacation rental agencies, I decided to choose three of our vacation rental sites at random and check Google Search Console to find the number of clicks they were getting for their biggest "location + vacation rental" search query in the first 11 days of the month compared to the 11 days following the launch (Google rolled out the Vacation Rental Search on Aug. 12, so I compared 8/1-8/11 to 8/13-8/23). Here were the results:
Site 1: 43% drop in clicks
Site 2: 53% drop in clicks
Site 3: 8% drop in clicks
Keep in mind, this is only clicks for their "location + vacation rental" search, not their total traffic. But regardless, a 50+% loss in clicks for one of your highest volume keywords is not something anyone wants to see, especially when this is likely to only get worse as Google users become more accustomed to using the Vacation Rental Search.
So what is the best way to combat this? As of right now, the Vacation Rental Search is only appearing for searches that include the words "vacation rentals". If the user making the search leaves out the word "vacation" and only searches "location + rentals", then the Vacation Rental Search will not appear. This could certainly change at some point (and likely will), but as of right now, Google is only tying the Vacation Rental Search to searches that specifically include the word 'vacation'.
For this reason, I would advise optimizing your main landing page for "location + rentals" as opposed to "location + vacation rentals" if the search volume for "location + rentals" is there. You can use a tool like SEMrush to check the search volumes. If the two keyword volumes are similar (which often tends to be the case) or especially if 'rentals' has a higher volume, then it's better to optimize for the "location + rentals" term since that traffic isn't getting eaten into by the Vacation Rental Search.
Another way to fight the OTAs if you're running Adwords is to include copy in your ads that tells users they can save by booking direct and avoiding OTA fees. Continuing to get this point across to guests is ultimately going to be what saves direct bookings going forward.

Property managers and vacation rental agencies that were receiving a high amount of traffic from the "location + vacation rentals" search's map pack
If you were one of the companies that showed up near the top of the map pack for your "location + vacation rentals" search, then chances are you were getting a lot of traffic from that listing, which you will no longer see (unless Google decides to find a way to incorporate the map pack back into the search results page). This especially hurts those of you who ranked in the top 3 in the map pack but didn't rank on the first page in the organic listings. The map pack was likely a large percentage of your organic traffic for that search term.
So what can we do about this? Honestly, there really isn't a way to get back that map pack traffic now that the map pack is gone. You should continue to see traffic to your Google business listing in the "location + rentals" search if you also ranked in that search's map pack, but unfortunately, the traffic from your business listing on "location + vacation rentals" just went out the door with the loss of the map pack…

Vacation rental agencies with a brand name that is an exact match to the "location + vacation rentals" term
These are going to be the companies that get hit the hardest. What may have been a good idea from an SEO standpoint years ago when these companies were choosing their brand name has now come back to bite them. If you're one of these property managers or agencies whose brand name exactly matches a vacation rental search term (i.e: your brand name is Ocean Isle Beach Vacation Rentals), then it's likely you have a strong presence in the organic search results and also had one in the map pack. If so, the Vacation Rental Search is going to hurt your organic search result traffic and kill your map pack traffic. What's even worse is the Vacation Rental Search just made it almost impossible for previous and potential guests to find your Google business listing if they're looking to read or leave reviews.
If you find yourself in this position, it's critical that you are providing your guests with a link to leave you a Google review. Otherwise, there's a good chance your most recent review will be your last. Whereas companies who don't have an exact match brand name can still easily be found when a user searches their name, you will be much harder to find since a user is going to get the Vacation Rental Search when they search for you.
Even though your reviews are now practically hidden from people who want to read them, it's still important for the sake of your company to give guests a way to leave them so that you can continue to receive feedback about your business.
Here are a few simple steps to get your review link to your guests:
The first step is to copy the URL from your Google listing. The best way to find this if you're in this situation is to click 'View on Search' under the Info tab in Google My Business.
From here you can shorten your link using a website such as bit.ly or by redirecting a URL from your site such as yourdomain/review to your Google review page.
You'll then want to provide your link to your guests via email, postcards, or using Google Merchants to send your guests a Google Review survey which they can opt to receive if they'd like to leave a review.
It is also important to have a strong branded campaign if you're using Adwords so that the guests that are looking for you can still find you. You'll want to heavily target your brand name keyword to make sure you aren't losing people who are specifically looking for you to OTAs in the Vacation Rental Search.
I would also recommend implementing the Seller Ratings Ad Extension on your ads if you have over one hundred Google reviews (you can't implement it if you have less). This is going to provide you a good way to still show off your Google rating since your business listing is going to be so hard to find.

Who This Can Actually Help
Believe it or not, there's going to be companies that benefit from this change.

If you're a vacation rental agency with very little organic presence but list your properties through VRBO, Expedia, etc., then there's a good chance you'll actually benefit from the Vacation Rental Search. It isn't going to help bring any more traffic to your site or get you any more direct bookings, but it's very likely it will drive more bookings through the OTAs. If this is already the main source of your bookings, then you may be well on your way to the best year you've ever had.

Going Forward
This isn't the first time Google has thrown a curveball and it won't be the last. I don't see this new Vacation Rental Search as a reason to panic, just an obstacle to overcome.

So make any necessary tweaks to your SEO and Adwords campaigns, and continue on as normal. Google is constantly testing new ideas, and it's possible this is nothing more than an experiment that Google decides to do away with.
To stay up-to-date on the Vacation Rental Search and all things digital marketing as they pertain to the vacation industry, be sure to check out our Vacation Rental Marketing Podcast on iTunes and Google Play Music.