The word is out – ICND has been traveling across the country with our partners for vacation rental seminars but some of you might be left wondering: What exactly is Beers & Idears? We sat down with Director of Sales & Marketing, Vanessa Humes, to answer all of your questions.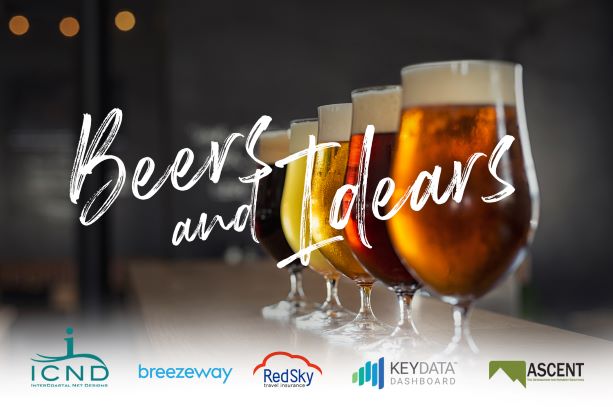 Q: Tell us about Beers & Idears.
VH: Beers and Idears is a great way to get together with VRM's in a close knit market, infuse some networking and education, build relationships, and have some fun. You learn a lot about the area's pain points and concerns and all come together with ideas to solve them. There is a tremendous amount of need in every market for a company to come in and do a good job of what they say they are going to do. I feel like this group of vendors does that well and why we decided to partner together. Vacation Rental Managers are looking for a one-stop-shop and we've basically put together a mall for them to go talk to vendors that enhance their business outside of property management software (which we know is the 800 lb elephant). We work with pretty much any property management software to do things better or implement unique functionality not offered by your PMS. Not only is it a lot of useful information you can go back and immediately put into play in your own business, it's also a lot of fun and laughs by the end. Some come early to learn and stay late to play!
Q: Who are the partners?
VH: We've partnered with other independently-owned, like-minded companies in the Vacation Rental space. Along with ICND, we have Ascent Processing, Breezeway, KeyData Dashboard & RedSky Travel Insurance. We're pretty much like family at this point! Read more about our partners here. Each one offers insights about their specific product or service. All of these companies have a ton of years in the industry. We've seen it grow and we've adapted as VR companies have had to adapt and we will continue to grow.
Q: What are the takeaways for Vacation Rental companies?
VH: You've got a lot of vendors that care about this industry and making sure you have an outside perspective to know what to expect from the best.  Whether it's what you should expect from your travel insurance company, the latest technologies in guest payments, the importance of data in making sound business decisions, or what features and functionality will push a shopper into a booker on your website, you are in front of some brilliant companies who have your best interests in mind.
Q: How was the idea of these educational seminars born?
VH: A lot happened back in the fall of 2014: I had my third child, we hired April Burns, we had a kick-ass booking engine, and we had a lot of energy to put our ideas into motion. So on the cusp of going out to San Diego for VRMA (which I missed because I was on maternity leave and April was too new to be thrown to the wolves, by the way she now leads the pack at these conferences) we tried to figure out how we could get VRMs together to network and we could share our ideas. So we called it Beers and Idears. When RedSky and the others approached us to put together a "Road Show" we thought it was great timing to pull that back in.
Q: Where are you most excited to travel to next with Beers & Idears?
VH: Hawaii. It's on my bucket list to visit personally, a challenge on my fear of flying list, and a tremendous opportunity for us to show the commitment we have to servicing our friends in the islands.
Q: What excites you most about Beers & Idears?
VH: I love being in-market and building relationships. You learn so much about a destination when you are on the turf talking one on one with different companies. I have a passion for educating VR Marketers and Managers about the importance of direct bookings and the ever changing, ever evolving strategies to achieve that. I know ICND is the best at it. If we weren't, our competitors wouldn't be adopting our tagline of being "conversion focused" or emulating our innovative website features. That may sound conceited, but people who know me know that I give you straight-up, candid answers. ICND isn't looking to bring on a million customers and get bought out by VC groups. We want to be the best provider and work with the best VR companies around the country and around the globe.