Nothing. Let that baby ride.
…I'm joking. Unless you're 100% content with the traffic and revenue you're bringing in at #1 (and don't really care if you get passed for that position in the future), then that's not the approach we'd recommend when it comes to your SEO.
There are quite a few things you can still be doing to improve your site, bring in more organic traffic, and help you maintain that #1 ranking.
The Value of Ranking #1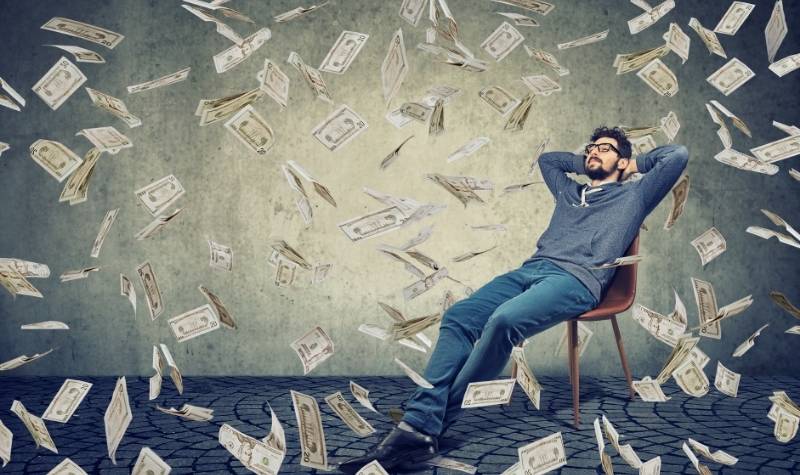 Once you're able to pull it off, getting to the top spot of Google for a main target keyword can be completely life-changing for a business. According to a study done by Backlinko analyzing over 5 million search results, the #1 result for any particular search gets an average of 31.7% of all clicks for that search. Compare this to 24.7% for #2, 18.7% for #3, and significantly less for each position the further you move down the page.
Just think about that for a second. If you move up just one spot from #2 to #1, you're looking at an average of a 28% increase from the number of clicks you were getting at #2. If you move from #3 to #1, you're looking at an average increase of almost 70% more clicks than you were getting at #3.
If organic traffic is a major source of your revenue, then just from moving from #3 to #1, your business could be making 50+% more money from that keyword you moved up for. That's how massive of a difference it can make when you get to #1.
But once all of the hard work pays off and you finally see yourself sitting up there as king of the SERP, it often leaves the question: Now what? Do I just leave the page that's ranking alone so I don't mess anything up or do I keep trying to make it better?
To Change or Not to Change?
It's a valid question and one that in some cases can be argued both ways. But nine times out of ten, the best move is to keep making positive SEO changes.
You do have to be much more careful about how you go about things when you rank at the top. When you rank #25, you can go to town changing the entire ranking page and not worry too much about your ranking dropping. When you rank #1 though, changing the ranking page can feel more like playing Operation.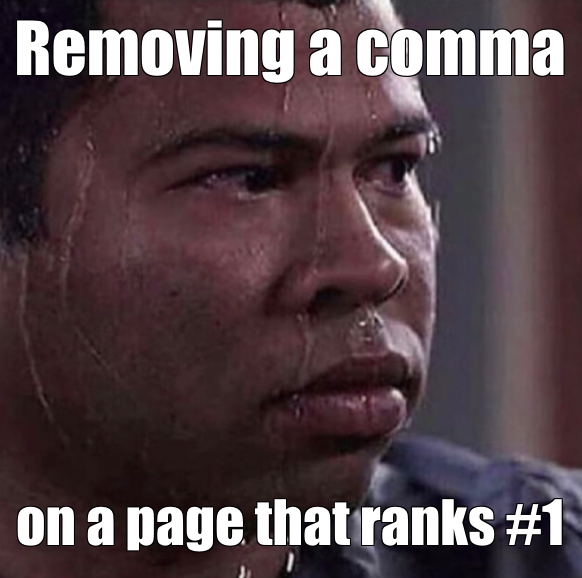 You definitely don't want to do anything drastic to the page that ranks. You can change the design of the page to make it more user friendly, add text (as long as it's optimized and relevant), and add elements such as calls-to-action. What I wouldn't do is remove any content or change your H1 or title tag unless you're sure it's an improvement over what you have now.
In other words, since that's your #1 ranking page and probably the one making you the most money, think about ways you can improve the design and usability of the page to increase the amount of revenue it's generating. Also, think about more long-tail keywords you can naturally incorporate into the text to help it rank for more terms. But since Google clearly likes all of the SEO content (text, images, meta, etc) that's currently on the page, it's best to only build upon it and not to take away from it unless you just absolutely have to.
Safe SEO
Now here's where you can really be improving your SEO without having to worry too much about messing up your #1 ranking.
Backlinks
The safest way you can improve on the SEO of a page that ranks #1 is to get more high quality links to it.
One of the perks to being at the top of the SERP is that you're usually going to naturally get backlinks. Webmasters or bloggers that want to provide their users with a resourceful link on a topic and are too lazy to go through all the search results will usually just pick the first one on the SERP to link to. So if you're at the top, then you're in luck.
But alongside those naturally incoming links you might be getting, you can be building additional links to your site from other quality websites. There are multiple ways to do this, but simply reaching out to a webmaster to ask how you can get a backlink from their website can be the best place to start. If you want to see which sites are high quality, Ahrefs is a helpful tool that gives sites a domain rating of 1-100 based on the site's backlink authority.
As long as the links you're building are high quality, then you don't have much to worry about as far as hurting your ranking. You're only going to solidify yourself in that top spot.
Content Building
Another safe strategy is creating additional content related to your main ranking page and linking to your ranking page from it.
Let's say your main rental results page is ranking #1 for the term "[your destination] vacation rentals", and you want to do your due diligence to keep that ranking instead of just doing nothing and hoping it sticks. You can build out other pages or blog posts related to vacation rentals in your area and link to the main results page from it.
Not only can you rank for other related keywords and funnel that traffic to your main ranking page, but you will also build up more authority in the eyes of Google by continuing to establish your site as more and more of a valuable resource on the topic of your niche.
---
Hopefully this helps if you're struggling to figure out what to do when you're at the top or wondering whether or not you should keep paying for SEO.
If you're a vacation rental company that's struggling to get to #1 or wants help staying there, feel free to contact us to see how we can help you achieve your goal.