I've seen it more than I like. It eats at me. Annoys me. It even makes me internally "eye roll". But yet, the dark cloud surrounding SEO triggers fear in website owners, especially when tools like SEM Rush or Moz spit out audit reports that have thousands of errors. These tools are NOT how you do vacation rental SEO. They are merely helpful guides.
"Oh geeze, my website is so messed up! I'm going to lose my ranking because this tool is reporting I have 422 title tags that are too long and my page speed score is a C-!" Nope, not the case.
ICND builds custom vacation rental websites (and also provides vacation rental marketing services). These aren't your out-of-the box WordPress websites. The code housed in these bad boys encompasses YEARS worth of custom programming work that is always evolving and pivoting to not only create the best USER experience, but to also help Google make up its mind on which website is the "best" and rank it better.
Personally, I build my first website 26 years ago. And I've been doing SEO for 20 of those. I ranked my first website on YAHOO! Google didn't even exist at the time! Needless to say, I've watched it evolve and grow. Ranking websites USED to be easy, but now, not so much.
The Wool Over Your Eyes
Before I get too deep into the ins and outs of proper SEO for vacation rentals, I wanted to point out this is an industry-wide digital marketing company 'tactic' to make you think you are not doing well. I don't care if you rank #1 for every term, you WILL be getting a spam email saying "we can increase you visibility, here is why your website sucks." Gee, here is one now.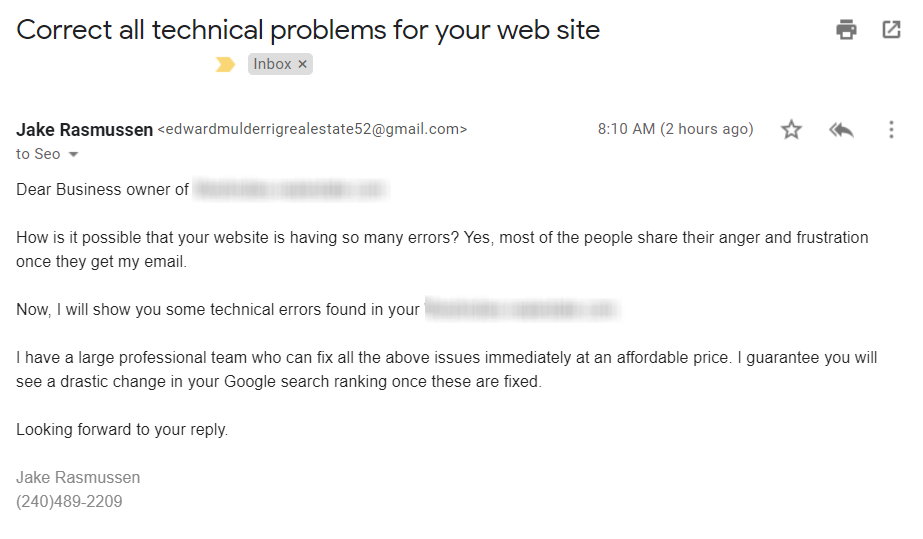 The Problem With SEO Audit Tools
These SEO tools we use are, lets face it, completely awesome. They are downright packed with features and sub-tools that give us insights on every little detail on your website itself, the potential traffic, keywords people type into google, the average cost for those keywords, local citation audits, the best performing page, the links from other websites to those pages, and the list goes on and on.
The major gripe I have, however, are the Audit sub-tools that are provided. They are scary and scream importance if you don't truly understand what you are looking at. Don't get me wrong, the tools, again, are just downright cool, and helpful. However, think about this. I've never driven an Indy car before. Do you think I am going to know how outrace a professional Indy car driver first time?
Same principle. But let me explain.
We receive these site audits on a regular basis from competing companies and property managers. Nine times out of 10, they are accompanied by a single phrase. "Can you fix these?" Of course, it's a big long list of issues that focus on SEO "Best Practices". Let me specify. These are not SEO "Improvements", these are SEO best practices!
I'll grab a few of these errors here and just break 'em down.
122 Redirect Chains Or Loops – Redirect chains are when a URL (website page) hops from one URL to another to another. While the user is unaware, spiders like Google (and the server) are noticing. Each hop slows down the final page load speed by … a fraction of a second, if that. Is it noticeable to the user? Nope. (Especially if it's done in the htaccess file like we do it.) But wait! There's more. John Mueller FROM GOOGLE even said hops don't matter as long as you keep it under 5 (which its pretty rare). And then what about passing "Page Rank"? Nope, not an issue either. Mueller says "For the most part that is not a problem. We can forward PageRank through 301 and 302 redirects" according to this article.
Your Title Tag Is Too Long – Completely subjective! Title tags are what appear in Google when you google something. You know, the blue text that you click on when you want to visit a website. That's the title tag. The length itself goes by pixel size (not letter count). We have probably ALL seen title tags "cut off" before with … after them.

Of course, this looks tacky. However, the debate has always been that Google doesn't "read" or "emphasize importance" to words that appear after that. Not the case. Even though they aren't shown, doesn't mean they aren't judged as part of the algorithm in ranking! Yea, I have an article for that too if you don't believe me. The saddest part is every audit tool has a different suggestion for length! Unfortunately, when we get passed site audits and told to "fix the issues", by doing so, you could actually be HURTING your SEO since we need to remove words just so you can get a good grade in class! These titles need to be looked at by a professional, on a case by case basis.
Your Pages(s) Are Too Slow – Oh page speed. The hottest topic since sliced cranberry sauce. Let me preface. When an audit tool looks at your website, it goes page by page by page by page by page, one page at at time, by page, by page and looks at every single one of these pages. It's a resource hog. When it crawls thousands of pages, and there are thousands of people accessing those pages thousands of times on a server, then yes, there are going to be a few pages here and there that the crawler gets hung up on from time to time. I can almost guarantee you the next time you run that audit, those pages won't show up. Nature of the beast. BUT, while we are on the topic of page speed, I will say this. These Page Speed Analysis tools like Google Page Speed Insights and GTMetrics work on "best practice scenarios" and give you scores based on what "cutting edge" technologies you are implementing. I bet you didn't know that we once raised a page speed score to 96 for mobile and 97 for desktop on a site, but the site actually loaded an average of 1.2 seconds SLOWER than before we started messing with it. Always test your website with humans, and use the tools as guides. Again, leaving you with this article about not trusting page speed tools.
This list can go on and on, but you get my point.
'Wait, So I Shouldn't Worry About These SEO Audit Tools'?
Of course you should! All of these issues SHOULD be fixed, but it's up to experienced SEO strategists in the vacation rental space to decide the priority of the fixes.
Our own Digital Marketing Specialist, Mike Doute, said it best.
You don't hire a hammer to build a house, you hire a builder who knows how to use one!

– Mike Doute
Let me give you a prime example. Here is an audit score for one of our websites in all it's ugly glory.

Why would I even show you this? Because this website with all it's "errors" and issues is one of the highest ranking websites in our arsenal for a very highly competitive area. It not only ranks in the top 3 positions for the destination itself (many #1 rankings), but also ranks for individual communities, condo complexes and other areas — aka, the money keywords as we call them.
Why? Our focus (and Google's focus) is about three things. a) quality user experience b) quality and well optimized content/on-page SEO c) backlinks.
Did you know, when we provide a marketing proposal, it is extremely rare we provide an audit from these audit tools? Why? That's not the important stuff!
An Experienced SEO Professional is No Match for An Audit Tool
The errors, warnings and notices in this report do, and will be fixed. They are important! We've already looked through them, found the most important, fixed those, and moved on for now. (And FYI, we also have clients with scores in the high 90's that don't rank as well.) These tools ARE great at finding things the human eye doesn't necessarily catch. However, with the years of experience we have under our belts, we know the priority and the major things that make an impact with ranking a website with PROPER vacation rental SEO.
If your agency is just providing you site audits and pointing out technical items that need to be fixed right out of the gate, that's the lazy way of doing it.

-Me, I said this.
We've seen through experience that Google is able to decide what pages are important, what duplicate titles are winning, and pick up duplicate redundant pages. These algorithms are smart enough to "look past the errors" (for the most part) and figure out if your site is worthy to a USER. To really ice the cake, you are also paying them to perform the audit AND then paying us to fix these items — and as I said before, some of which should not even be a priority!
Good SEO specialists rely on industry news, the latest trends, and most of all, their experience to obtain rankings. Bad SEO specialists primarily rely on audit tools and large scary audit number scare tactics.
We are the Indy car drivers. We have that experience.