As a Vacation Rental Management Company, it's all about targeting the most qualified leads and nurturing a lasting relationship through social media so that they remember you next time they go on vacation.  So there are two parts to this:
Finding Targeted Twitter Users &
Nurturing the relationship to stay top of mind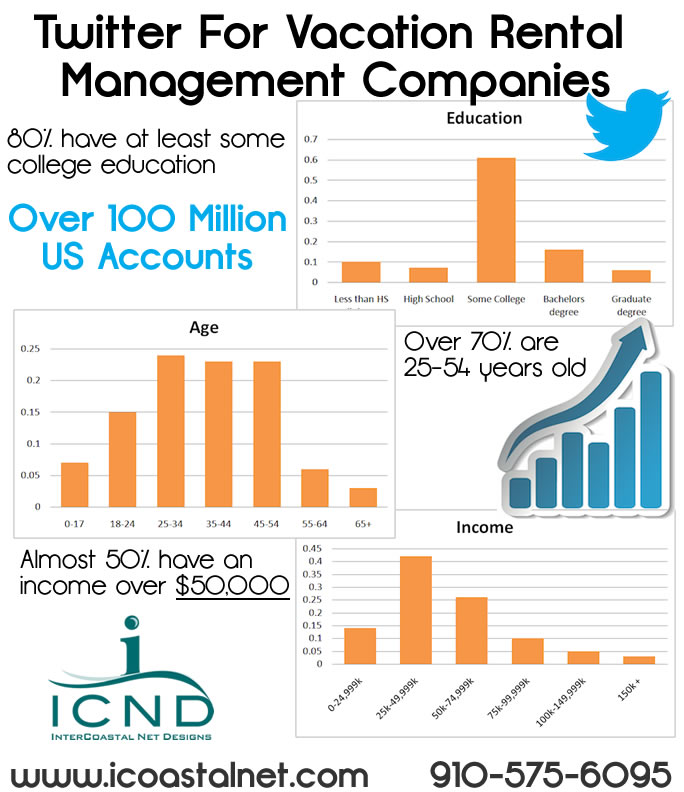 HOW do you find targeted users on Twitter?  What if I told you that at InterCoastal Net Designs, we could target:
Everyone who lives within a 25 mile radius of your top 5-10 geographic markets?
Anyone who tweeted a specific keyword like "vacation" or "your vacation area"
Everyone your competitors are following
Everyone following your competitors
Users who have a specific keyword in their profile
And MUCH MORE!
* Quality is more important than quantity, but wouldn't you prefer to have thousands of highly qualified followers on Twitter?
Next, how do you nurture these followers and stay top of mind. This can take a lot of time to leave updates, interact with them and keep your updates relevant to their interests. This is where ICND can really propel your social media to the next level. By allowing ICND to take on this burden and free you up to do what you love and do best; we can leverage our expertise using strategic methods to posting effectively, at the right time of day, using hashtags, etc… We will create daily updates to post and interact with users mentioning your business on Twitter.
Contact the ICND team today to learn more about
Vacation Rental Internet Marketing
and how we can help you leverage this powerful social media platform to bring in sales for your
Vacation Rental Management Company!
Few Quick Stats: