Do you find your website generating a large volume of traffic but not yielding enough conversions? This is one of the many challenges many vacation rental managers face when it comes to their digital marketing success. Identifying the potential causes of failing to convert those lookers into bookers is the first step into solving this very common problem.
Can you answer these questions that as a marketer or manager should be able to answer?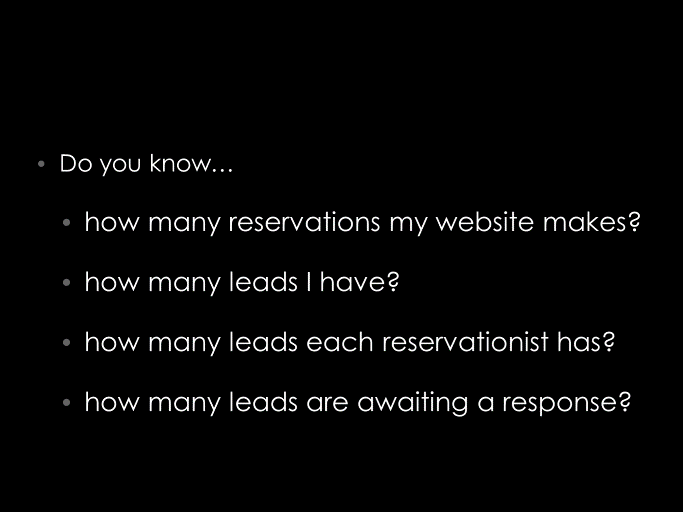 Think about your online conversion rate.  If you get 1,000 visitors to your website a day, but only convert 2% that's 20 reservations.  But what if you could increase that percentage to 10%?  That's 80 more reservations a day you are making online.  This is why website conversion optimization is so important.  We want you to increase your traffic, but we want you to also focus on converting a higher percentage of that traffic.  That's where the real money is.
It's important that you have a team that knows what they are doing: where to put things, how to word things, what color to make calls to action.  What makes a person go or stop, and how to funnel traffic throughout your website.  That's what we specialize in Conversion Focused websites.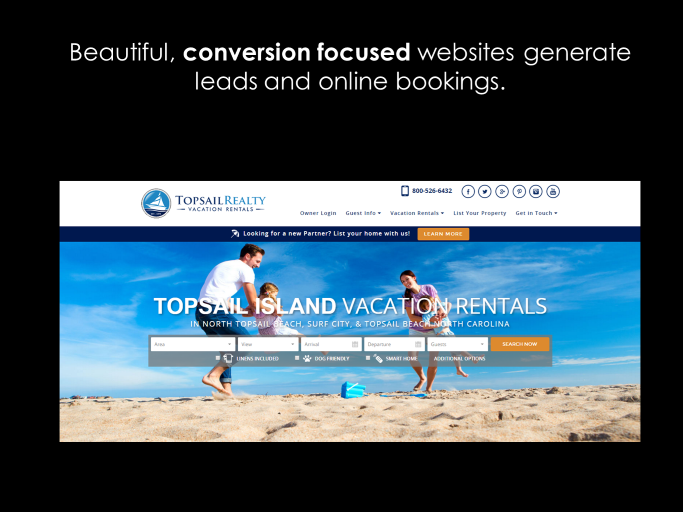 The Top Conversion Tactics
Conversion Tactic #1: Make it Mobile!
It's really important visitors can navigate your site from any mobile or desktop device.  Most people are shopping on mobile devices and make their purchases on a desktop.  This is the same with travel purchases. But mobile conversions are on the rise, so you need to be thinking about your mobile architecture and usability for mobile navigation.Incorporate marketing – people open their email, see start shopping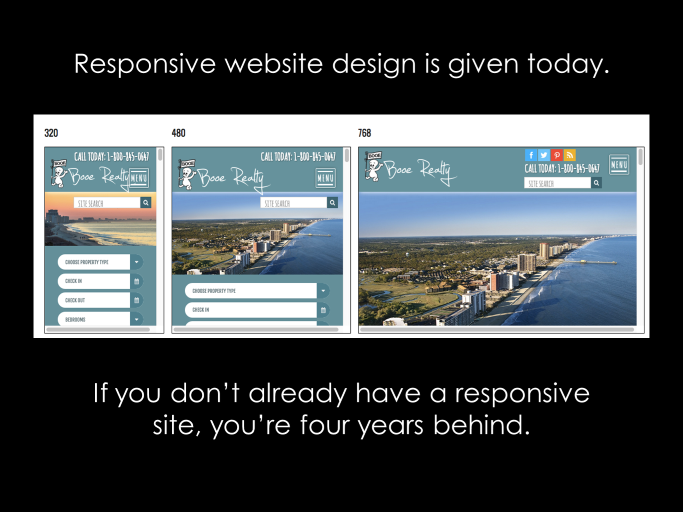 For 30% mobile 80% bookings come from desktop.Mobile traffic is up 200% in the past few years.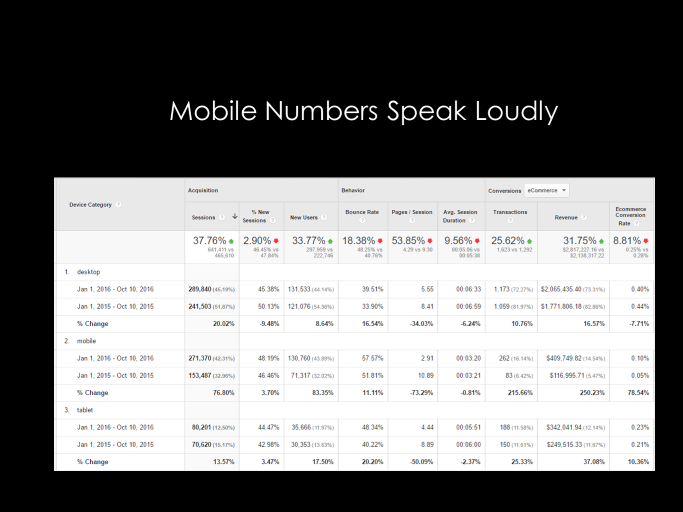 Conversion Tactic #2: Up Your Elements
So let's talk about some of those elements that help funnel your traffic.  One of the most important things it to make sure your quick search is above the fold.  Use cool verbiage in your calls to action, like "Begin Your Adventure" rather than just "Start  your Search".  Use brighter colors to call their focus for book now.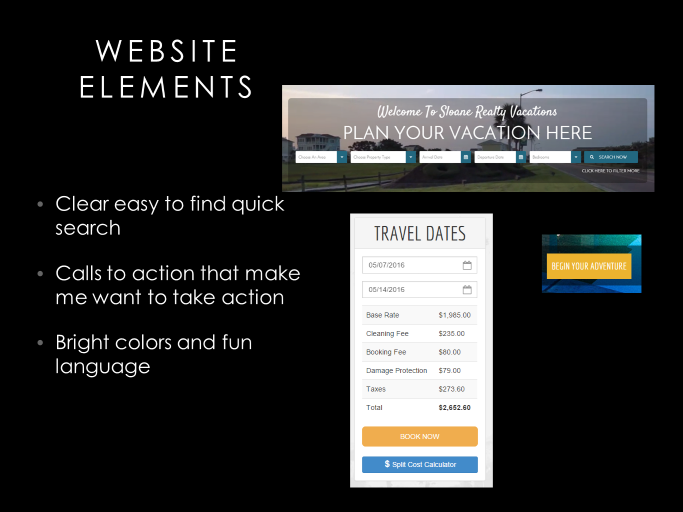 It's online marketing's job to get traffic to your site, but it's usability and functionality that uses some psychology to make them book.  This is a screen shot of our booking engine.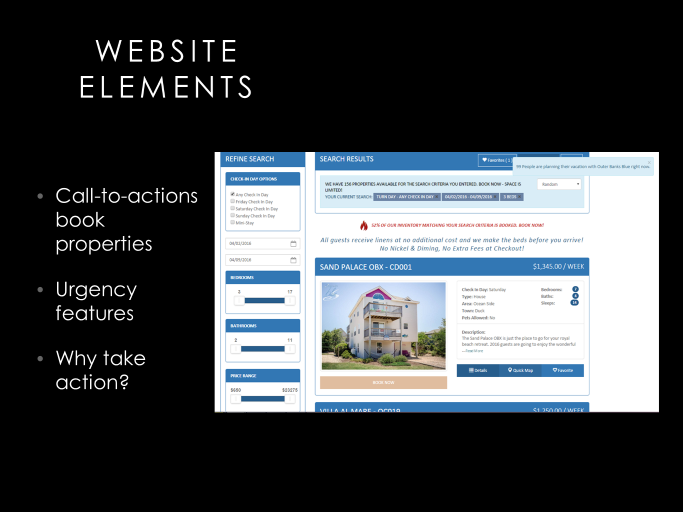 The visitor has landed on the website and began to search.  They could be shopping around for price and availability.  We've incorporated urgency into our booking engine.  We show that search has only produced X amount of properties, or 82% of our inventory matching your search results is booked, reserve now, or showing that 22 people have viewed this property in the last 3 hours.  These elements show the visitor, they need to take action before their selection is gone.
Conversion Tactic #3: Make It Easy!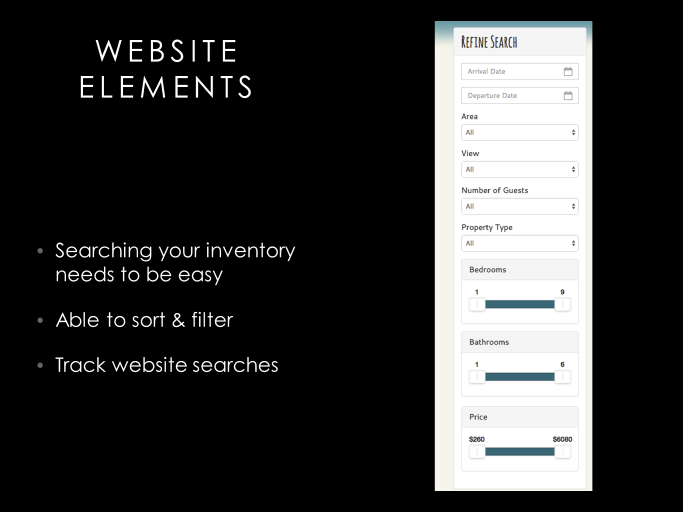 In order to find a property, you've got to have the tools to help them.  Having a refine search with popular features is necessary for your visitors to drill down and find the perfect property.  If you're a hotel, this maybe different for you, you only have a couple room types, but making it easy for them to find those room types, pricing, and ability to book them.
Then you want to make sure you are tracking our searches.  What are your most popular arrival dates?  What is the average length of stay people are searching for?  Do you have a lot of people looking for something that is pet friendly, but only a handful of pet friendly properties.  This could open up opportunities for you to expand your inventory.  Let's say you get a lot of people searching for 3 BR oceanfront at the <xxx> Resort, but you only have 1.  This could be an opportunity to market to owners there telling them you have the demand, but you need more supply.  Having tangible results from actual searches performed on your website could be a powerful tool to potential owners – especially with the analytics to back it up.
Conversion Tactic #4: Focus on the Booking Page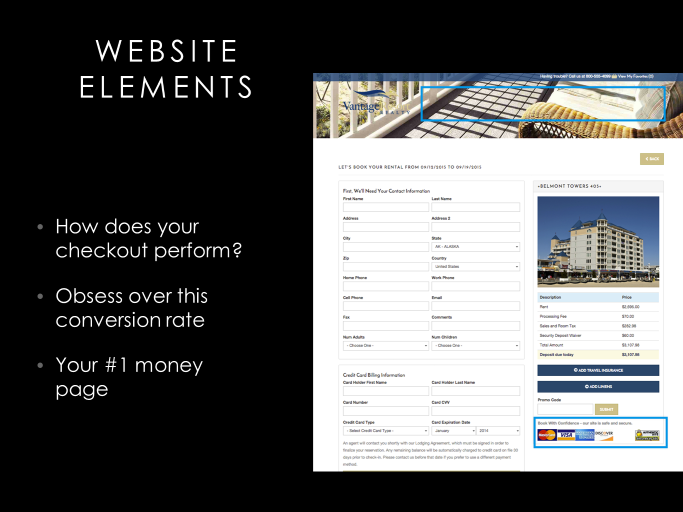 Take a look at your conversion rates from your check out pages.  This is probably one of the most important pages.  You work so hard to get a visitor there.  Obsess over this rate.  We pay so much attention to the pretty pictures and design, and you may think this is just a standard form.  It's not.  We've learned from improving our clients check out pages and also from looking at what the big dogs do –
strip out your navigation,
make the form easy to fill out and fit on one page,
and easy to fill out on a mobile device
have your totals adjust as they add on or opt-out of things like travel insurance
make sure they know it's secure, and make sure it's simple.
Conversion Tactic #5: Watch the Users and Adapt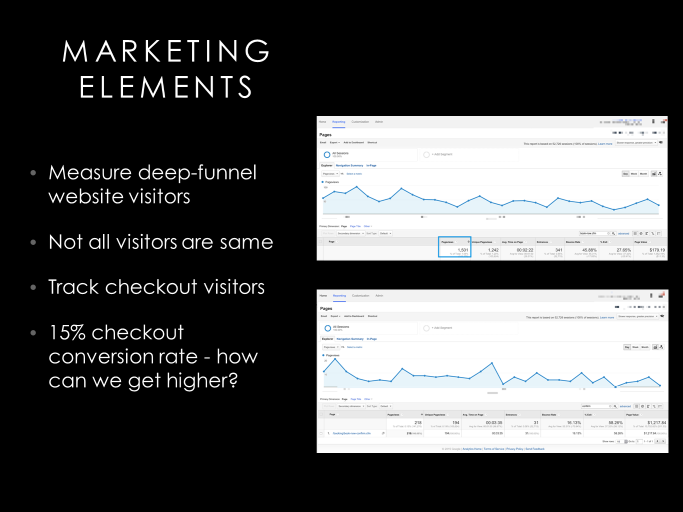 Navis is going to tell you a lot about what happens to a lead after they've made contact with you or booked, but if they didn't get there –say they landed on your website and bounced or exited before booking or making contact, you have to take a look at your funnels in Google Analytics.  This is going to be going in and looking at your pages, page views, and conversions from those pages.
Say they land on your specials page, but don't know how to execute the special.  Well it can result in an exit rather than a booking.  If you see high bounce or exit rates on your pages at any point in your funnel, you are going to want to drill down and figure out why.  You can install more tracking through Crazy Egg heat mapping or watch video clips of visitors looking at your site and what they are doing.  This going to tell if your visitors are getting lost, if they are backing out at the check out pages, or trying things that will help with conversions.  Maybe it's a call to action, maybe your promo code field is not visible, you have to dig in and see what visitors are doing to help make changes to your funnel.
Final Converting Thoughts
"Beautiful websites don't generate leads". There are a ton of fantastic web designers out there that can create a great and beautiful website, but they may not be centered around conversions. We like to call those websites "All flash and no cash". When you go with ICND,  you are choosing a company that has researched and implemented the elements that will help you increase you conversion rates.