ICND team members Brandon Sauls and David Hutnik were recently selected to speak at the Vacation Rental Managers Association (VRMA) Annual Conference in Nashville Tennessee this past October 2013. As one of the leading Internet Marketing and Web Design Companies in the industry, we thought; what better topic than to teach industry professionals how to, "Leverage Social Media Like A Pro."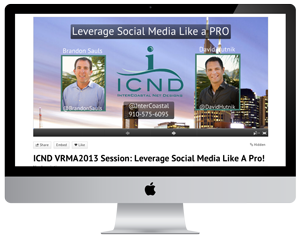 We wanted to deliver a session that was extremely useful to the audience with key takeaways they could actually use when they left the conference. We decided on the following five key topics to talk on:
Optimization of Social Media Profiles
The Anatomy of a Perfect Facebook Post
How to Run a Successful Contest For Massive Growth
Twitter Targeting – A How To and Explanation of What You Can Do
SEO Implications of Google+ and How It Affects Your Business
You can download the actual presentation that we gave for FREE right here on our VRMA Nashville Event Page
We also had a very useful handout for the attendees. Contact us here, provide your mailing address and we can send you a copy of it. You can see both sides of the handout below.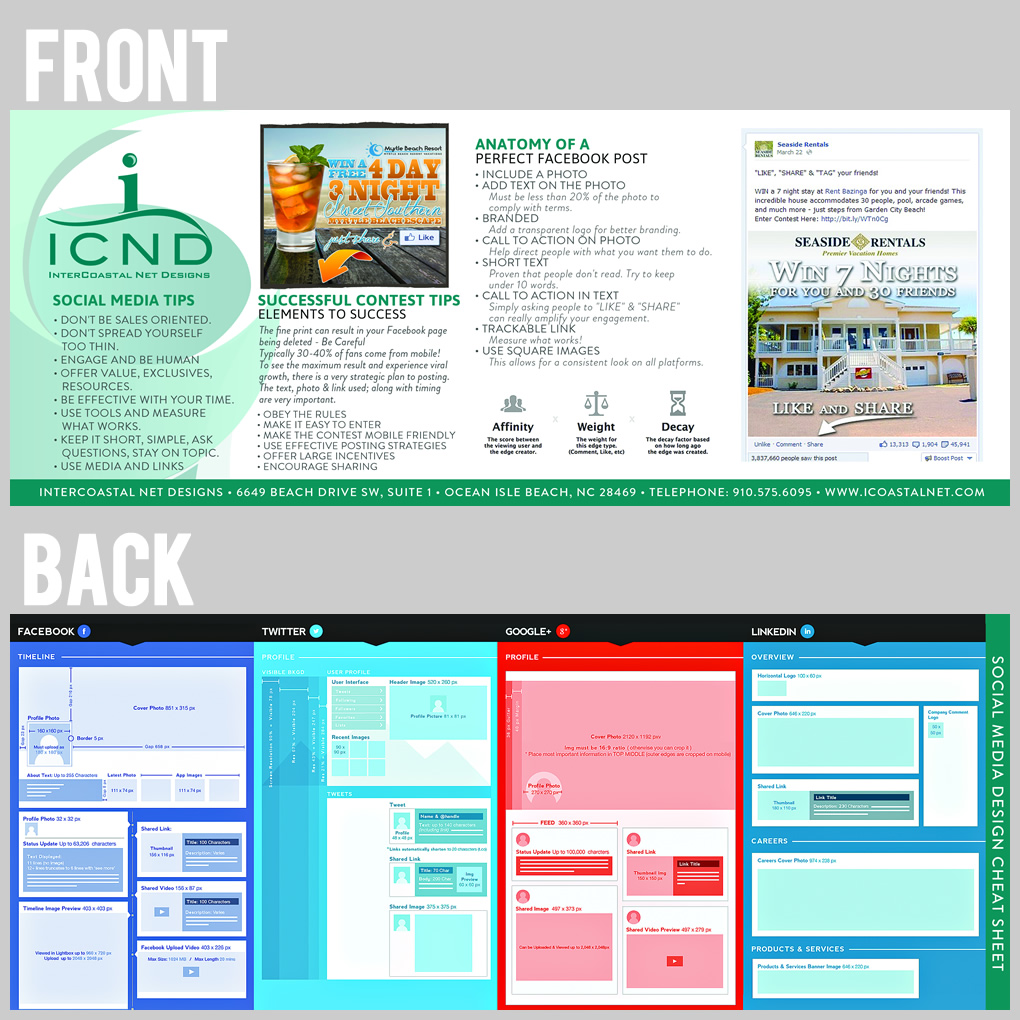 How did the audience respond?  Here is the feedback that they gave:
NFO – great to learn about. Like we can download power point.
Best section so far. should have wi-fi next time.  A little too fast.
This was the most informative session – thank you!
Very good. Would come back to them.
Excellent presentation! Great material & detailed!
Excellent but too short! Need more SEO & social classes
Lots of great information. thank you for the post card cheat sheet!
Most sessions have been weak but this was stronger and well done.  the marketing sessions seem to be done by the vendors regardless of their presnetation skill level.  I attend conferences for the education and encourage VRMA to set the bar higher.  This Tues 11 am social media session is a good example of how they all should be done.
Only ones who handed out a flyer.
Thanks for focusing on the how and not completely on why
Awesome presentation – interactive & informative. Want to hear more!
Excellent presentation & info.
Fantastic valuable information! Needed another hour!!!
Awesome!
Really fabulous – very knowledgeable & energetic
Awesome! thank you
Best presentation here & great materials
Best presentation thus far – great info
Need to give them more time
thank you!
Nothing on SEO & whether or not it is worth paying for.
Great speakers with very useful information.
Excellent – need to do more workshops to have more time on the more "parts" of social media. Bring them back!!
Fantastic coverage and depth in short window deserving of larger window.
Come back to present at VRMA
want even more – great job!
Very good – could have used another hour of this 🙂
Very fast & dense info. wish they were all like this.
Excellent content well presented. Room was very tight for attedees. The presenters will hopefully come back with expanded material next year.
The best so far!
Excellent content. Should be a two part session, could have taken more time.
Best class and good resources!! Needs to be a 2 session class. Very informative.
Would you like to hear ICND speak at a future conference you're attending? Let us know what topics you'd like to hear from us and what annual conferences you attend in the comments section below.