There's a couple of essentials every page of a website needs in order for those pages to rank well in search engines. Those include header tags, on-page content, meta descriptions, and most importantly, meta titles (also known as title tags).
If you don't work in the programming or digital marketing fields, you've probably never heard the term, or maybe you've seen it in the backend of your website but been unsure of what it meant.
Below, I'll explain the value of meta titles and show how some minor tweaks to them can make a huge difference to your traffic and revenue. 
We'll start though with the basic question:
What is a Meta Title?
A meta title is a line of HTML code that designates the title of a webpage. It's more commonly recognized as the headline of text you see for a result in Google, Bing, or Yahoo.

Over the past few years, Google has started occasionally using its own auto-generated meta titles in its search results when the algorithm decides the one provided by the webpage isn't adequate for the search it's being displayed for. So just because you see a title in Google doesn't necessarily mean that's the page's meta title.
An easy way to check a page's meta title is just to hover over the tab in your browser. If the page doesn't have a meta title you'll just see the page URL showing here.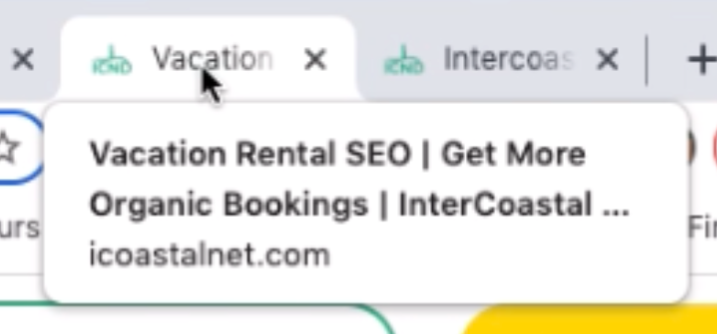 You'll also find it in the page editor in the backend of most websites or in the Yoast plugin if your site is built on WordPress. Unless your site is completely hardcoded, then the backend is usually where you'll add or edit your meta titles.
Why Meta Titles Are Essential for SEO
Meta titles play a key role in describing to Google's algorithm what the page is about. Without a meta title, Google's algorithm is left trying to decipher the meaning of the page based on the content that's on it. Unless the on-page content makes it clear to Google what the page's purpose is, then the algorithm isn't going to understand the intent of the page and isn't going to know what to rank it for. This could result in Google not ranking the page for anything and the page possibly getting de-indexed over time.
But let's just say the on-page content is properly written and optimized so that it gives Google the right idea of what the page is about. With no meta title, the page is still at a disadvantage in comparison to a competitor who has a similarly optimized page and also has a meta title. Google's algorithm might understand what to rank the page for, but the page still failed to provide a key element their crawlers look for, and Google is going to dock the page because of it. If you want your page to have the best chance it can of ranking well, then do yourself a favor and ensure that all of your pages have meta titles.
Meta Title Optimization
Now that we've established what meta titles are and why you need them, let's talk about how they can be optimized to drive more revenue.
The meta title is the most likely element of a search result to stand out to users. It's a huge factor in determining whether or not they decide to click onto your site from Google. If a competitor has a more noticeable and enticing meta title than yours, then they're inevitably going to steal some clicks and likely some bookings.
You can think of meta title optimization almost as if you're playing a strategy game against the 9 other competitors who show up on the same search result page as you. Whomever from the group of 10 puts the most effort into their strategy and comes up with the most appealing meta title gets a real-life monetary reward. This reward can be as much as hundreds of thousands of dollars over time depending on the search term's value and search volume.
Minor Change, Massive Difference
Just as an example of how much of a difference a simple meta title change could make, let's say you're a vacation rental manager in the Outer Banks ranking on the first page of Google for the general Outer Banks rental terms. And let's say the ranking page is your booking engine results page. Using Google Analytics, you can determine how many users entered onto that page from Google's search results and how much revenue those clicks to that page generated. If that page is generating $2 million in bookings on average each year from the users who click onto it in Google, then by improving the click-through-rate of that page's meta title by just 10%, you can improve the annual revenue driven by that page by upwards of $200k per year (assuming your inventory isn't already getting filled without the additional traffic). And that's by doing nothing more than tweaking your meta title on that one page. 
Just think about that for a second. Changing up a couple words on your meta titles can make a few employees' salaries worth of difference. Even if you're a smaller company in a much smaller market than the Outer Banks, the fact that an increase of 10% in organic revenue could be just a matter of rewording some meta titles is crazy to think. And it could, in actuality, yield a much higher click-through-rate increase than just 10%. I'm throwing 10% out there as a low-ball estimate. Keep in mind, when I say a 10% CTR increase, I don't mean getting your CTR from 2% to 12% but simply getting it from 2% to 2.2%, which is certainly attainable for most sites.
How to Improve Your Click-Through-Rate
In order to be able to improve your CTR, you first need to know what your CTR is. 
This is where Google Search Console comes into play. The platform will tell you how many clicks a page has gotten, the number of times it's been shown to a user in search results, and the page's CTR. If you want to improve your CTR, it's important to start in Google Search Console and establish where you're at now so you can track whether or not the changes you make are an improvement.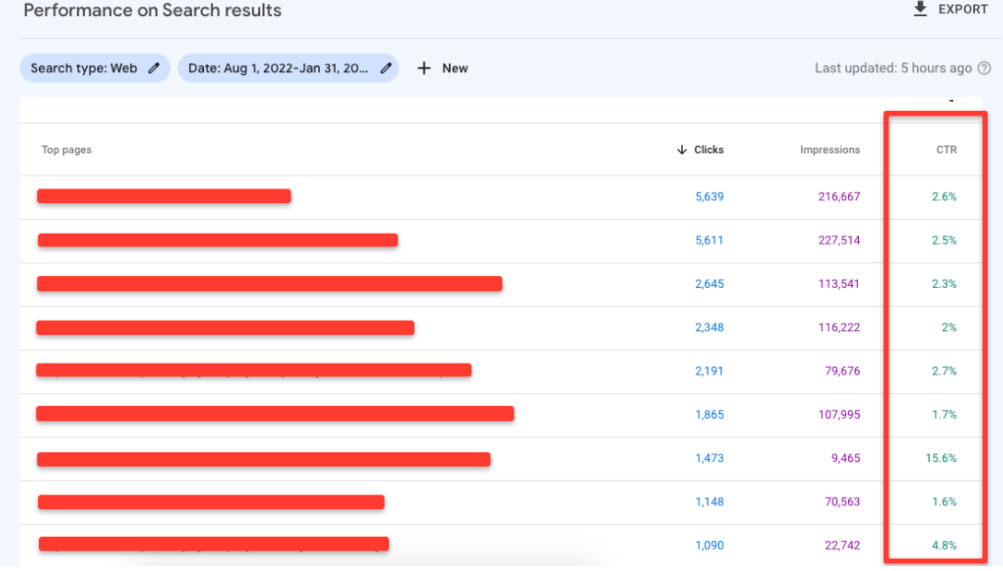 Next comes the process of increasing the noticeability of your meta titles.
It always helps to have the main target keyword in the meta title (not just for noticeability but also when trying to rank higher for that keyword). Someone searching "outer banks rentals" is more likely to notice and click on the meta titles that specifically mention the exact term they typed. So since "outer banks rentals" is the highest searched rental term for that destination, you'll likely come out better using "Outer Banks Rentals" in the meta title as opposed to a variation such as "OBX Vacation Rentals", even though they essentially mean the same thing.
Now the rest of the meta title is where you really make your money. Your competitors will likely also have either the main target keyword or a close variant in their meta titles, so you need to stand out with the additional text you use. Google will generally show 50-60 characters of a meta title which, in the case of the Outer Banks example, means you would have 30-40 characters to work with after including that main target keyword.
To make the most out of that space, you can utilize elements that stand out such as numbers, amenity keywords such as "Oceanfront", or call-to-action words such as "Book" or "Browse". Just be as resourceful as you can, and don't use up too many characters mentioning something you know wouldn't stand out to you if you were scrolling through the results page.
You can see examples of the titles shown for the top ranking sites in the Outer Banks market below to get an idea of what they're using with their additional characters. You'll see that each of the above mentioned tips are being utilized by at least one of these four companies.
Testing Different Meta Titles
There is no perfect meta title, but there are certainly ones that perform better than others. You won't know which ones those are unless you get in there and start testing. You'll need to keep a close eye on Google Search Console to see how your newly edited meta titles are performing.
There's a couple things to keep in mind when testing your meta titles.
You're going to need to give the new meta titles time to collect enough data to draw an accurate conclusion. Don't pull a meta title after just 5 clicks because you're not impressed with the CTR. Allow enough data to be collected to make sure your meta title is a dud before changing it up. 
There's going to be a small window of time after changing your meta title before it will actually change in Google. It's best to submit your page to Google Search Console right after changing your meta title to avoid having to wait a few days (or sometimes weeks) before Google crawls your site and changes it on its own.
Lastly, and most importantly, your rankings greatly impact your CTR, so pay attention to the Average Position column in Google Search Console. If your position increases, then your CTR is going to naturally increase as well, so it's best to gauge your results during the periods in which the page's position stayed relatively constant.
In Summary
At the very least, make sure each of your pages has a meta title. If you have them but have never given them any thought, you'll hopefully now realize how valuable they can be and how much more income properly optimized meta titles can generate.
If you're like most VRMs and have too many other things on your plate, our digital marketing team would be happy to improve your meta titles and help get you more traffic and bookings. In addition to our vacation rental SEO services, we help clients with pay-per-click ads, email marketing, and social media.
For more digital marketing tips, you can check out our Vacation Rental Ninjas Podcast.