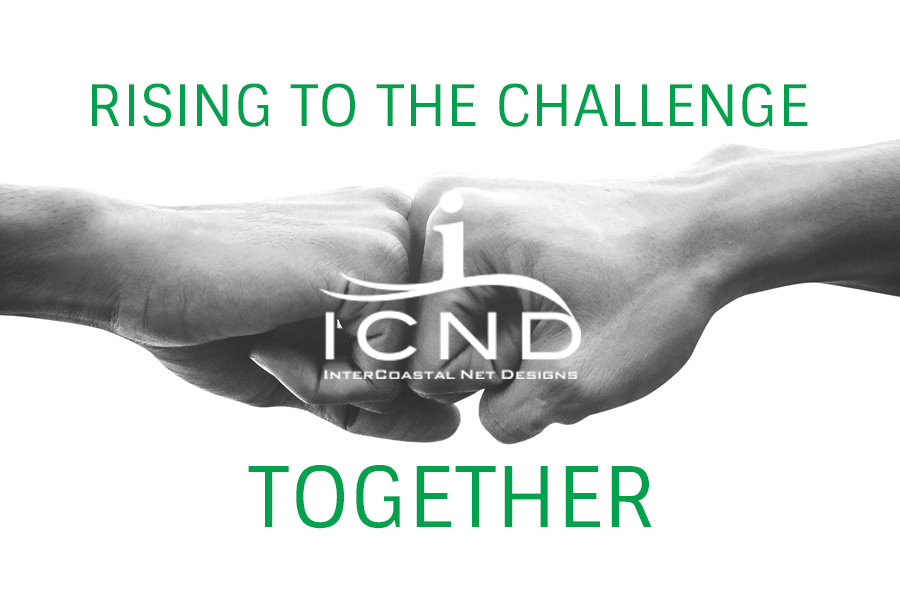 The coming months will test the resolve and perseverance of the vacation rental industry. The impacts will be unique to each area and business. We must now confront the real human toll this Pandemic can have on our communities first and foremost. We are now seeing, as of this writing, the giants of industry across the globe make hard decisions as they consider both the human and economic impacts of the Pandemic.

Our team is focused on being there for our clients through and beyond this tough period. We'll continue to develop the best websites in the industry and provide digital marketing services to our clients. Marketing efforts must evolve to meet these challenges.

With this article we hope to lay out what ways vacation rental managers can be proactive with their online presence and digital marketing efforts in the times ahead.

ICND Steps to Help Clients Through The Coronavirus (Covid-19) Pandemic
The current Coronavirus Pandemic is already affecting all of our clients. While there's still much uncertainty on to what degree this will end up affecting our core clientele in the United States, signs are beginning to show.

Search volumes for key terms are reducing as news of the coronavirus, and concern for our collective and individual well being takes center stage. Online bookings are beginning to suffer correlated to the reduction in search volume pointing to a lack in interest and demand overall. The degree of which isn't ubiquitous across our clients, and likely not as drastic as things may become as I write this on March 12, 2020.

Due to the amount of uncertainty and the evolving nature of the pandemic we're committed to taking a proactive approach for our clients for their digital marketing and website needs.

We serve our clients as digital marketing specialists which means our best efforts are focused on helping our clients provide up to date information to their customers via digital means, and helping manage their marketing efforts through this tough period.

Help Facilitate Any Messaging Needs Our Clients May Have
Communication will be key in the coming weeks — from alerting guests to local area information concerning the pandemic, travel restrictions, cancellation policies, and more FAQs that may arise.
We'll strive to facilitate these communications through our client's online presence and direct marketing capabilities. We'll be ready to build modules for pop ups and notifications on site, design emails and any other digital means deliver up to date information. We'll be present and working to help alleviate the burden on calls and inquires.

This includes:

Cancellation notices postings and information
Local area info
Augmented guest procedures
Availability updates
Landing Page Creation
Anything we can do to help address our client's customer FAQs during this period will be a priority.
What we are seeing on the Digital Marketing side
Constant updates on booking pace changes. ICND will be looking to provide up to date information by shorting viewing windows, and comparing year over year as a backboard, to understand how the current market will be affected by the coronavirus pandemic.

Each client will experience the effects to a different degree and need to rise to those challenges accordingly. There is no "blanket" answer for all clients.

We represent a myriad of clients that specialize in stand alone homes, resorts, and condos. These distinctions will end up dictating our client's needs. Compound these facets with factors like location and seasonality.

Using our ability to analyze trends will allow us to better serve our clients needs to budget advertising spend accordingly.

SEO (Search Engine Optimization)
Do not stop SEO efforts. SEO is not seasonal and when this does pass by, the algorithms will still remain strong. We encourage our clients to continue allowing us to implement the latest Search Engine Optimization best practices during this period. Google has recently rolled out a series of core algorithm updates and changes to the search engine results pages, giving more prominence to their own Google Vacations and Google Hotels platform, as well as integrating featured snippets into the results.
Organic traffic has become one of the sore points in 2020. With eroding of organic visibility it's more important than ever to continue to allow us to implement new optimization techniques to maintain and grow visibility.
Recovery efforts in the months ahead will be based on continued perseverance on the SEO front.
SEM (Search Engine Marketing) aka PPC
The weeks ahead may require our clients to reduce these budgets momentarily, target and reform advertising efforts in different ways, as well as develop new budgets in the months ahead where allocating advertising spend and efforts will become more effective, which is later down the line.

Signals we'll use:
Monitor Search Volumes for Major Keywords
Monitor Overall Booking Pace
Monitor CPA for Paid Direct Bookings
Monitoring search volumes for key terms for our clients will be paramount. Areas where our clients typically corner impression share may see a reduction in how much search volume revolves around those keyword ideas.

Monitor your analytics data, query volumes in Google Search Console, pay per click impression share, and daily spend as these all will show signs of issues related to the current pandemic situation.
It's important to note, that website traffic will still be coming in, bookings will still occur — of course, not near to what we are used to however. Making decisions about paid advertising budgets must also consider a possible rise in the cost per acquisition of direct bookings via pay per click advertising.

Typical Peak Season Booking Periods Will Change
It's totally new territory for everyone no matter the destination. For many ICND clients it couldn't be a worse time period. And there's so much uncertainty still playing it's own role, that determining the best practice in this environment is a challenge.

No Direct Comparisons But Taking Lessons Learned From Other Tough Times

The vacation rental industry is susceptible to many different environmental factors, and is always able to face these challenges. There's no doubt that the clients we work for are resilient and adaptive. We will persevere.

Lessons Learned from Hurricanes (although a poor analogy)

While we don't want to compare the current coronavirus pandemic to a hurricane, there are some lessons that allow us to be proactive during this period.

While certainly not analogous, hurricanes along the east coast give us an idea of the stages we might see play out with the Coronavirus Pandemic.

A named storm typically triggers three main stages that play out over time.

First is a period of uncertainty, followed by realization and understanding, and eventually recovery. Each step in this process requires a proactive approach.

Uncertainty
While forecasters try to determine that eventual path of the storm and it's intensity, that uncertainty leads to suppression in web traffic to all in the potential path. Bookings fall off. Right now we believe that's where we are now. There's still much uncertainty on how this plays out in the "drive in market" so we're monitoring data, spotting trends, and revising advertising efforts.

Realization and Understanding
Once we begin to have better understanding of the situation for all our clients, we'll move forward with messaging, forecasting advertising budgets for the months ahead, and plan on capitalizing during recovery.

Recovery
The recovery period will be marked by capitalizing on any rush of search volumes, advertising availability, and a focus on turning around occupancy deficits with short lead conversions.

The reality is this analogy only goes so far, if at all relative, since the Coronavirus Pandemic is uncharted waters in our current digital age.

While the hurricane analogy scenario plays out in a couple of weeks, and recovery for the unfortunate entails issues with some reduction in demand, but mainly supply, this CoronaVirus Pandemic will solely affect demand.

Another reason the hurricane is a poor analogy is the time frame. Sadly, this period of uncertainty will be drawn out over many more weeks, and the effects are now just beginning to play out.

With understanding will come realizations that people's lives will go on, and that means demand will return.

In Summary
We've heard from the best in our industry time and time again how resilient our vacation industry is, and we expect recovery to take shape in time.

There'll be lessons learned, and better practices implemented as we triumph over perhaps one of the most globally affecting issues to our industry and the greater economy in recent memory.

We hope for the best case scenario for the sake of our communities and the real human connections we have with each other in our industry. We can hope that these bonds are only strengthened as we move forward.