It was the summer of 1999 and the one man operation that is Brandon Sauls, was just getting his feet wet. While running a charter boat service, Brandon became acquainted with some folks over at Century Contractors based out of Matthew, NC. Already well versed in web development, Mr. Sauls was offered a chance to manage Century Contractors site. Arrangements were made, business was finalized and the birth of ICND was about to take shape.
Flash forward 15 years and InterCoastal Net Designs has now become one of the premier web design, development and Internet marketing firms along the Carolina coast. From the one man operation who chartered fishing boats to a 28 person full service firm, those days of catching sun and chatting about web sites seem like yesterday.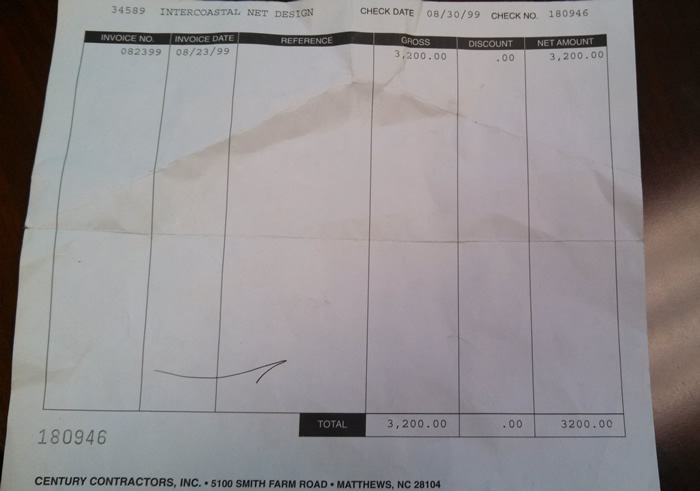 Which brings us to this photo. While recently sifting through a file cabinet, Mr. Sauls found his very first invoice from Century Contractors. Nostalgia and the realization of not only owning his own business but maturing this idea into a thriving, successful firm quickly set in.
We here at ICND are all proud of the dedication Brandon exudes, and want to honor this Throwback Thursday with a well-deserved thank you! Here's to the first 15 and to many more ahead of us!