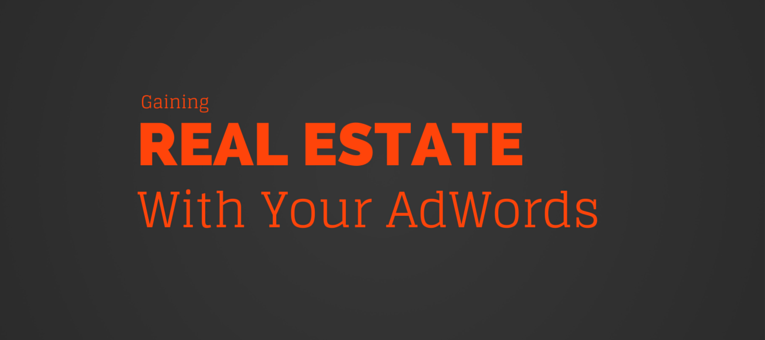 Looking to boost your Google AdWords presence? It doesn't always have to come down to boosting your ad spend. Ad extensions are a great tool that can help draw in the attention of a potential customer by taking up more ad space than your competitors.
These extensions can entice your customers by showing multiple links to your website – plus you can add reviews, contact information, and unique selling points to help draw your customers in and boost your click-through-rate.
Let's take a look at a few different ad extensions within AdWords and why, when and how to use each.
Sitelinks Extensions
Sitelink extensions can be a valuable asset to your AdWords campaign for various reasons. These extensions allow you to add additional links to your ad (beyond the one you are using as a destination URL). As you can see below, these extensions will also take up more real estate among the ad space.

These additional links can be used to target exactly what a searcher is looking for, pointing them to deeper pages within your website. In the example above, a search was performed for "basketball sneakers". The sitelink extensions help direct the searcher to the specific type (or brand) they may be looking for.
Using sitelink extensions will help your potential customer when searching, but your campaign can also benefit from an improved click-through-rate, which also helps the Quality Score of your keywords.
Setting up sitelink extension can be done at the campaign or ad group level. You can also dictate whether the extension is for mobile or not. Google recommends using at least 4 sitelink extensions per campaign, but testing more can give you a better idea of which bring in a better CTR.
Location Extensions
A good percentage of searches on Google involve people looking for local information. Couple that with the amount of people using their mobile devices for local info and you can see why adding location extensions to your ads can be very valuable.
Using location extensions provide your address to local searchers and a clickable phone number for mobile devices.

For local businesses, taking up more ad real estate than your competitor can be a very valuable asset, but providing a potential customer with an easier way to connect to your business can be even more important.
These are easily set up by linking to your My Business Google account, or by creating a new listing. Location extensions are worth adding to your campaigns if you feel your ads have the chance to show in local search queries.
Call Extensions
Another valuable extension to use within your AdWords account is call extensions. Besides being another way to add more real estate to your ad, this type of ad extension makes it simple for your potential customer to call your business directly from your ad.

These extensions are not only a great way to improve your CTR, but they are also a great way to quickly connect with a potential customer. They are valuable for most types of campaigns, but especially for those who have a local campaign where impressions on a mobile phone are likely. Your phone number will appear on a smart phone as a clickable button the searcher can use to reach your company.
Google offers the option to use their forwarding number as a tracking mechanism. It will assign a custom phone number to your ads that will reroute to your company phone number as a way to track conversions.
Callout Extensions
In the past, you were limited to using part of the 70 characters in the ad's description to highlight your company's unique offers, specials, and services. Now with callout extensions, you can separate our unique selling points – take up even more ad space and help you standout from the competition.

As you can see, they are very similar to the sitelink extensions, but callout extensions are not actual links. Also like sitelink extensions, they can be set up at the campaign or ad group level, different extensions can be set up for mobile ads and they can be scheduled by time of day.
Review Extensions
Informing your potential customer about what others have thought about your service and why you are the right company for them, can help turn that lead into a sale. AdWords' review extension allows you to do just that; showcasing accolades, awards or testimonials from reputable websites within your ads.
Again, this helps add even more space to your ad, making your ad even more visible to potential customers. The tricky part about these extensions is finding that reputable review from a 3rd-party website. In the extension itself, there will be a link to the website who gave the review (but you don't pay for a click-through to that website).
Outbidding your competitors is not always the best tactic when looking to improve click-through-rate and sales/leads. Ad extensions allow you to be smarter with your ad copy and help catch the eye of your potential customers. As with many things inside AdWords, testing will show you what options are best for your company's conversion rate.