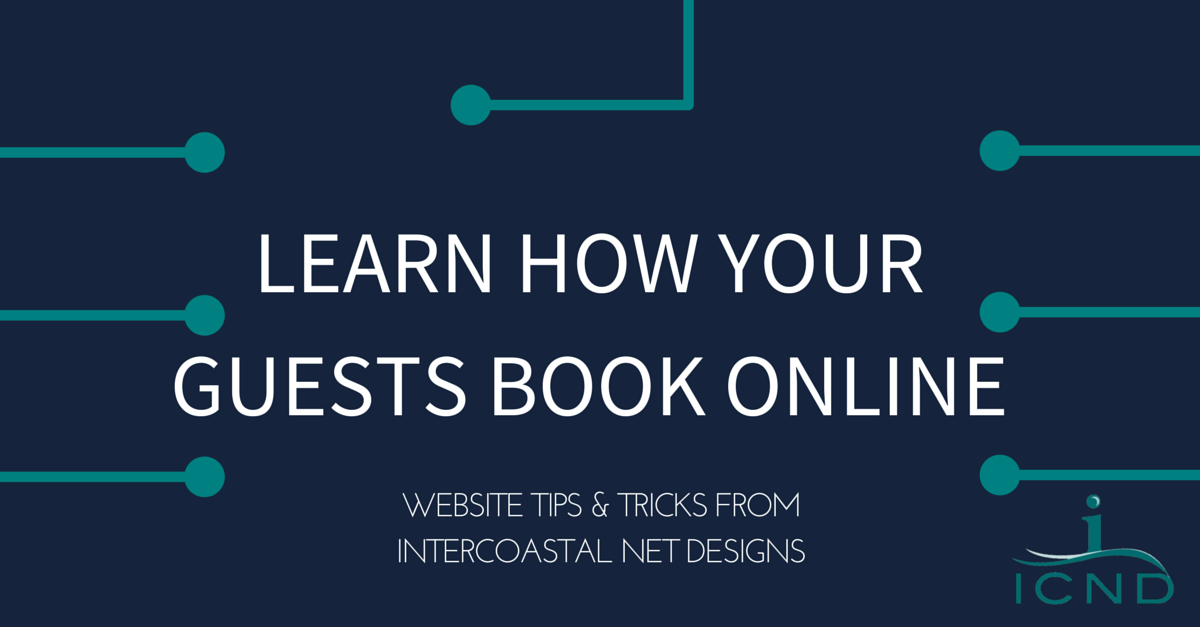 Online bookings.
They're wonderful, aren't they? You just sit back and relax, while guests enter their credit card information into a checkout page, giving you money.
If you've invested into a industry-leading vacation rental website design, you'll start to increase your online booking percentage by a healthy margin. And, if you're like us, you want to see how your marketing investment is going to pay off in the long-term.
But, if you haven't invested in upgrading your vacation rental website lately, you may wonder what you're missing out on. After all, it's easy to rely on the crutch of a large listing site sending you leads instead of investing into your own website's platform first.
At InterCoastal Net Designs, we've spent years refining the vacation rental booking steps, processes,flow, and layout. Across the past year, we've seen amazing leaps in conversion rates, online booking revenue and overall website performance. We've been relentlessly trying to measure and evaluate every single step of a vacation rental website booking – all with a single goal of providing more online bookings.
But, showing off these results isn't always easy – because website conversions are messy. Simply put, guests rarely book the same way, during the same visit with the same steps. Every conversion ends a little bit differently – just like your rentals!
Do you want to better understand and learn how your guests actually book on your website? Read on.
Step 1: Measuring Accurately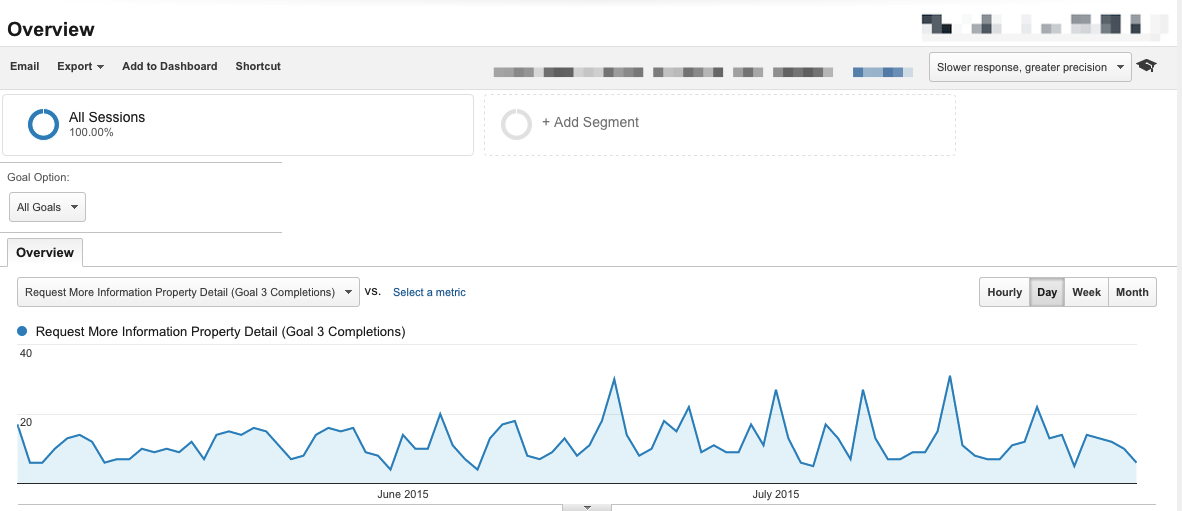 First up, before you can even think about digging into your website and evaluating its performance, you need to make sure you're measuring your web analytics properly.
You should have the following elements already setup (at minimum):
Google Analytics on every page
E-commerce tracking firing on the checkout confirm page
Google Analytics goals active for every lead point
Tracking submissions of general contact forms
Measuring lead generation forms or property question forms
Counting the number of searches that happen on your website
This base set of measurements will help you check your website performance later on. It's easy to get caught up in the stats and numbers. But, if you have all of these pieces being measured correctly, then you'll be off on the right foot. If you're looking for more resources, check out your Google Analytics reports under the "Goals" and "E-commerce" sections for a better idea of the interactions that are happening on your website.
Step 2: Nailing Down The Basics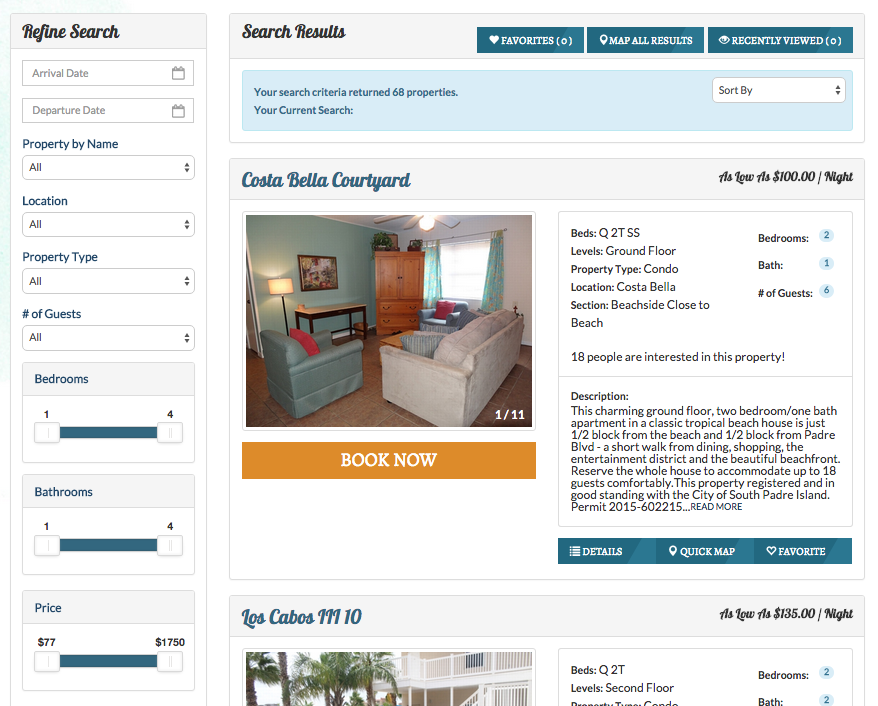 After you've tested and made sure you're tracking everything correctly, the next step is to make sure your basics are covered.
For our vacation rental websites, this means that we've got all of our lead-capture forms working and they're being tracked. Next, we're making sure that the base (foundation) of the booking process is sound.
Questions to keep in mind as you work through the usability of the website and booking process:
Does the homepage have an easy to use quick search box?
Can I quickly filter my results?
Do I have to constantly click lots of forms, or it easy and simple to filter my results?
On the results page, is there an urgency component that makes me want to book this rental?
How does the photography look – can I see the quality of the rental easily?
When viewing a property detail page, does it show me critical information like reviews, availability,  location (quick map) and rates?
What are the property amenities and description like? Can I use this data to solve most questions before they clog up my inbox?
 What about reviews? They should be up to date, easy to find and have names attached.
Your guests are going to evaluate every single element of your website design – they're looking for all of the information they could possibly need– plus a bit more too!
If any one of these foundation checkpoints (above checklist) isn't addressed clearly, many guests will just leave and not bother to book with you. Your professionalism and competency as a vacation rental company often comes down to first impressions – and your website is that first impression for your brand.
Making sure that the basics are nailed in your vacation website is critical.  If it's too hard for a guest to book online, then your chances of conversion fall even more.
Elegantly executing on the basics leads to a fantastic user experience. As you'll learn in this next section, guests don't book on their first visit. To keep them around and happy, you'll have to exceed their expectations.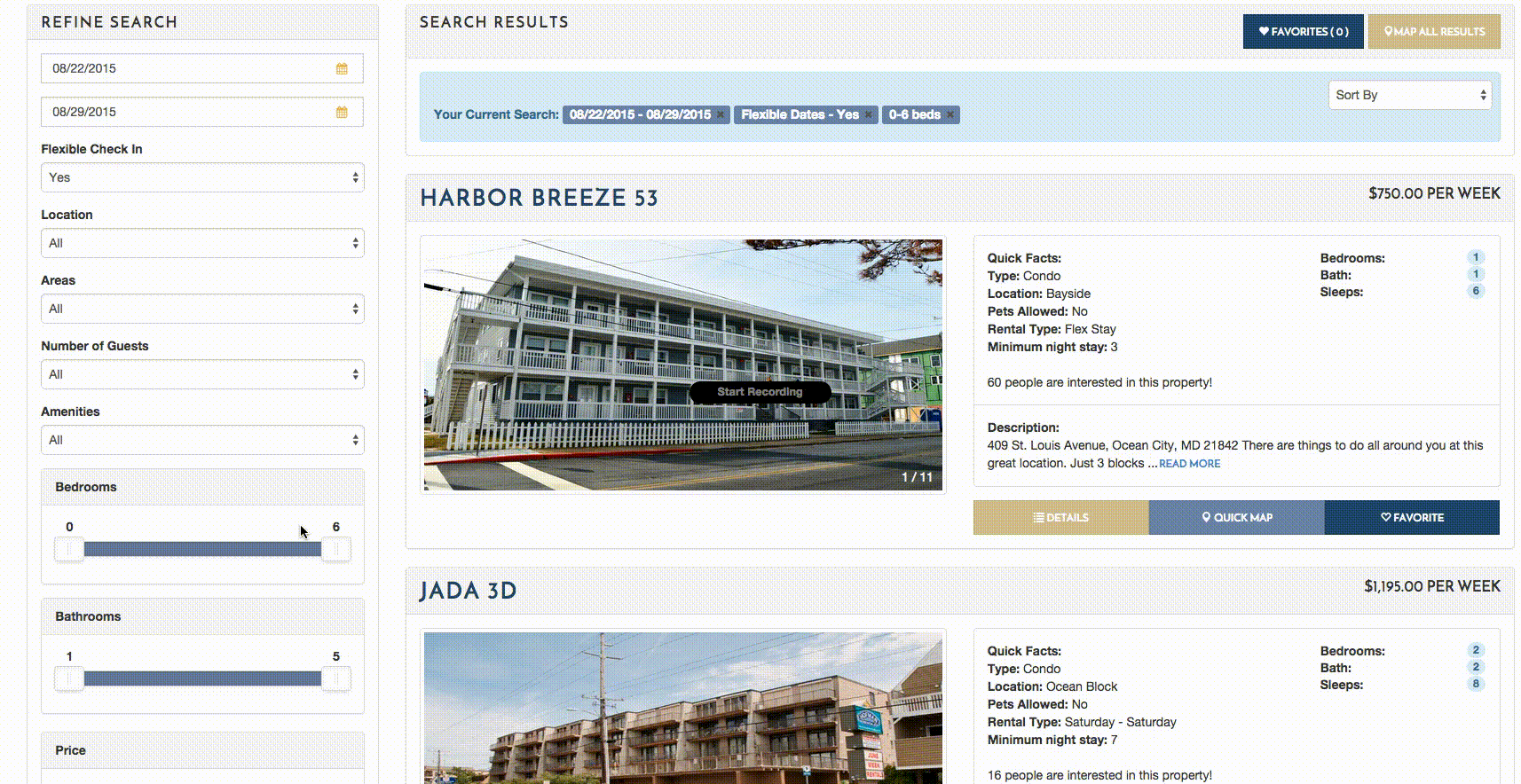 Step 3: Digging In Deeper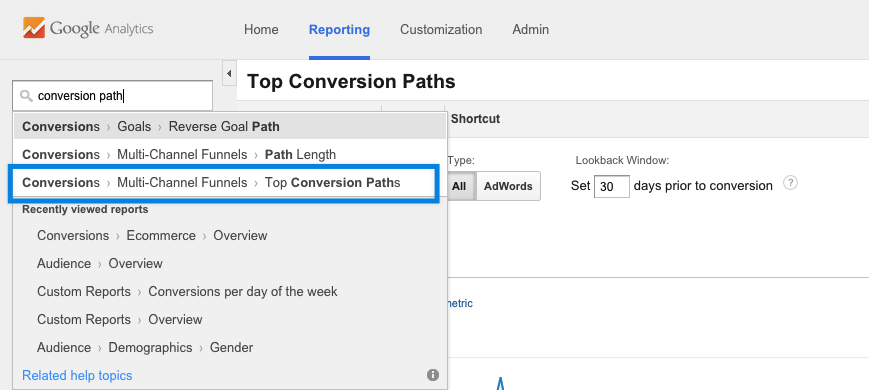 The next step, after confirming you're working with a solid foundation, is to dig into your analytics package and really measure guest flows and booking tendencies.
By far, the most common report I look at to show the fungible nature of the booking process with our clients is the conversion path report in Google Analytics.
Viewing this report is truly eye-opening and captures how guests actually interact with your website. Instead of clicking on your website in Google, doing a date search and booking, you'll instead see the real path they took to convert. For many of our clients, we'll see that 3-5 interactions with the website is very common. This can reach into 10 or even 20 or more interactions with a website before booking.
Guests browse, leave your website, check prices elsewhere, ask their Mom about the rental and who knows what else before confirming their booking.
Check out the report below.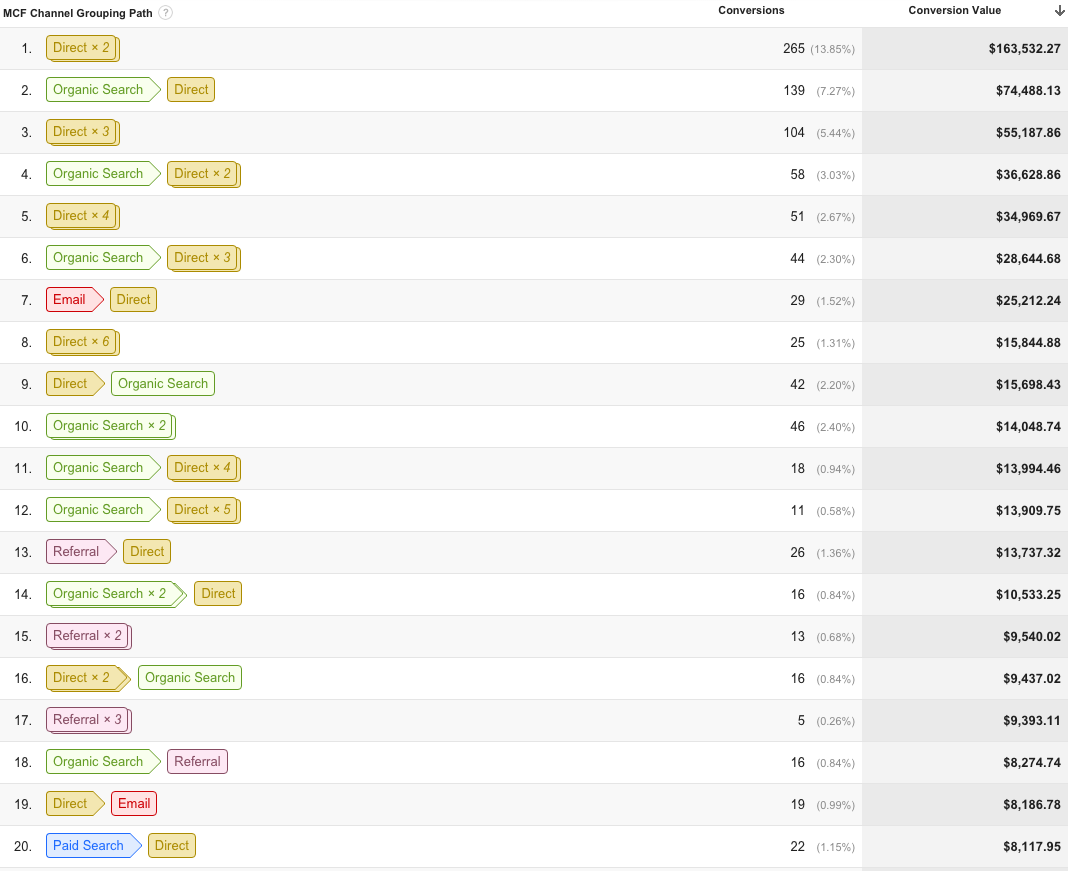 For this particular client, guests often book after visiting the website twice. But, a very common conversion path (one that I see constantly with our SEO clients) is the Organic Search > Direct path. This one is usually from ranking high on Google for major keywords, then the guest will browse around, leave the website and consider the rental, then come back later directly to the website and book.
In a normal Google Analytics revenue report, this conversion will show as direct. But, if you think about it, the guest would have never found the website if not for the traffic from Google search. In my mind, the Organic search traffic drove the lead much more than the last-click booking channel (in this case, direct).
As you drill down into this report, you'll learn a lot about the consideration path that a guest takes before booking. Many guests will visit your website 5 or 6 times before booking. Some will open 7 different promotional emails and then book.
You can dig through this report for hours – and you'll get a lot of out it. I highly recommend reviewing this report and looking for patterns – do your guests look at dozens of properties before booking? This could be a bad signal as they are not finding what they're looking for. Is your time on page very low with a high bounce rate? Perhaps your pay per click targeting is off-topic.
This data doesn't really tell you what to do — but it does provide a framework for allowing you to succeed by letting you dig into the stats that matter.
Step 4: Asking For Feedback
After you've analyzed the site the way you think about your website, it's time to enlist the help of others.
Utilizing feedback tools like Hotjar, we've recently been adding surveys and net promoter score surveys (Question: "How likely are you to book with the rental company?") to our clients websites. The data that we've gathered just from people writing in their feedback has been invaluable to learning more about what guests are looking for.
Here are a few responses from a recent poll on a marketing client's website:
Do you have rentals in Peninsula Hotel?
These properties show the weekly rate. If Im only staying 2 nights, do I just divide the weekly rate by 7 to get the rate per night?
Are there any special rates for students or AAA members?
The safety deposit will be completely refunded if there are no damages, correct?
All of these responses are highly informative – and they tell us a story about what guests are looking for on the website. In these cases, we've already added different copy throughout several pages of the site to give the guest more information about the rental polices and procedures.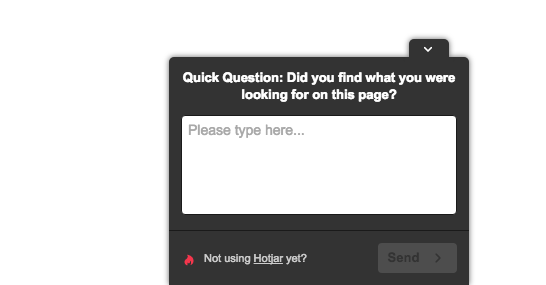 Step 5: Testing & Measuring Results
Finally, the last step is to evaluate and measure the results of your website marketing efforts. Now you can see how users go through your properties, book rentals, visit the site and what questions they may have.
The next step is to take it to the next level – you can utilize A/B testing on homepage layouts, form copy and more to evaluate the results you're getting from your website a boost revenue and performance.
And of course, the ultimate goal remains in focus – get more bookings. With the help of InterCoastal Net Designs, you'll get more bookings, leads and top-notch tools that make your vacation rental business better.