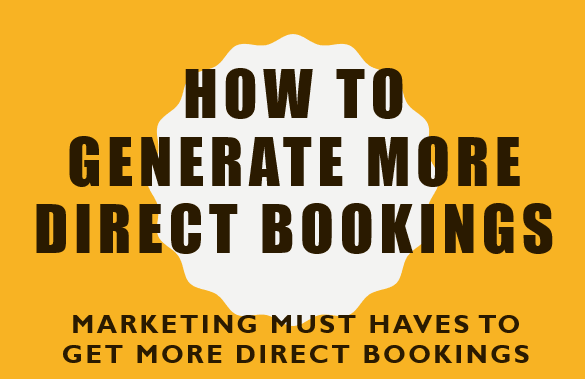 Recently HomeAway has let their customers know that they will be changing the way that leads communicate with companies and owners that list their properties on HomeAway.
As one of the last Online Travel Agencies (OTAs) to email leads and allow direct communication with guests before booking, many Vacation Rental Managers are concerned that they are going to lose valuable lead information.
To many owners / vacation rental companies, they view these leads as part of their marketing plan by integrating follow-up and promotion in their marketing mix.
I think back to hotels in the early to mid-2000s. They often used the OTA's (Online Travel Agencies) like Expedia, Travelocity, and Priceline to move inventory. However, they found that they were training their guests to go to these sites for the best deals. (Sound familiar?).
To add insult to injury, the amount of commissions that were getting paid to OTAs made it a struggle to keep their operations budgets in the positive. And I think, in a lot of ways, it drove down the rental rates as the OTA's insisted on rate parity and getting the lowest bargains to promote on their websites.  Now, these OTAs have a big presence in the vacation rental industry.
To be completely honest with you, there is no perfect solution. But, it's not all doom and gloom.  If you are a new company, you probably rely heavily on Online Travel Agencies (OTA's) to help you fill your inventory.
But I tell you this, you have to have a strong digital marketing presence, look at the cost per acquisition (CPA) of both guests on your website and on OTA's, and focus on the lifetime value of that guest — with extensive marketing post-booking to ensure repeat guests.
It's really all about developing your own digital footprint with your guests.
9 Opportunities & Marketing Strategies to Generate Direct Bookings
Property Brand Optimization

It may seem really obvious, but make sure the Name of the rental and the Address of the rental are Optimized in the Search Results (or SERPs – Search Engine Result Pages) to send traffic to your website.

Also, be sure to optimize any features that are unique to that rental. For example, we stayed in a home in the Outer Banks that had the pool table from the movie The Hustler.

When I couldn't remember the rental company, I was able to Google the "Vacation Rental OBX with pool table from the Hustler," and it came up in the results.

Same with the name of your property. Say the rental's name is "Paradise at Penn Cove," make sure you are Dominating the Search Engines for the name and addresses of each property. Having a good URL structure with the name included will help increase those results.

Mine and inform past leads from OTA's

If you are like many of my clients, you probably have a Large Database of leads from HomeAway, VRBO, Flipkey, etc. Harvest your leads and store them in an outside database. This can be an export in Excel if you don't have a CRM.

Use these databases to enhance your marketing. Make sure you inform your customers that they will save the booking fees (up to 15%) by booking direct on your website. Let them know, for this particular unit, they will get the best deal on your site – guaranteed. Think about using repeat guest specials. What's their incentive to book with you again?

Invest in an Email Marketing program that allows you to mine your data

We have a great program that can tap into your historical booking data, help you mine data from previous stays, and help you reach out to people and remarket through PPC and Social Media, your past guests. The message is again, Book Direct and Save, but also Branding.

Make sure you are Generating Leads from your Website

There are many key points of gathering leads. But the most popular we find on our sites are the "Request More Information" from the property detail page, as well as Send to a Friend.

Remember, vacation rental guests generally want more information, ask questions, and engage with the company they are going to rent through.

Vacation rentals have a history of being a little more "high maintenance" than booking a hotel room. People may do a search to find your website to talk with you more, verify rates and best deals, and search out specials.

Make sure you have all of this information readily available on your site.

Use Remarketing

Social media and paid advertising (PPC) allow you to stay in front of people who visit your website. You can put tracking on your website (in the code) that stores the pages that a visitor goes to you. Based on the activity, you can serve up ads on Social Media and Display ads through Google's Ad Network. Use this to increase brand awareness, stay in front of visitors who haven't converted, and promote deals and sales that can turn a "looker" into a "booker."

Bid on your Brand in PPC

If you haven't noticed yet, you will soon find out that not only are OTA's dominating Organic Search, no longer linking out to your site or promoting your brand on their site, but they are also GOING AFTER YOUR BRANDED SEARCH PHRASES IN PAID SEARCH.

WHAT?! Sorry, I get a little worked up about this.

As if your organic search results aren't pushed down far enough, now we HAVE to bid on our brand names. And we are competing with mega budgets.

The good news is, if you are that company, you are going to generally pay a lower Cost per click (CPC) than your competitors because you will have a higher Quality Score.

A quality score is generated by Google by taking a look at the Click Thru Rate (CTR), content of the ad, and content of the Landing Page. You should always be monitoring and optimizing your quality score to ensure you are showing the highest for the lowest possible amount. So those who have a lower quality score, will have a higher CPC and have to bid more than you.

There is still Google Local

By Google Local, I mean what is known as the "map pack". For many area searches like "Panama City Beach vacation rentals" the map pack will be included below the paid ads, but above the organic search listings.

There is a science to showing and maintaining rank in the map pack which includes Not hiring a company that does any Black Hat SEO tactics for short term results.

The best way to get up there (and stay up there) is to have your profile completely filled out and utilize Schema markup in the code of your site. Schema markup is code (semantic vocabulary) that you put on your website to help the search engines return more informative results for users.

You should also focus on Getting Reviews. Ask your happy customers for reviews. We also have a great survey program that helps push satisfied guests to Google to write you a positive review.  The first three stars link to a guest satisfaction survey.  The last two link to Google.

Market Moderation

What does your doctor tell you? "Too much of anything is bad for you" and "Everything in moderation."

The same with a good marketing mix.

Sure, if you are a new company, you are going to rely heavily on getting your inventory rented on OTAs. But, that's not a long-term marketing strategy. You'll have a tough time keeping owners if all you are doing is renting through OTA's. They will think they can do it on their own (even if they are wrong).

Start with the Basics – an optimized website, email marketing, paid advertising, and social media engagement. As your budget allows, start doing more social media advertising, adding remarketing, and hire a professional company to help you out.

Our clients that don't rely on OTAs have historically had better return on investments from their digital marketing. Their customers are trained to…Book Direct!

Think Brand

Don't forget the power of a great brand and how you can impact that brand on your guests to come back and stay with you. Think of things like giving swag to stay with them after the trip. Also, think about who your brand is and what your brand messaging is.

Does your guest know this message when they leave and is it something they can relate with?

Airbnb does a great job of branding to the millennials which a few years ago, we were told were the most un-loyal generation, ever. Today, we see them embrace a cult-like following to brands like Apple and Airbnb. Think of what you want your company brand to be and embrace it.
There is no doubt, the vacation rental industry is evolving into something it wasn't as soon as a few years ago. Our messages and marketing need to be strong, more precise, and engaging more than ever before. Long gone are the days of mass-mailing brochures and filling up peak-seasons.
Today, each vacation rental has more opportunity and threats than ever before. However, ICND is ready to help guide you through with a strong digital presence in both your website and your marketing.