No matter how you cut it, websites can be a massive, necessary investment for vacation rental companies. As technology has advanced and become a larger part of our everyday lives, people are spending more and more time searching for things online. This makes having a well-optimized website that ranks well in Google a must-have if you want to compete and earn organic traffic. Depending on your specific market, you could be competing with millions of other search results – which is why it's so important to have ongoing SEO services for your vacation rental website.

What Happens Once a User Gets to Your Site?
Like I said before, websites can be a massive investment. And like most business owners, you probably want to know if you're getting a good return on your investment. If you spend $15,000 on a shiny new website, you're going to want to be able to measure whether or not it will generate enough value to cover the investment. Earning organic traffic is one thing, but what do you do with that traffic? And how do you figure out how much value you're getting out of the traffic?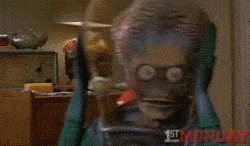 That's a lot of questions to answer. Start with how you measure value.
Most websites tend to measure conversions in purely monetary terms. Meaning, they track transactions on the website along with overall booking data to gauge how well it's performing. Sure, this will work – but you're missing most of the picture, and here's why: users don't book on the first visit. Vacation rentals aren't a commodity, and deciding to rent one is a big financial commitment for most people. When we're trying to convince someone to book a vacation rental, there's a lot of things we need to convince them of before we get their dollars. Here's just a few:

That they want to travel to your destination
Why would anyone want to come to your neck of the woods, anyways?


That they want to book their stay with your company
Why should anyone trust you with their money and accommodations?


That they're getting the best value
What are you offering to guests that makes them feel like they're getting a good bang for their buck? Why not book with Airbnb?
So as you can see, your website serves a much larger purpose than merely facilitating sales. Think of it as a sales pitch, product catalog, resource center, and customer service touchpoint all in one.
Why You Can't Just Track Transactions
When you just track transactions on your site, you're missing out on 90% of the important stuff. Sure, bookings are great and we'd love to get them all day long. But the truth is, that's now how any of this works. People don't just search "vacation rentals in xyz" and book a property on the first website they see. If they did, all it would take to succeed is having a website.
To illustrate this point, check out one of the conversion paths on one of our marketing clients' websites:

This shows the journey one user took to book a property, and how they got to the website each time they visited. You can see that they initially found the website via Google Ads (paid search), and then visited 4 more times by typing the URL directly into the browser. After that, it looks like they clicked on a link in an email, and so on before ultimately booking.
What Transactions Leave Out of the Picture
Clearly, this person wasn't ready to book a vacation rental the first time they visited the site. Nor were they ready on the second, fifth, or 12th visit. But what happened on the site when they visited those first several times before booking? They weren't turned off by what they saw, since they kept coming back and even bothered to click an email from the company. But without tracking important user actions in Google Analytics, we're left in the dark, and all we know is that after 15 visits, the user booked.
Maybe the first time that they visited via Google Ads they subscribed to the company newsletter. Maybe they submitted a question about booking via the contact form, or tried calling the office for help. All of this data would be useful in determining the effectiveness of individual marketing efforts and the performance of the website in general.

But if we're not tracking those things in Google Analytics, we'll never know for sure.
What You Need to Track In Google Analytics
Setting up conversion tracking is different for each website. The first step is to think about what you want to accomplish, which in most cases can be grouped into three buckets: sales, leads, and interactions.
Sales Conversions
Sales conversions are pretty straightforward. If someone books a rental, that's a sales conversion. Easy peasy.
Lead Conversions
Lead conversions are actions by the user which provide you with their contact information. These require a bit more thought, as they can be accomplished in many different ways on different websites. Every opportunity for you to facilitate contact information from your users should be tracked so you can better gauge the performance of marketing efforts.
For example, if you're running a PPC campaign and get 0 bookings, you might think that you wasted your marketing dollars. But if you had been tracking important user actions such as lead conversions, you may have found that some users called the phone number on your website, and several more submitted contact forms and property inquiries. These conversions, while not as valuable as a booking, give you much more complete picture of the effectiveness of your marketing campaigns.
Here are a few examples of leads conversions on ICND websites:
On the Home Page

Make sure that you're tracking when users on mobile devices tap to call your phone number.
On Search Result Pages


Our newer booking engines have options for click to chat, tap to call, and a contact button. Make sure you track interactions for all three.
On Property Pages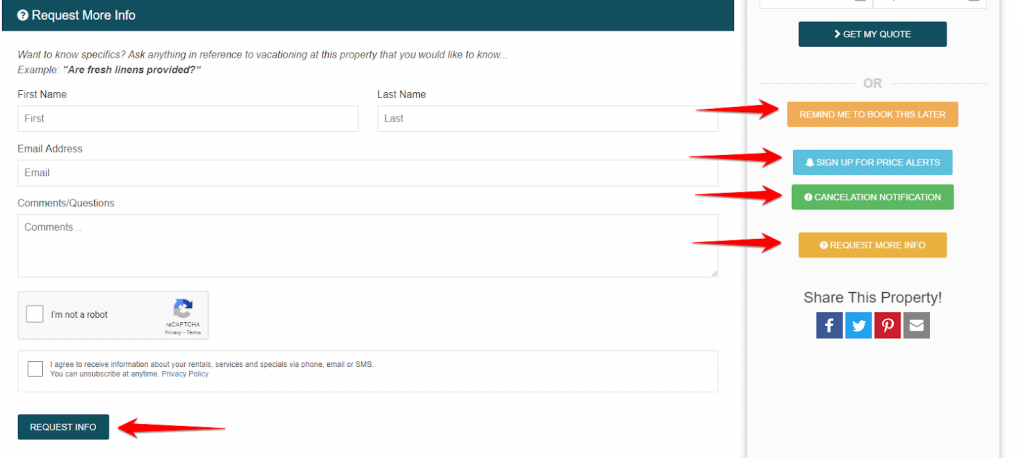 There are several places to track conversions on property pages including the sidebar and property information sections.
In the Footer


Does your footer have some kind of form or links to contact your company? Make sure you track these as well!
On Contact Forms Throughout the Site
Think about where else you have forms throughout the website. There's likely one on your Contact Page and on various other pages. Make sure that you're tracking interactions on all of these as well.
Interaction Conversions
Interaction conversions are similar to leads, but don't involve contact information. Here are some good examples of interactions you'd want to track on your website:

3+ minutes spent on site
3+ unique pages visited
Add product to cart
Video views
Scroll depth
Searching for product
The Long and Short of It
We could talk about measuring different conversion actions all day and only scratch the surface. The most important thing to take away from this isn't a specific conversion to track, but how to think about conversions in general. When you think about what you want from your website, it's easy to think "sales." But make sure that you take it a step beyond the sale, and think about all of the ways your customer interacts with your website before the sale.
Do they sign up for email newsletters? Do they attempt to get more info about a product? Are they regularly reading your blog content?
These are all important steps that users take before making a purchase, and are critical to understanding the true performance of your website and marketing campaigns.