Google+ is the next big social network released by Google and poised to be a major threat to its' much larger rivaled competitor, Facebook. While Facebook has accumulated an incredible 750 Million users in the last 7 ½ years and Twitter has reached over 200 Million registered users in 5 years, in just 2 weeks Google+ has jumped to over 25 Million users. Further, it's not even open to non-Gmail users or to brands yet! So why should your business jump on the Google+ bandwagon? …because it's not a trend, it's major shift that will affect where your customers and potential customers spend time online.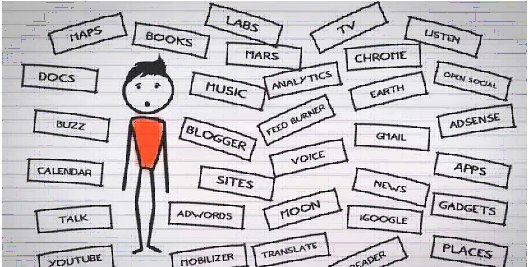 Let's face it, Google is an internet powerhouse and they create the best platforms. The term "Google it" has become a commonly used house-hold phrase for "Google.com". As the #1 most popular search engine (by far), can you guess what #2 is? It's YouTube, also owned by Google. Blogger is one of the worlds most popular blogging platforms and Android is the most widespread mobile operating system… all owned by Google. The most popular rss reader is "Google Reader"; and I can go on and on! Gmail, Maps, Chrome browser, Analytics, Docs, News, Calendar, Buzz, Talk, Adwords, Translator, etc… all extremely successful tools owned by Google. So why all of the Google Talk? (no pun intended) Google's new social network Google+ will be the future of Social Networking.
Let me compare the 3 big game players in social media right now. This graph describes a few common features and how they relate to each other. Privacy is one of the biggest concerns with Facebook users and this graphic also touches on that as well.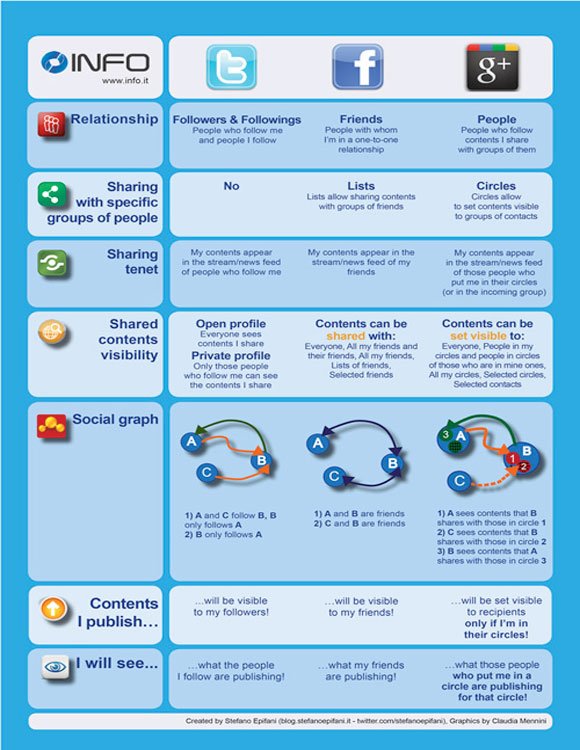 As you can see, Google+ might be a little more tricky to understand right now, but it certainly makes things better in the long run with privacy.
With its' 25 million users so far in just a few weeks, they are making huge strides in functionality and features every week. They recently reported the introduction of gaming, which is a huge part of Facebook, and Google just announced this week that it will be re-introducing their real-time search feature with Google+. If you're a brand that wants to stay ahead of the curve in social media and leverage it for your business, here are just a few reasons why you need to jump in NOW:
Search
Google owns search and that plays a huge role in how people find you online. If Google owns search, don't you think it'd be crazy for this search giant to not have benefits for Google+ brand pages? It's specualtion at this point, but they will definitely be searchable and integrated with real-time searching. Possibly a call-out in search results like a colored box or a simple priority placement. Regardless, there are sure to be major benefits for brand pages when it comes to search results on Google.

Advertising
Google is fully prepared to support this platform with its Google Display Network, AdWords and DoubleClick advertising products. There are tons of optimal ad placement for brands. Also, with all of the video capabilities, rich media ads are sure to be a key enhancement over Facebook ads to give brands better opportunities and deliver a strong message.

Statistical Information
It seems inevitable that Google will integrate its analytics tool into Google+ brand pages for the valuable insights into who their fans are, what content they're consuming and where they're coming from.
What can you do NOW to be prepared?
First, you could jump in with our other social media packages to become fully immersed into the social atmosphere. We have some incredible packages that are helping other clients engage with fans and build this online presence. As a current social media client with us, you will get priority rights to a new Google+ brand page when it becomes available.
Also, getting involved with our social media team, you will get all of the updates about this platform including assistance in setting up a personal profile and a white paper on how to enhance your personal Google+ page. If you have a personal Gmail account, contact our team to see how we can help you get into this new platform now so that you are prepared to get your brand page started right away.