How would you like to convert sales on Facebook at 40% less costs? – No brainer, right? Well let us introduce you to a brand new option introduced by Facebook last week and how ICND can leverage this for you RIGHT NOW!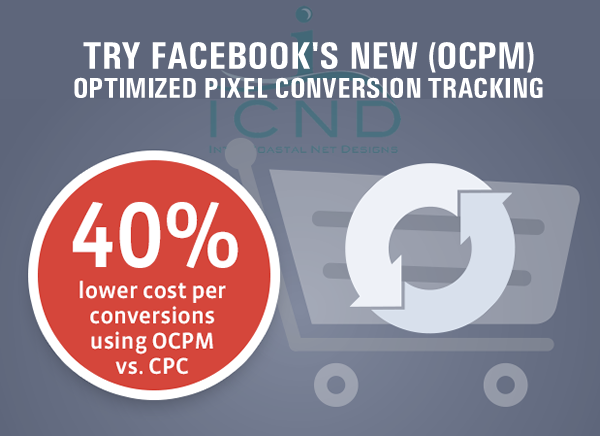 One of the crucial pieces in advertising is tracking what is working and measuring the effectiveness of each piece. Until now, so many brands have questioned the benefits of social media and if it actually leads to an increase in sales. This new conversion tracking on Facebook (OCPM) has been available to some of the big brands for a while now but it has just been opened to everyone. Beta tests have shown a decrease in conversion costs by 40% when using this new OCPM method versus what almost everyone uses now on Facebook. (The CPC method)
How does it work?
ICND can create a conversion tracking pixel for your Facebook ads. This needs to be placed on your website on your designated "conversion page". Once the pixel is set, we are able to go back into the Facebook ads manager to set a budget and create ads using this optimized CPM method.
Cross Device ROI Measurement with (OCPM) on Facebook
One of the really exciting things about this new pixel tracking with Facebook is the fact that it's the ONLY solution available that can track when users view ads on one device (like a mobile phone) but then convert on another computer. This is incredibly powerful for a cross-platform ad campaign! Further, OCPM conversion tracking works with all Facebook ads and sponsored stories along with all of the powerful targeting options.
Interested?
Schedule a time to learn more or get started with the ICND Social Media team to leverage this brand new tool for your business today!