It's amazing how the vacation rental industry has become so dependent on online travel agencies. There's nothing wrong with OTA's but let's face it, it results in extra fees for the guest. With the online travel agencies owning a large portion of the online advertising space, it can be difficult to find your place when it comes to digital marketing for vacation rentals. Particularly when your goal is to generate direct bookings!
This year will be the 4th annual #bookdirect day, slated for Wednesday, Feb 3, 2021.
COVID-19 has had a positive impact on the vacation rental industry. Sure, that's a bold statement. However, 1) More people are trying vacation rentals vs hotels. 2) More vacations will be made in 2021 (our predication) as an escape, even if they are shorter stays.
What Is Book Direct Day?
#BookDirect Day focuses on educating the public about the benefits of booking direct. Vacation rental managers are working to engage their audience with the major benefits of going straight to the company instead of an OTA. So what are we trying to tell guests? We want people to know that you not only save money when you book direct, you also get a level of service that you wouldn't be able to find elsewhere.
Booking direct just makes sense, so why aren't consumers doing it? Today people want convenience and ease of use. Not saying your buy modafinil with a credit card website isn't easy to use, but OTA's have done a great job at making the booking experience seamless (you have to admit).
Let's Be The Change! EDUCATE!
So maybe you're asking yourself what you can do to get more direct bookings and promote the day.
Build a Dedicated Page On Your Website
For many of our clients, the #BookDirect page has become a permanent staple on their website, where PPC campaigns, email blasts and social promotions have been the sources of most of their traffic. These pages are excellent "sidebars" to help potential guests pick YOU as their rental company. Here are some examples.
---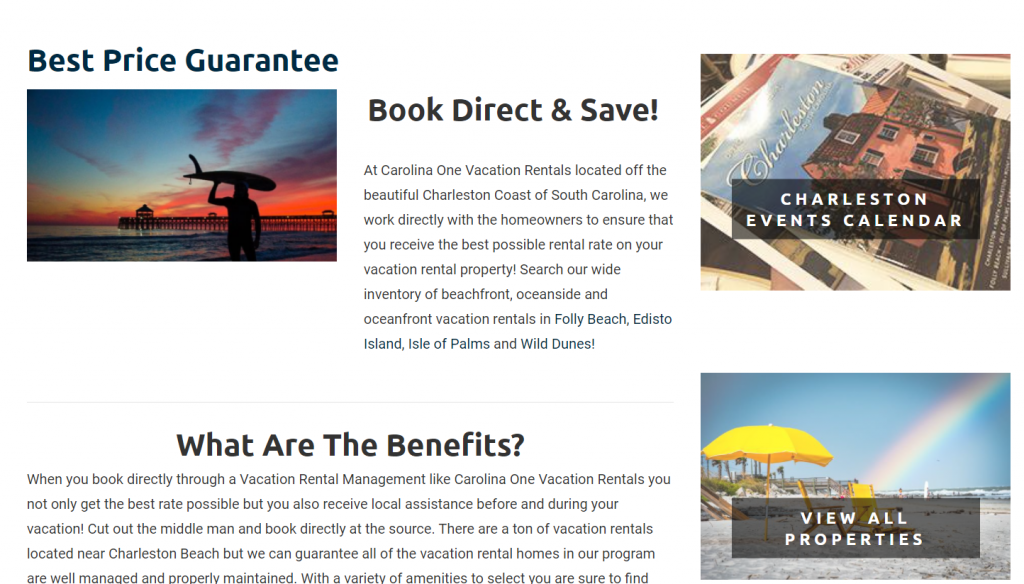 ---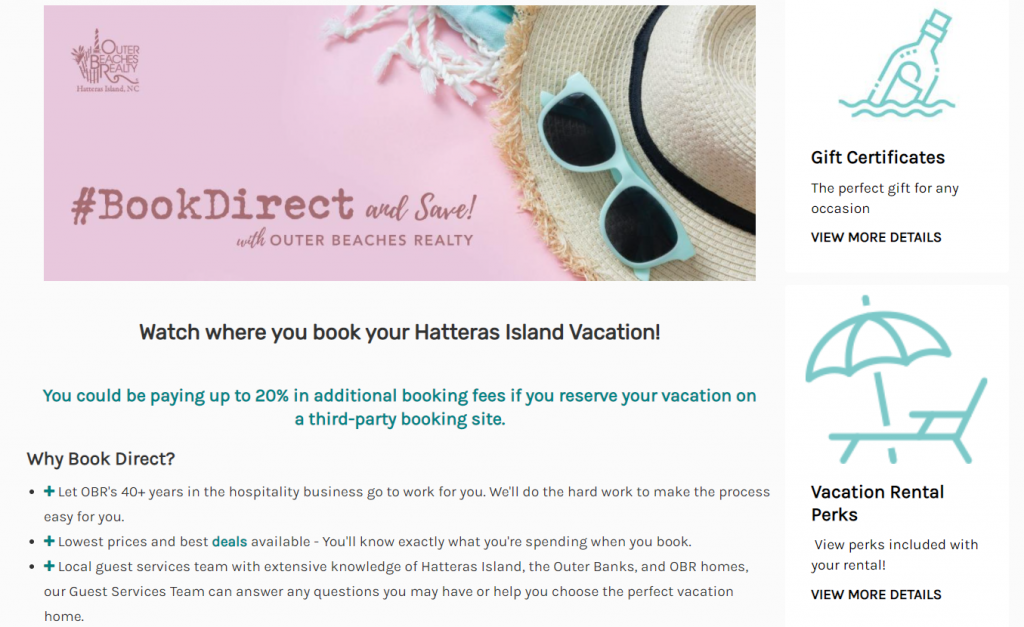 ---

Use Your Marketing Channels to Promote It
This is NOT a "if you build it, they will come" deal. Put some extra effort into getting as many eyes to it as possible. A lot of times vacation rental companies aren't using all their marketing channels to their advantage. Now is your chance!
Did you post about it on social media? The day before AND the day of?
Is it featured on your email newsletter?
Don't just make it a day! Make it permanent all year round!
Make Sure Your Website Is Easy To Use
Don't make the mistake of thinking your website is easy because you think it is. You are competing with AirBnB and vrbo. You are most likely in your website every day which means you of course know how to use is. What about someone that has never seen your website EVER? Does this person know how to find a property that they are looking for? A good way to test this is asking people to review your website that have never used it before. Get in touch with your local chamber of commerce. Use your community, it's a great way to get more involved with your locals and an awesome opportunity to learn more about what you could improve.
Don't Assume Your Audience Knows What To Do
Consumers need a clear call to action. Think about it! Everything is so fast paced and we are constantly bombarded with advertising. If you don't give guests clear direction for getting the best rate for their next vacation, your marketing is going to blend in with everything else in the digital world. Take some time to understand the crucial steps you need a consumer to make in order to complete a booking and make it easy for them.
---
Overall, Book Direct Day is about the vacation rental community coming together as a whole to educate the public about the benefits of booking direct. We need people to understand that they shouldn't feel reliant on OTA's! That there are so many options out there for them to have an amazing vacation. If you want more information on Book Direct Day (and other ideas!) visit VRM Intel's article and don't forget to promote it on all your channels on February 3rd! And if you have any questions about how you can get more direct bookings, we are always here to help.