The History of Book Direct Day
Book Direct Day is around the corner and we're not letting it go by without paying homage to the past and shining a light on why this day means so much to the Short-Term Vacation Rental industry.
What Is Book Direct Day?
In the past, Online Travel Agents (OTA's) websites primarily advertised for the full gambit of rentals, both independently rented by homeowners and as well large professionally managed companies. In the mid 2010's, OTA's hit the vacation rental circuit by storm when they started going after the larger professionally managed vacation rental companies more aggressively than in years past.
They worked with them directly for integrations, switched pricing models and had dedicated reps with a whole slew of tools and product lines to help these larger companies. With their deep pockets it wasn't long before the splash OTA's were making turned more into a tidal wave… Professional VRM's felt they had no choice but to list on OTA platforms due to their brand awareness and lead generating tactics.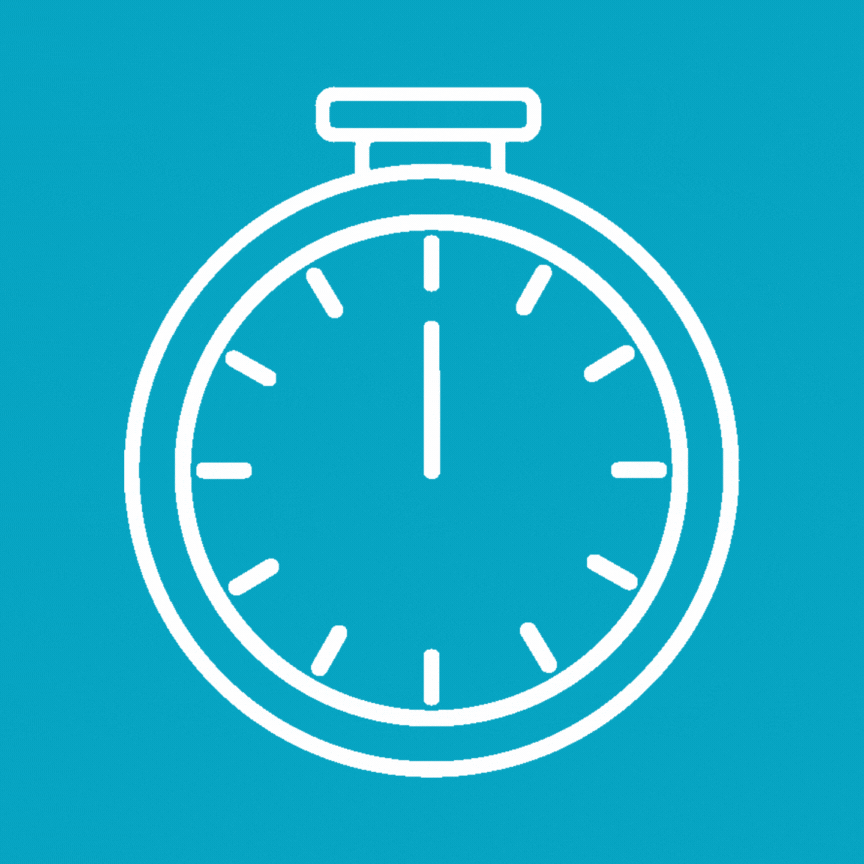 Fast-forward 6 to 8 years.
Consumer concerns began to grow due to the lack of regulations and standards OTA's had for the properties advertised on their platforms. OTA's did not have to follow the same standards and guidelines that Professionally Property Managers had been following for years to create trust with their guests and homeowners alike.
In the meantime, the relationship between Vacation Rental Property Managers and OTA's which began innocently enough quickly grew toxic when OTA's started stripping email addresses from guests' correspondence and blocking all attempts for VRM's to convert leads into Direct Bookings.
Consumer Education Movement
The Vacation Rental Industry decided it was time to band together with one common goal which was to educate the consumer on the benefits of booking directly through a licensed and professional property manager. With that, Book Direct Day was born. An initiative spearheaded by VRM Intel and its fearless leader Amy Hinote in 2018.
At this time, the introduction of OTA's was changing the industry and blurring the lines between Booking Directly through a vacation rental manager vs. an Online Travel Agency like Vrbo, Vacasa, Homeaway or Airbnb.
Industry influencers realized there was a disconnect and consumers weren't aware of the experience they were signing up for when booking a short term rental through an OTA vs. a Professionally Managed Vacation Rental Company. Consumer Education became the driving force behind Book Direct Day.
A full day on the first Wednesday of each February dedicated to promoting the difference between Booking Directly through a property manager vs. booking through an Online Travel Agency.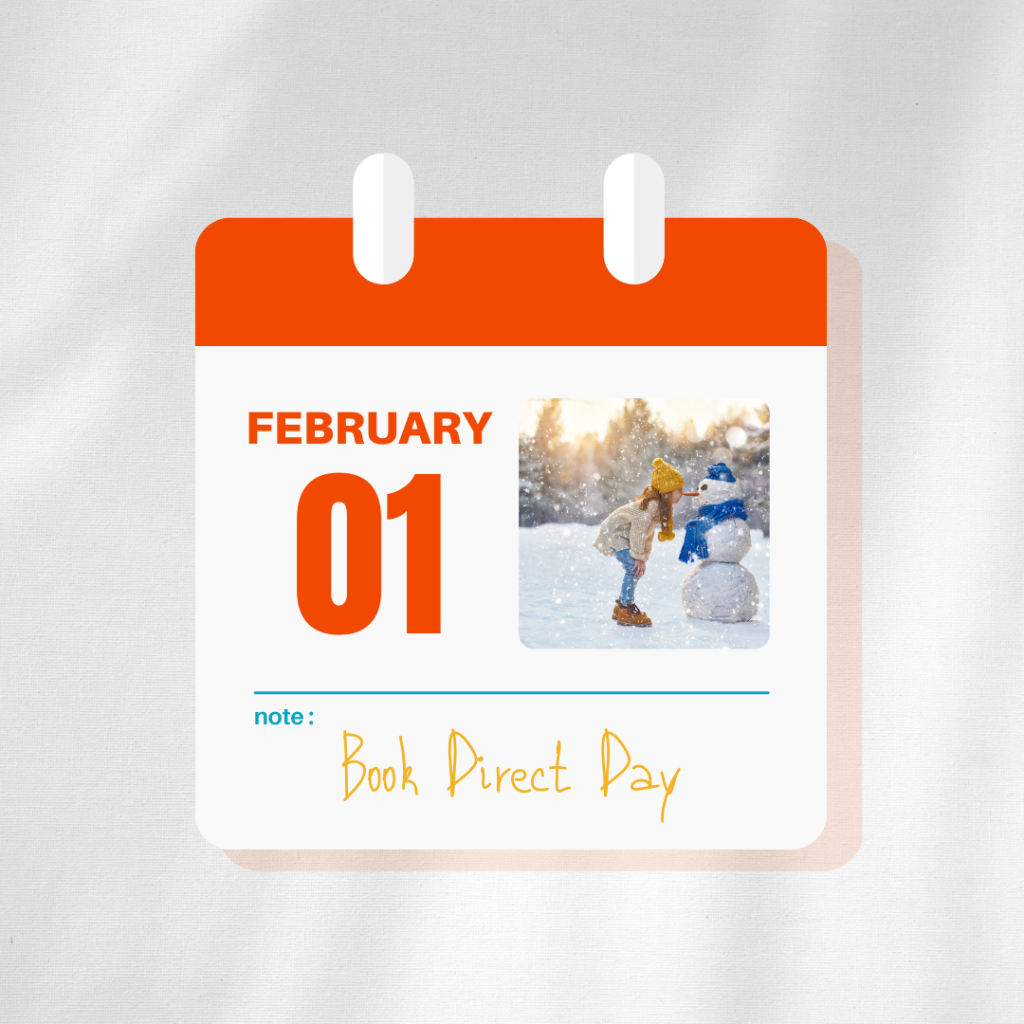 When is Book Direct Day this year?
Book Direct Day falls on February 1st, 2023 this year and at Intercoastal Net Designs, we couldn't let this day go by without providing our community with the proper tools to tackle this great initiative.
What Can You Do To Promote Book Direct Day?
Send an Email Campaign to your audience & past guests highlighting the benefits of booking directly.
Use the hashtag #bookdirect on your social media.
Create a landing page on your website highlighting the benefits.
Write a blog about the benefits to share with your guests.
Promote Unique Property Names, If you have to advertise on OTA's try to drive direct bookings by promoting unique property names for your audience to search on Google.
Take it offline. Add promotional materials for your brand inside the property.
Use a repeat renters discount or loyalty program to reward consumers that book direct.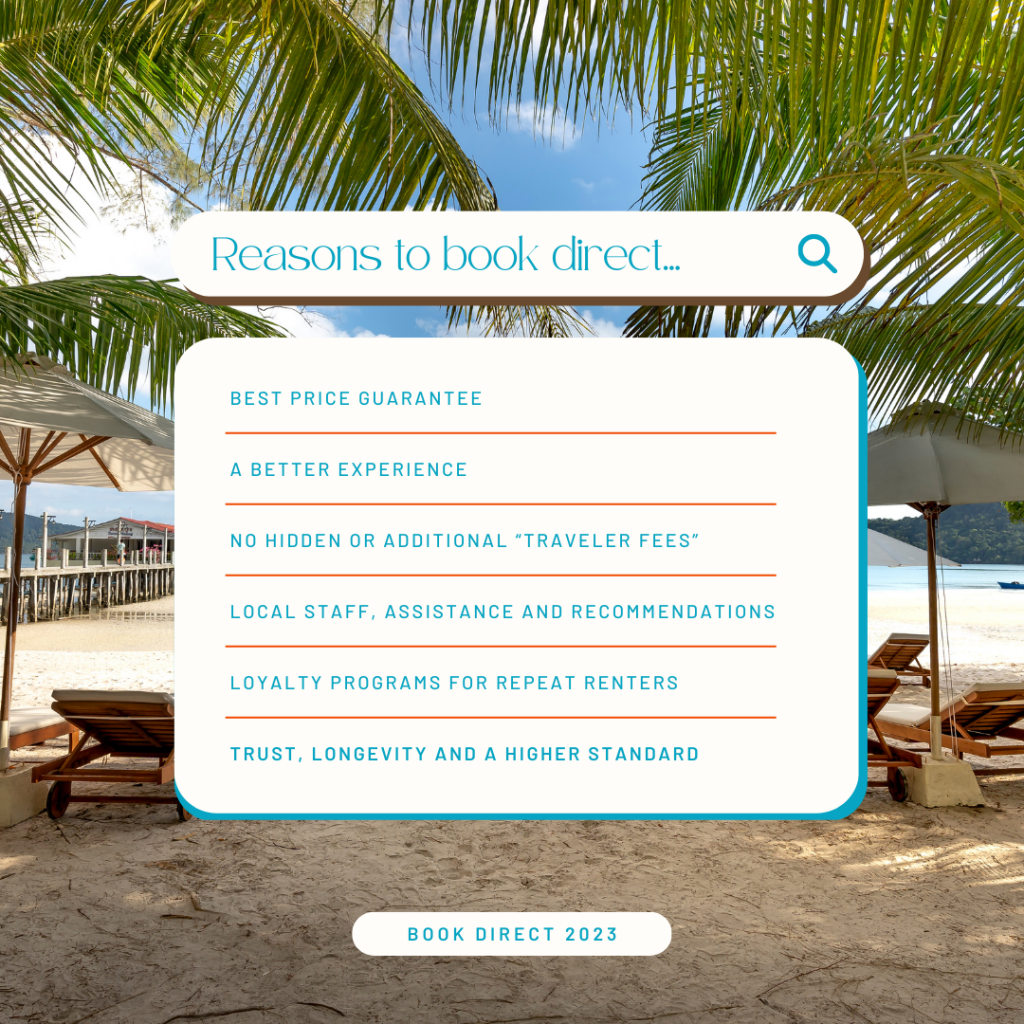 Book Direct Benefits
Best Price Guarantee, Book Directly Through The Source! OTA's can sometimes charge between 10 to 20% more than booking directly through the vacation rental company.
A Better Experience: When you book directly through a professional you ensure the property will be professionally maintained and up to the standard of a licensed property manager.
No Hidden or Additional "Traveler/ Booking Fees".
Local Staff, Assistance, and Recommendations.
More Flexibility on Check-in and Check-Out.
High-Quality Customer Service with a local agent that's actually there.
Boots on the ground maintenance assistance if something goes wrong.
Skip The Middleman and Book Directly Through The Manager
Potential Of Loyalty Programs For Repeat Renters
Trust & Longevity. When you book directly through a vacation rental manager they care about the property and about your experience.
OTA Horror Stories & Consumer Education
These Terrifying Tales Can Be Prevented When You Rent With A Licensed & Professional Property Manager
Superhost that can't keep their distance and invade your privacy.
Shared Door Codes that aren't updated between each guest stay.
Security Cameras that aren't fully disclosed in the rental agreement.
Lack of management software and professionalism can lead to double bookings.
False Advertising and Overly Enhance Pictures with no regulations.
Alarming or Strange House Rules.
Unannounced Visits from the homeowner or the owners family friends.
No streamlined cleaning service to ensure it's clean before your arrival, with a property management company you don't have to worry about these things.
When the AC or Heat goes out and you need a local maintenance vendor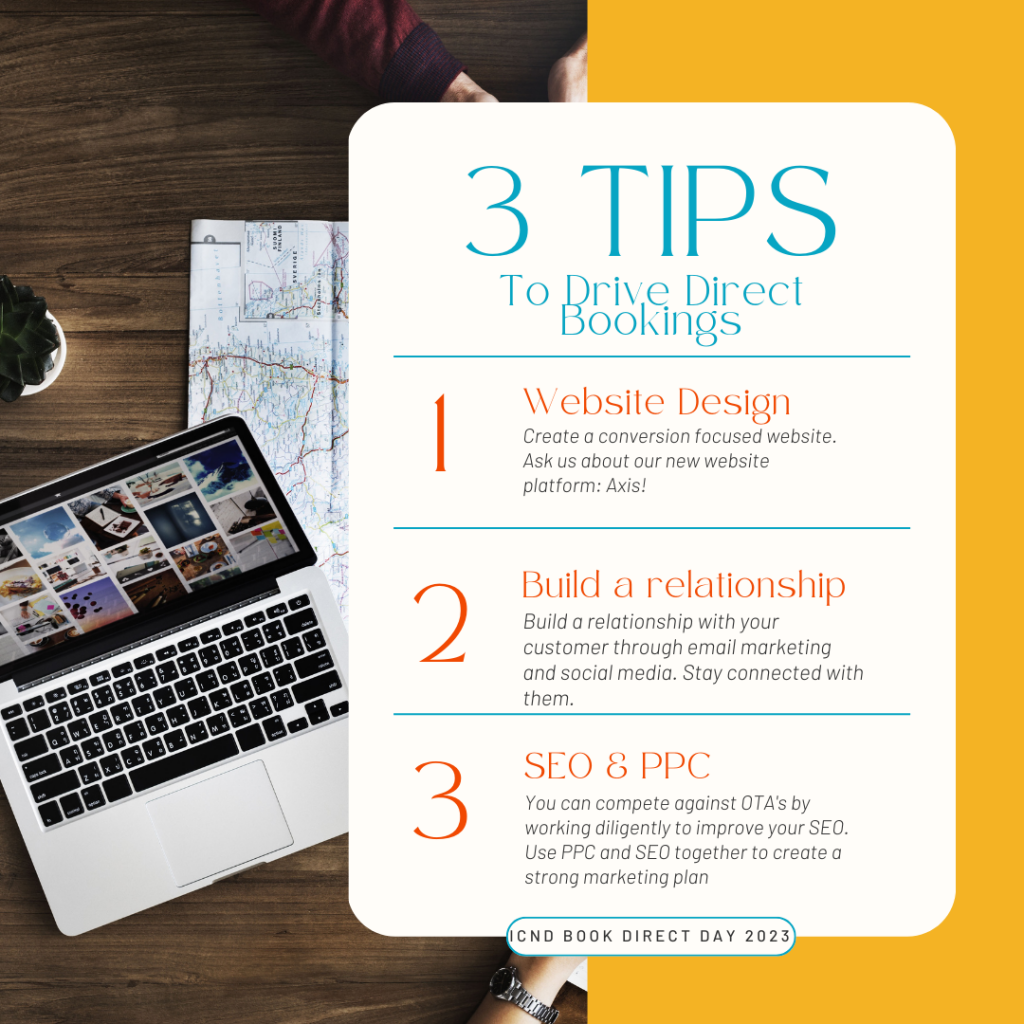 How Can You Educate Your Audience Year Round and Drive Direct Bookings?
ICND is here to help you every step of the way from website development with a state-of-the-art booking engine that works directly with your PMS to search engine optimization and targeted pay per click campaigns to bring in direct bookings. Download our Book Direct Day tool kit and embrace the initiative alongside other vacation rental managers that continue to fight the good fight to give consumers the best rentals, price and experience.