There's no doubt that for a vacation rental management company, their website is an integral of their business. Similar to the vacation rental managers themselves, the VRM's website must take on multiple key roles and excel at these in order to serve as a strong pillar for the company. 
From representing the brand, and fostering potential guest's trust, to executing its function as a booking engine, a VRM's website isn't some brochure site, it's a multi-functional core asset of the company.
With that said, there's a myriad of different competencies a VRM website needs to have, and one high on this list is speed!
Jump to some actual comparison tests between ICND's Axis and other industry websites including OTAs:
The Need For Speed
Web page speed has been a cornerstone of great web development for many years, but today we see our clients having two main concerns related to website speed.
Will the Axis website platform provide a good User Experience, and does Google PageSpeed scores impact SEO?
One is more obvious and relates to a great user experience on the website. All of us have experienced a slow loading website, and the typical response we all have is to simply leave the site.
The second concern we sometimes field questions about is whether web page speed impacts organic placement on Google or other search engines with faster websites being more SEO friendly.
Let's explore these two main key topics, user experience and SEO concerns, which are related to website speed, and how the newest ICND's platform, Axis, can deliver a robust dedicated VRM website platform that helps navigate these issues like a rockstar! 
Then let's tackle some common misunderstandings related to the scores these tools produce, expectations, and how Axis scores above all other platforms typical users interact with.
Website Speed & User Experience
You can have a super intuitive website, a beautifully designed website, and even a combination of both, but still lose potential guests because the site loads too slowly.
It's going to be hard to determine this issue from analytics data because often your main exit pages will remain the same whether or not the pages are actually loading slowly.
Our best advice to gauge slow load times is through either personal testing using both your high speed internet connections, and reviewing on mobile without wifi using cellular data connections. Even get yourself independent testers to do the same, or enlist some 3rd party testing which we can help you with.
The key is to test yourself before turning to any sort of page speed testing.
This might sound like a "duh huh" sort of statement, but you'd be surprised how often we see potential clients running Google PageSpeed Insights, and never even using the website. Furthermore, taking these test scores at face value without even knowing what a good score is, or having any comparisons to judge against. 
If it hurts to run through your website yourself, then you likely need to focus attention towards improving loading times on your website.
Does Page Speed Impact SEO
The short answer here is yes. To what extent any particular facet of Google's search algorithms is up to debate, but most competent SEO's would say that "while page speed is a ranking factor, relevance is still weighted much more heavily."
In recent years Google has identified 3 major areas that relate to the page speed of websites their algorithms really focus on.
These "Core Web Vitals" Google has coined pertain to how they gauge a potential user experience.
Largest Contentful Paint
How long it takes to load the largest image or block of text
First Input Delay
How long it takes for the browser to respond after an input by a user. Clicks or taps a button for instance.
Cumulative Layout Shift
This measures the visual stability of a webpage while it loads. Does stuff start jumping all around as the page is loading?
Google PageSpeed Insights will focus on these main criteria and likely any ranking factors use these data points to compare to other sites vying for top organic rankings for popular search terms.
Google PageSpeed Insights – What Does It Mean?
Google's PageSpeed insights is a very helpful tool, and so is GTmetrix for evaluating website loading issues. More than the scores themselves these tools will help identify large images that can be compressed and other more technical aspects of a website that can be optimized.
What's a good score though?
Using Google's PageSpeed Tester or GTmetrix Scores
With dedicated web speed testing tools becoming more popular we often field most concerns related to these testing tools like Google's PageSpeed Insights, and GT Metrix.
The problem arises when these scores appear low, but are actually above and beyond similar sites like those of VRBO or Airbnb, and other OTAs.
We need good comparisons to make useful decisions because a simple brochure website isn't tasked with a booking engine, and websites with booking engines and other resource heavy tasks will not score the same as a basic website.
Even Google doesn't score perfectly on their own test: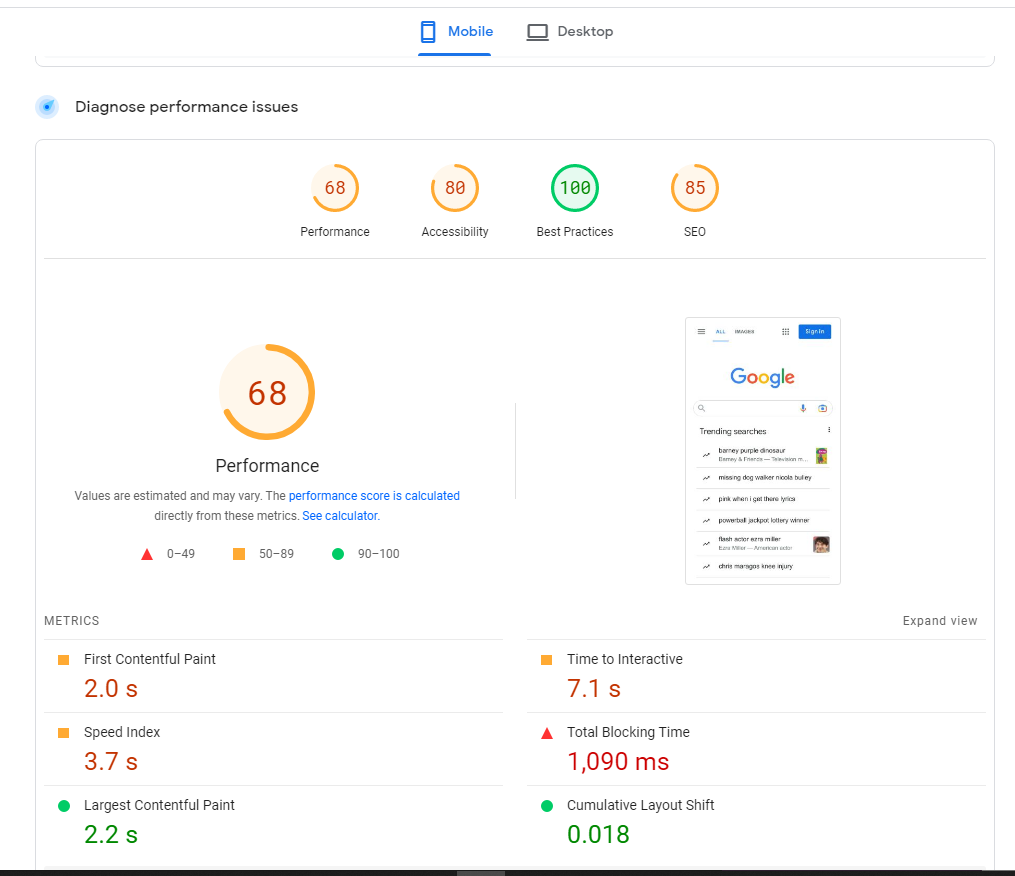 *This score of Google's homepage for mobile is authentic, but since this writing isn't able to be reproduced, Google has stopped allowing their own site to show scores.
Lighthouse has a built in Google PageSpeed feature which is still showing scores so here's those for Google's homepage on mobile: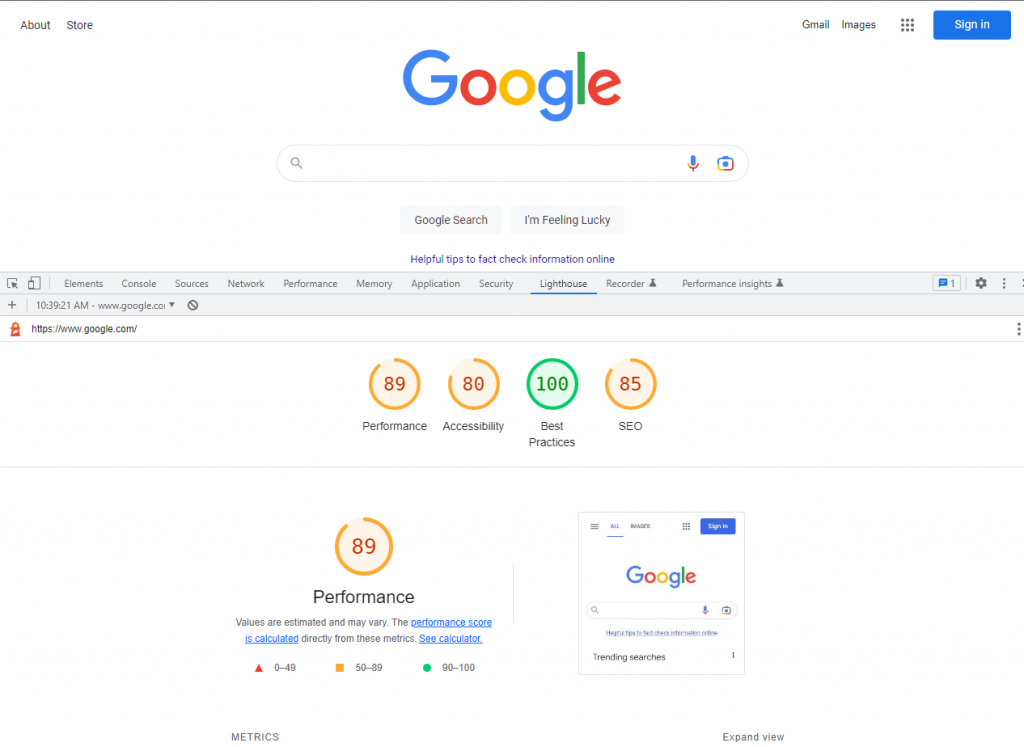 Google PageSpeed Comparisons Axis Vs Competitors
Homepage Landing Pages VS Competitors
These tests compare pages that are non-results page driven pages. They are often found as landing pages in Google SERPs (search engine results pages), especially in branded searches, but also main high volume "X location vacation rentals" searches.
Choosing one client's Axis website randomly (other Axis sites score similarly or higher) whose market is the Asheville NC area.
Desktop Google Page Speed Testing
ICND Axis vs ICND Legacy Website
https://www.carolinamornings.com/
Vs
www.KeesOuterBanks.com (ICND site)
Desktop Comparison to Airbnb Asheville landing page for comparison (non-results page).
Axis vs Airbnb Desktop:
https://www.carolinamornings.com/
Vs
https://www.airbnb.com/asheville-nc/stays
Axis vs VRBO Asheville Landing Page:
Axis vs Vacasa Asheville Landing Page:
https://www.carolinamornings.com/
Vs
https://www.vacasa.com/usa/North-Carolina/Asheville/
We have already launched many Axis websites that excel at loading times and get excellent Google PageSpeed scores. Here's just a few more at random and their desktop scores.
Axis Desktop score:
https://www.smokymtndreams.com/ (client using a variety of 3rd party services too)
Another Axis Homepage:
Axis Desktop with Video:
Even when utilizing homepage videos we're able to achieve fantastic results:
https://www.seacrestcondos.com/
Mobile Google Page Speed Testing
Google PageSpeed Insights will always have suggestions for improvement on any website you run through it. It's also unrealistic to expect to have a mobile score of 90 or above in this testing.
*This test relies on testing via a 3G cellular connection speed. With the advent and adoption of 5G along with 4G being widely available, along with wifi connections becoming increasingly faster, it's those desktop speeds that are more in line with the actual user experience on mobile. If the Google PageSpeed testing for mobile was utilizing a faster connection speed it may be more "real world" relevant.
This isn't to say that ICND doesn't work to make Axis as fast as possible, and is always adopting web development best practices. Let's just see how the Google PageSpeed testing looks compared to other websites.
In our industry quick testing of OTA homepages
Vrbo homepage Mobile:
Airbnb Homepage Mobile:
Vacasa.com Homepage Mobile:
ICND Axis Homepage Mobile:
*Separate Run showing repeated testing results
Asheville NC Example On Mobile
Let's go back and evaluate some landing pages in our Asheville NC example on mobile Google page speed. This look compares the actual landing pages found organically in Google that rank for Asheville NC vacation rental search terms.  
VRBO and Airbnb Asheville NC Landing Page Mobile:
https://www.vrbo.com/vacation-rentals/usa/north-carolina/smoky-mountains/asheville
Vs
https://www.airbnb.com/asheville-nc/stays
You can see ICND's Axis website platform consistently out paces major OTA websites both for their respective homepages and their dedicated landing pages for various markets.
Below we'll evaluate the actual booking engine pages of our Axis platform as these pages also prominently ranking organically for our clients.
Search Results Pages Mobile & Desktop
Another key element are the vacation rental search results pages that serve both as some of the most frequently visited and utilized pages, and are oftentimes also key landing pages found in SERPs (search engine results pages).
Let's just try some search results pages from various OTAs and compare them to Axis search result pages.
VRBO and Airbnb Asheville Searches MOBILE:
Desktop Same Test:
Vacasa scored the poorest with 14 for mobile and 37 for Desktop. The below comparison also shows the Asheville NC client's site on Axis.
Vacasa vs Axis Mobile:
https://www.vacasa.com/search?arrival=05%2F07%2F2022&departure=05%2F14%2F2022&place=/usa/North-Carolina/Asheville/
Vs
https://www.carolinamornings.com/rentals/?checkin=05%2F07%2F2022&checkout=05%2F14%2F2022&sleeps=
Vacasa vs Axis Desktop:
ICND's Axis platform consistently shows better results in these often variable Google PageSpeed insights tests.
Here we're seeing our Axis website example, (They all perform similarly) return the best results with a results page returning a 85 on desktop and 49 on mobile. 
Here's just some more examples of running Axis website search results pages through the Google Page Speed test:
https://www.seacrestcondos.com/rentals/results/?checkin=&checkout=&bedrooms=
Mobile Test:
Another Axis website randomly selected:
https://www.coastalcarolinaobx.com/rentals/?checkin=&checkout=
Our Axis websites are built to satisfy both end users and clients. Both our front end and back end development strictly adheres to website best practices to ensure a seamless shopping and booking experience, to deliver a platform our clients can stand behind.
All it really takes to see how fast our booking engine websites are is to take a drive, you'll see the difference.