As the times comes to wave goodbye to 2015, we've been reviewing ICND's progress, and wow – what a year!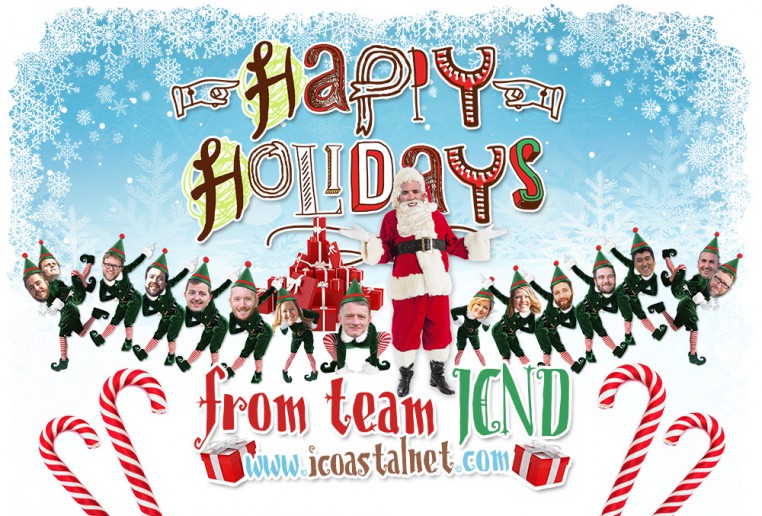 Team InterCoastal Net Designs is back from New Orleans for VRMA Annual 2015 and it was a blast!
For three days, we took the stage, vendor showcase (and some bars too) to have the most fun and education possible. I think it's safe to say that everything we set out to do was accomplished.
Representing our team at VRMA was President Brandon Sauls, Sales Director Vanessa Humes, Sales Rep April Burns and yours truly (Conrad O'Connell, Director Of Digital Marketing). Arriving on Saturday, we were able to carve out some time to get our booth setup dialed in before the rush.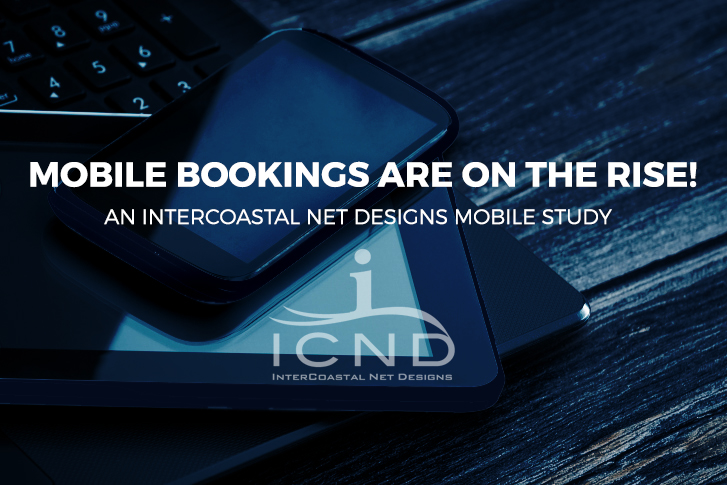 Let's face it, there's one word we're all sick and tired of hearing:
Mobile, mobile, mobile.
It's a topic we haven't been able to get away from since responsive web design came back in vogue a few years ago.
Well, today I'm here to tell you that responsive design is great — but it's a foregone conclusion nowadays that your website is mobile-friendly. As your guests become increasingly mobile-savvy, they're booking more and more with their mobile phones – making the following studies incredibly pertinent to your business, now and into the future.
Let's dig into the data.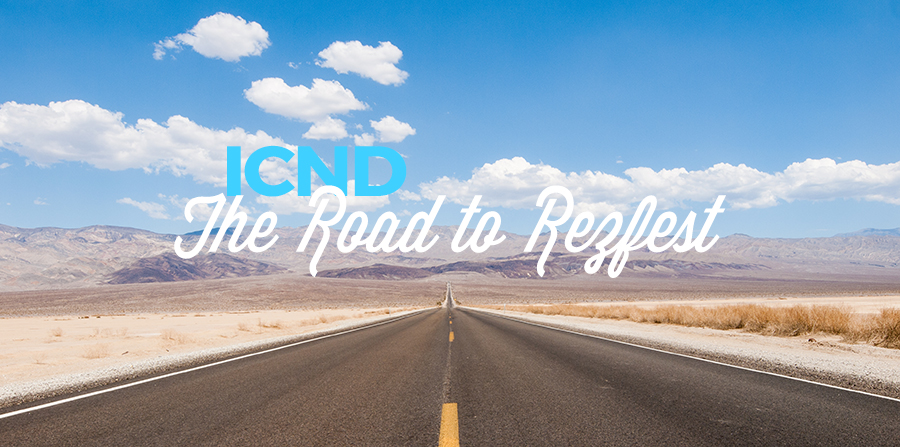 In just a few short weeks, ICND will be heading to Red Rock, Las Vegas for the RezFest 2015  conference, held by HomeAway®.  As a HomeAway® approved web developer that has integrated with their  software for over 10 years, we're excited to get the chance to participate as a Gold Sponsor.  Our team will be giving a presentation on Website Conversion tips and tricks as well as a lunch round table engagement concerning things you should take into consideration when you're looking to update your website.
Website Conversion Rate Optimization – Turning Lookers into Bookers
On Wednesday October 7th, at 2:30pm come get to know the ICND team. You'll leave the 30-minute presentation with a wealth of knowledge concerning Website Conversion Rate Optimization and Usability. For this session, we will review and pinpoint real world examples of components and features in a website that can help turn more viewers into guests and book more rentals. Website usability can greatly impact your website's conversion rates. With the newfound knowledge you'll take away from our session, you can begin making a true difference to your website's conversion funnel immediately.
Find out what key components leads to the best conversion rates
Learn how to improve guest experience through the use of our Guest Portal
Keep track of leads and their search habits through our Lead Tracker
Respond to every lead automatically (even when you're sleeping) with our OTA Auto Responder
Check out the RezFest website to sign up and save this event to your schedule.
ICND: Boost Revenue with These Website Redesign Tips & Discussion 
| Table 34 | Discussion Led By Brandon Sauls
Whether you are new comer or long-time user to HomeAway Software, there are certain ways you need your website to perform and interact with your API. ICND will lead an interactive Q&A to help you understand what both the API and custom programming can do in order for you to bring your business rules and marketing online. You ask questions and we'll provide our experience and best practices. We'll provide a take-home-guide of the "Top 10 Most Important Tips" to consider when building your website and integrating with a HomeAway®API.
Everyone is welcome, no matter if you are a long-time customer of Escapia and looking to upgrade your site, upgrading from Property Plus to v12, or a brand-new HomeAway®customer, you will get to know what the API is, what it can do, and the best practices for integrating. We'll discuss promo codes, offering flexible dates (in search), most popular amenities, and what to use for quick search versus refined search.  We will also talk about dynamic pricing, Search Engine Optimization (SEO), property enhancement, travel-insurance, bundling fees, and so much more.
If you are considering a new site, just launched, or are in the midst of rebuilding – you simply have to join us in this open, round-table discussion.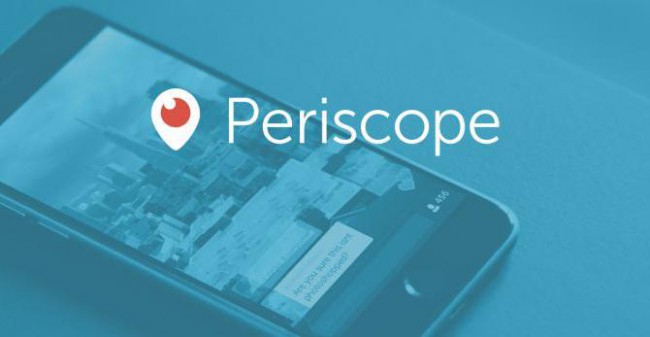 Periscope is the newest addition to the property manager's tool bag. Use Twitter's new live streaming app to market your properties instantly. Personalized videos increase the visibility of available rentals and allow you to connect with vacationers around the world.
By combining the power of social networking and the advantages of video marketing, Periscope offers a new way for you to grow your management business without investing capital. In fact, the app is free. You can download it now and start streaming live videos using any Android device or Apple iOS product. Highlight your entire rental portfolio or a preferred property that's new or under rented.
Periscope was introduced in March 2015, so you can be an early adopter and achieve greater success during this vacation season. Video streaming is the newest way to rent more units, increase the visibility of available properties and reach your target audience wherever it is. If you're ready to harness the power of21st century technology and grow your vacation rental business, here a few marketing ideas to get you started.
Four Ideas for Using Periscope
1. Marketing New Properties
With Periscope, you can show your Twitter followers new listings as soon as they hit your desk. You can market the property during a live tour and follow that up with a second video that highlights the amenities, surroundings and local neighborhood. Live videos create a competitive environment where vacationers are motivated to rent new properties quickly. Increased demand can boost rental income.
2. Giving Private Tours
Whether you have clients in Omaha or Osaka, you can showcase any local property instantly with a private Periscope video. Recipients don't need the Periscope app because public and private streams can be viewed via Twitter. Videos can be streamed instantly or replayed within 24 hours even if your client is halfway around the world. You can walk, talk, record and stream at the same time. You can also interact with viewers and respond to questions or comments.


3. Boosting Rental Performance and Revenue
The ability to reach your target audience wherever and whenever is a great skill. When a property is going unrented during tricky end-of-season or off-season dates, this advantage is priceless. Periscope makes it easy for property managers and real estate agents to promote special offers, short-notice deals and individual properties. If a renter backs out at the last minute or if you need to fill a slow weekend, Periscope can help you connect with the ideal renter.
4. Simplifying Schedules and Keeping Clients Happy
It's never been this easy to connect with vacationers and property owners at the same time while keeping folks on both sides of the rental equation happy. Renters can view virtual tours and find the ideal property quickly. If a property is fully booked for the season, you can let everyone know with a short comment. On the other hand, you can keep clients current on rental details and inventory availability. Open lines of communication increase client satisfaction and can earn you valuable word-of-mouth referrals.
Maximizing the capabilities of a free app is the definition of creative marketing. Unleash your originality, and release your resourcefulness. To get your vacation properties seen by more renters, start Scoping today.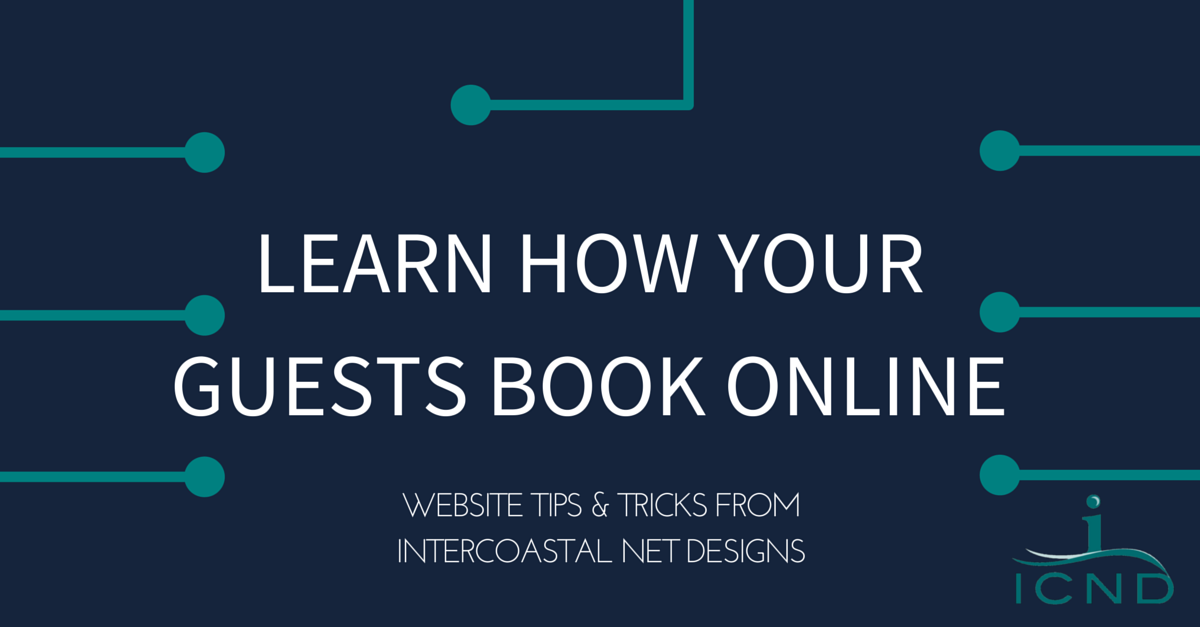 Online bookings.
They're wonderful, aren't they? You just sit back and relax, while guests enter their credit card information into a checkout page, giving you money.
If you've invested into a industry-leading vacation rental website design, you'll start to increase your online booking percentage by a healthy margin. And, if you're like us, you want to see how your marketing investment is going to pay off in the long-term.
But, if you haven't invested in upgrading your vacation rental website lately, you may wonder what you're missing out on. After all, it's easy to rely on the crutch of a large listing site sending you leads instead of investing into your own website's platform first.
At InterCoastal Net Designs, we've spent years refining the vacation rental booking steps, processes,flow, and layout. Across the past year, we've seen amazing leaps in conversion rates, online booking revenue and overall website performance. We've been relentlessly trying to measure and evaluate every single step of a vacation rental website booking – all with a single goal of providing more online bookings.
But, showing off these results isn't always easy – because website conversions are messy. Simply put, guests rarely book the same way, during the same visit with the same steps. Every conversion ends a little bit differently – just like your rentals!
Do you want to better understand and learn how your guests actually book on your website? Read on.
Step 1: Measuring Accurately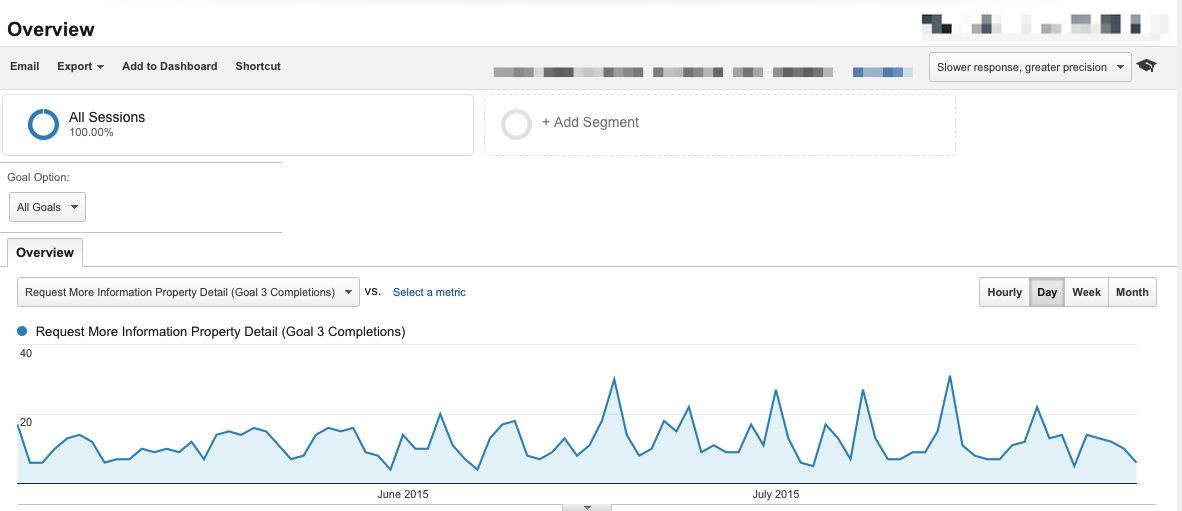 First up, before you can even think about digging into your website and evaluating its performance, you need to make sure you're measuring your web analytics properly.
You should have the following elements already setup (at minimum):
Google Analytics on every page
E-commerce tracking firing on the checkout confirm page
Google Analytics goals active for every lead point
Tracking submissions of general contact forms
Measuring lead generation forms or property question forms
Counting the number of searches that happen on your website
This base set of measurements will help you check your website performance later on. It's easy to get caught up in the stats and numbers. But, if you have all of these pieces being measured correctly, then you'll be off on the right foot. If you're looking for more resources, check out your Google Analytics reports under the "Goals" and "E-commerce" sections for a better idea of the interactions that are happening on your website.
Step 2: Nailing Down The Basics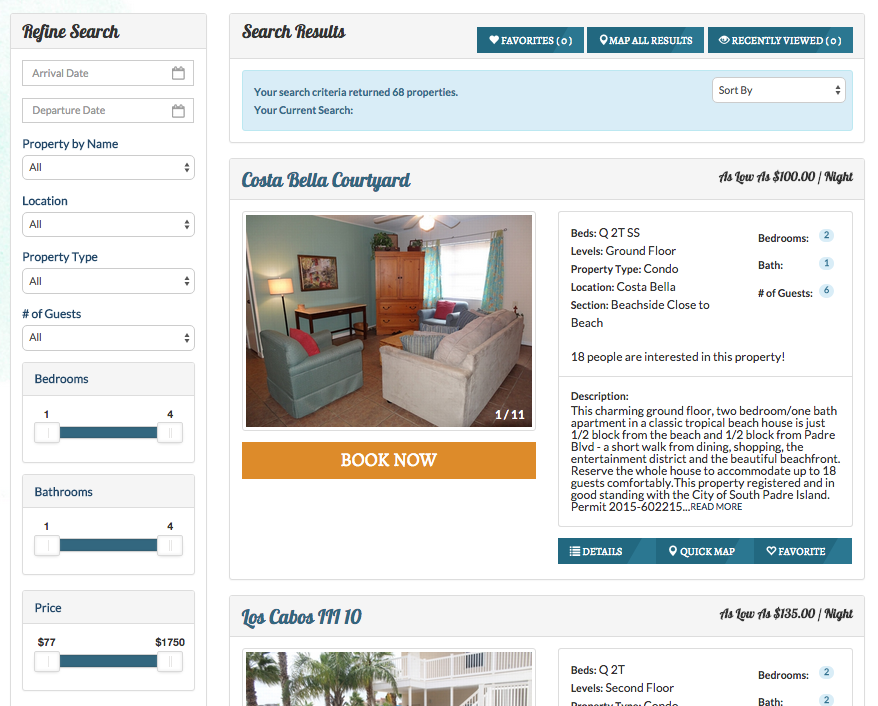 After you've tested and made sure you're tracking everything correctly, the next step is to make sure your basics are covered.
For our vacation rental websites, this means that we've got all of our lead-capture forms working and they're being tracked. Next, we're making sure that the base (foundation) of the booking process is sound.
Questions to keep in mind as you work through the usability of the website and booking process:
Does the homepage have an easy to use quick search box?
Can I quickly filter my results?
Do I have to constantly click lots of forms, or it easy and simple to filter my results?
On the results page, is there an urgency component that makes me want to book this rental?
How does the photography look – can I see the quality of the rental easily?
When viewing a property detail page, does it show me critical information like reviews, availability,  location (quick map) and rates?
What are the property amenities and description like? Can I use this data to solve most questions before they clog up my inbox?
 What about reviews? They should be up to date, easy to find and have names attached.
Your guests are going to evaluate every single element of your website design – they're looking for all of the information they could possibly need– plus a bit more too!
If any one of these foundation checkpoints (above checklist) isn't addressed clearly, many guests will just leave and not bother to book with you. Your professionalism and competency as a vacation rental company often comes down to first impressions – and your website is that first impression for your brand.
Making sure that the basics are nailed in your vacation website is critical.  If it's too hard for a guest to book online, then your chances of conversion fall even more.
Elegantly executing on the basics leads to a fantastic user experience. As you'll learn in this next section, guests don't book on their first visit. To keep them around and happy, you'll have to exceed their expectations.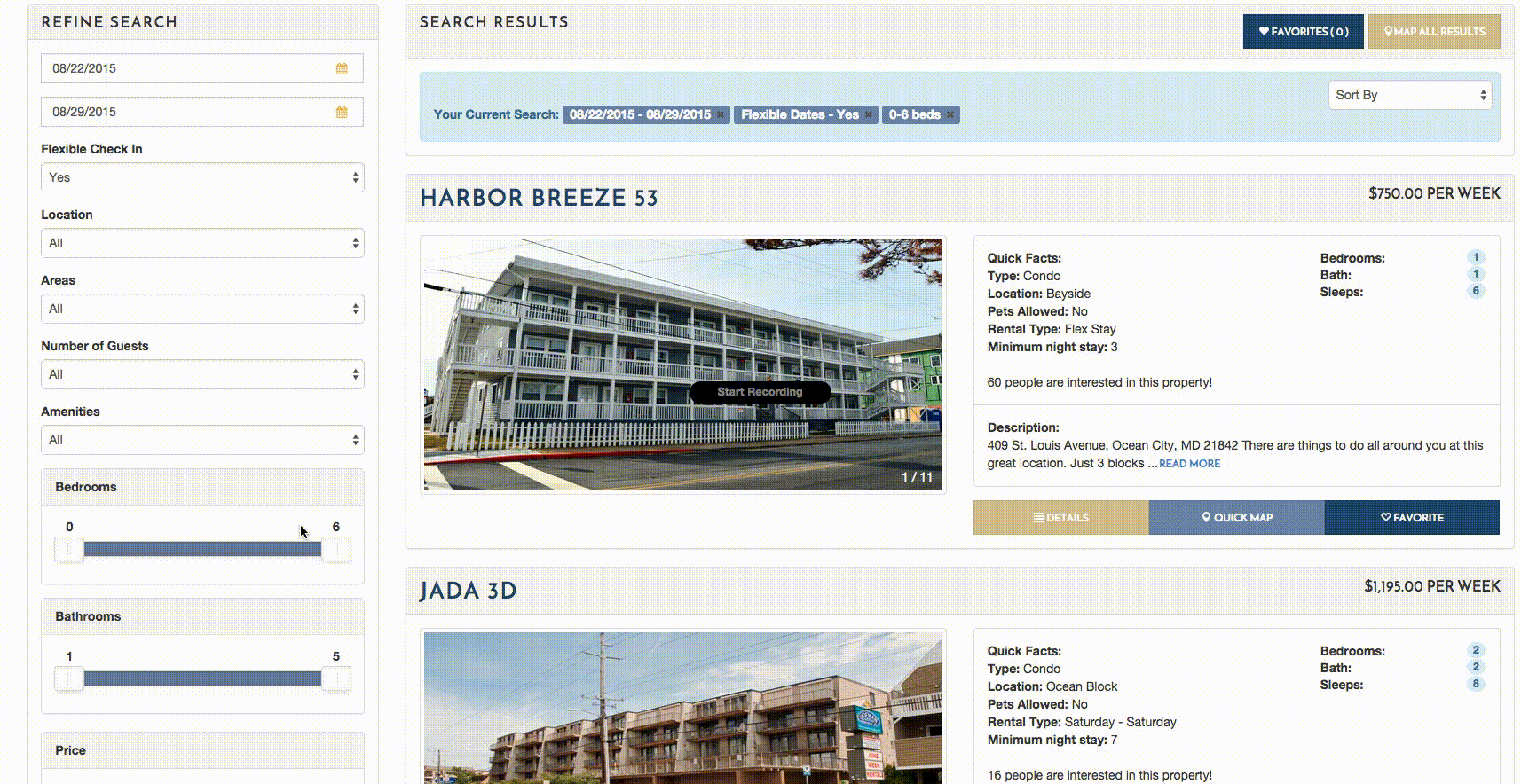 Step 3: Digging In Deeper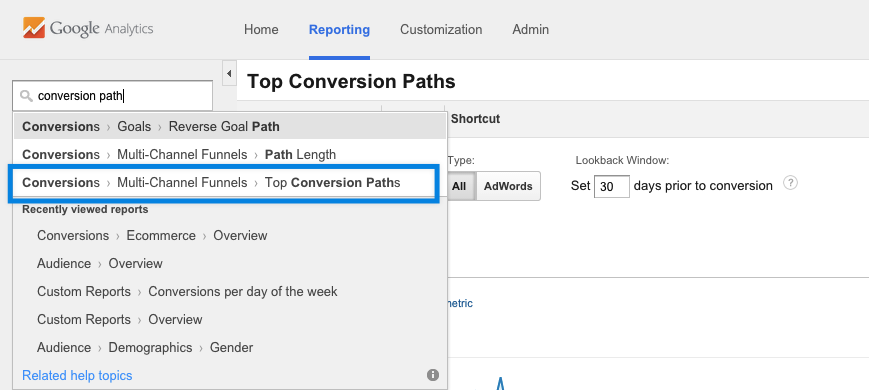 The next step, after confirming you're working with a solid foundation, is to dig into your analytics package and really measure guest flows and booking tendencies.
By far, the most common report I look at to show the fungible nature of the booking process with our clients is the conversion path report in Google Analytics.
Viewing this report is truly eye-opening and captures how guests actually interact with your website. Instead of clicking on your website in Google, doing a date search and booking, you'll instead see the real path they took to convert. For many of our clients, we'll see that 3-5 interactions with the website is very common. This can reach into 10 or even 20 or more interactions with a website before booking.
Guests browse, leave your website, check prices elsewhere, ask their Mom about the rental and who knows what else before confirming their booking.
Check out the report below.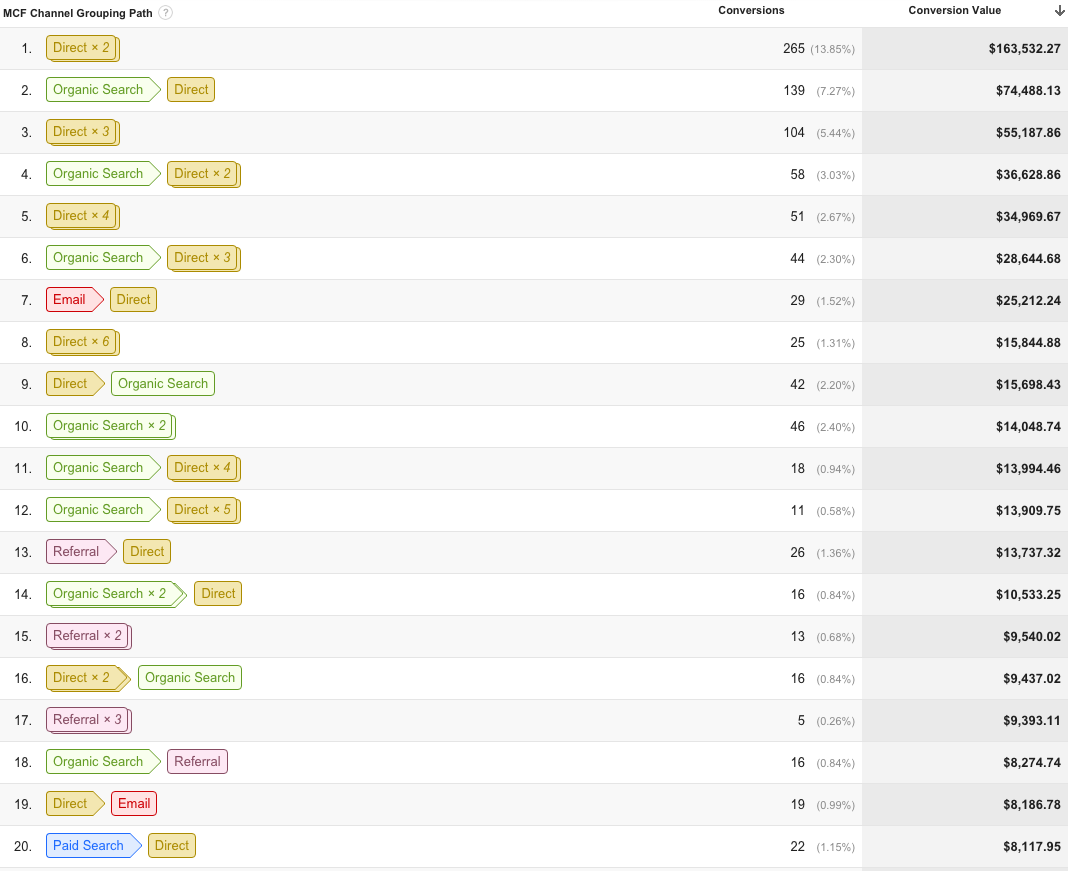 For this particular client, guests often book after visiting the website twice. But, a very common conversion path (one that I see constantly with our SEO clients) is the Organic Search > Direct path. This one is usually from ranking high on Google for major keywords, then the guest will browse around, leave the website and consider the rental, then come back later directly to the website and book.
In a normal Google Analytics revenue report, this conversion will show as direct. But, if you think about it, the guest would have never found the website if not for the traffic from Google search. In my mind, the Organic search traffic drove the lead much more than the last-click booking channel (in this case, direct).
As you drill down into this report, you'll learn a lot about the consideration path that a guest takes before booking. Many guests will visit your website 5 or 6 times before booking. Some will open 7 different promotional emails and then book.
You can dig through this report for hours – and you'll get a lot of out it. I highly recommend reviewing this report and looking for patterns – do your guests look at dozens of properties before booking? This could be a bad signal as they are not finding what they're looking for. Is your time on page very low with a high bounce rate? Perhaps your pay per click targeting is off-topic.
This data doesn't really tell you what to do — but it does provide a framework for allowing you to succeed by letting you dig into the stats that matter.
Step 4: Asking For Feedback
After you've analyzed the site the way you think about your website, it's time to enlist the help of others.
Utilizing feedback tools like Hotjar, we've recently been adding surveys and net promoter score surveys (Question: "How likely are you to book with the rental company?") to our clients websites. The data that we've gathered just from people writing in their feedback has been invaluable to learning more about what guests are looking for.
Here are a few responses from a recent poll on a marketing client's website:
Do you have rentals in Peninsula Hotel?
These properties show the weekly rate. If Im only staying 2 nights, do I just divide the weekly rate by 7 to get the rate per night?
Are there any special rates for students or AAA members?
The safety deposit will be completely refunded if there are no damages, correct?
All of these responses are highly informative – and they tell us a story about what guests are looking for on the website. In these cases, we've already added different copy throughout several pages of the site to give the guest more information about the rental polices and procedures.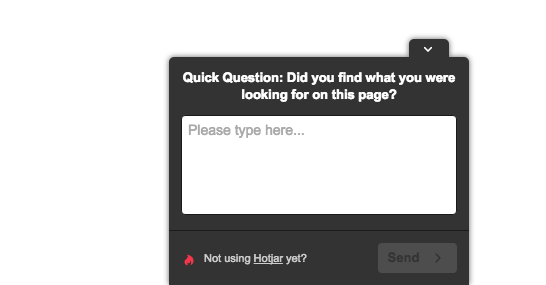 Step 5: Testing & Measuring Results
Finally, the last step is to evaluate and measure the results of your website marketing efforts. Now you can see how users go through your properties, book rentals, visit the site and what questions they may have.
The next step is to take it to the next level – you can utilize A/B testing on homepage layouts, form copy and more to evaluate the results you're getting from your website a boost revenue and performance.
And of course, the ultimate goal remains in focus – get more bookings. With the help of InterCoastal Net Designs, you'll get more bookings, leads and top-notch tools that make your vacation rental business better.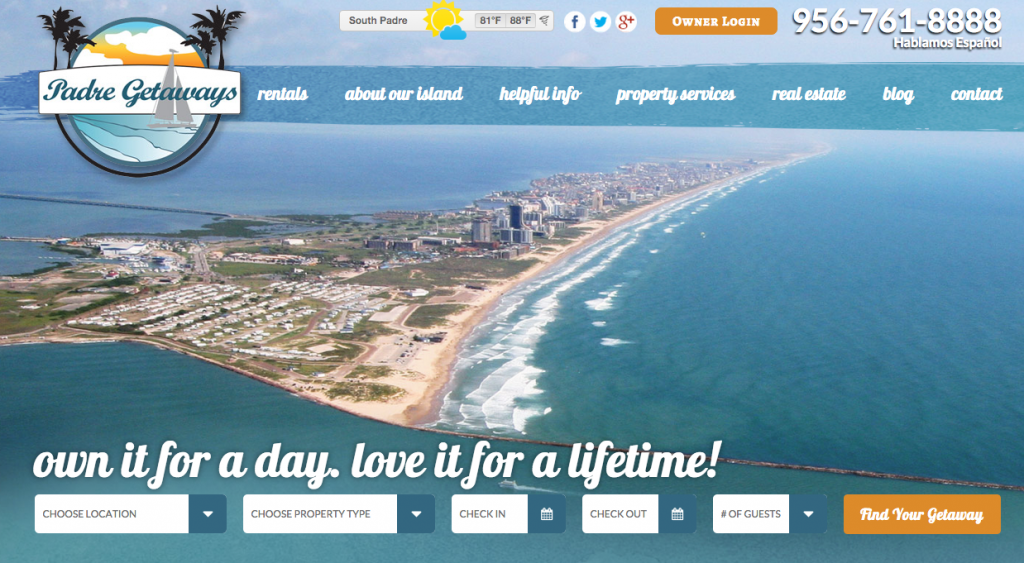 Hello, South Padre Island.
Padre Getaways, based in sunny South Padre Island, TX, recently launched a redesigned website with team ICND. Integrating with RMS, we were able to seamlessly integrate their property management software into our new booking engine platform. Padre has also opted for our LeadTracker software, a critical element to running their leads through a trusted software system that gets more bookings. Before, Padre Getaways offered limited ability to book online, but with their new integration in place, you now can effortlessly book Padre Getaway's full inventory of vacation rentals. With our SEO team working with the team at Padre Getaways, we're eager to see amazing results from their organic traffic and pay per click budgets too.
We met up with Padre Getaways at VRMA Annual in San Diego late last year, and we were thrilled to meet their needs on the latest website design. With great new design elements like a new featured property widget on the homepage, an image-heavy design that emphasizes great photography and a conversion centric design, Padre Getaways is looking forward to finishing their summer strong.
Would you like to learn more about our vacation rental website designs? Contact us today to get a free quote on our website designs that'll get you looking just as good as Padre Getaways.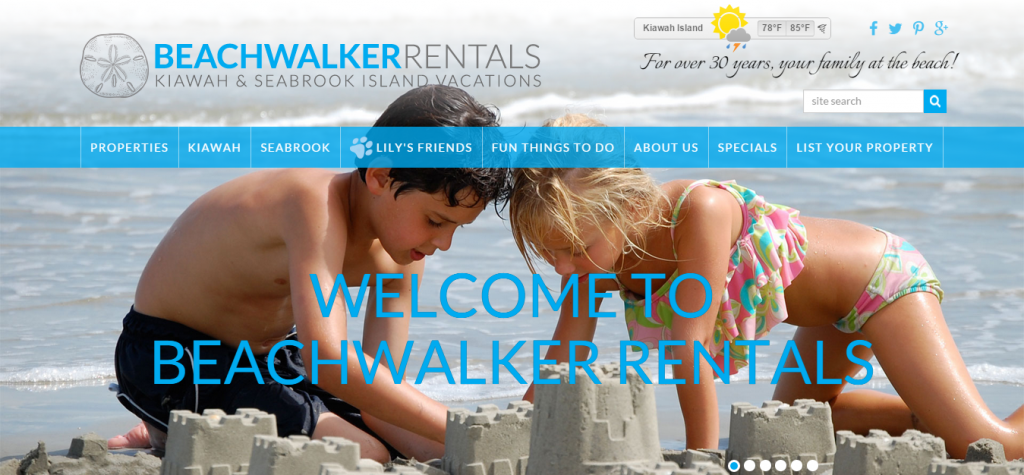 We here at Intercoastal Net Designs want to thank everyone who was involved with the successful launch of Beachwalker Rentals! Along the way we were able to develop some new methods for our custom-built booking engine, based on Beachwalkers' complex rate rules requirements. When working with us on a custom vacation rental website, we're able to tackle complex rate requirements and give you exactly what you're looking for. We added some nice CMS features for our base CMS product, as well as an expanded promo and specials capabilities for the front end that provide an amazing user experience.
For over thirty years, Beachwalker Rentals has provided families and groups with memorable vacation rentals throughout Kiawah Island. With a brand new website, Beachwalker Rentals continues to make strides within the vacation market in Kiawah Island, South Carolina.
We're excited to see the reactions of the guests of Beachwalker when they enter the newly redesigned website. If you're looking for your own vacation rental website experience, contact us today.
Here at ICND we are proud of the amazing websites we build for our customers and all the ways those sites help their business.  We love building websites, but lately we have been stretching ourselves a little by taking on projects that require a bit of flexibility and innovation.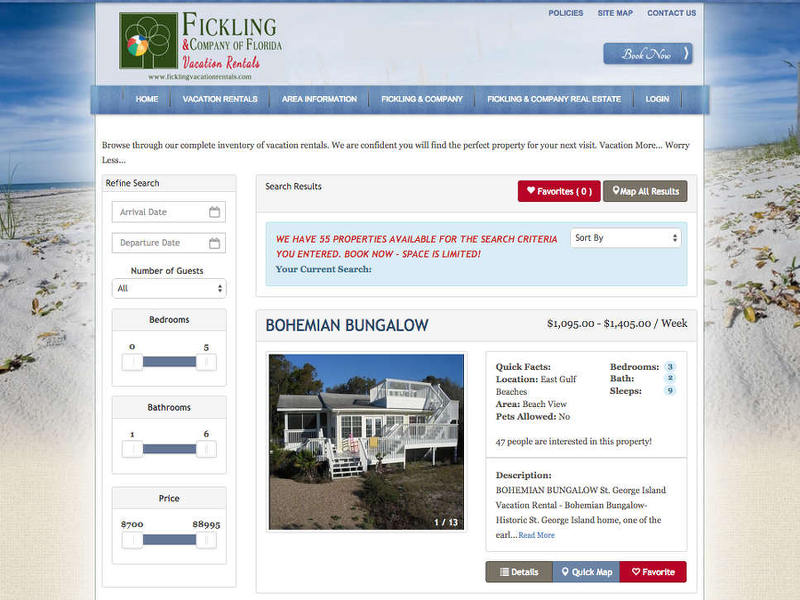 We were recently approached by Fickling Vacation Rentals, a client in the vacation rental market located on sunny St. George Island, about a unique project.  The folks at Fickling were very happy with their existing website.  The loved the look and feel of the site, however, they were not satisfied with their booking engine, the software that let their guests search properties and make reservations.
This is just the kind of challenge that we love to take on.  We immediately tasked a team of programmers with finding a way to add the power and usability of our custom built booking engine while preserving the existing aesthetic of the site.
Fickling Vacation Rentals had plenty of reasons to search out a better booking engine.  Many of our clients tell us that one of the hardest parts of their business is helping potential guests find the right property and then getting them through the reservation process in as few steps as possible.  When we were developing our booking engine we took these concerns very seriously.  The resulting software is optimized for conversions, packed with user-friendly search features and removes as many barriers to reservations as possible.
With the project completed Fickling can have everything they want.  The same great website with a brand new engine under the hood.
With this successful project completed we're looking forward to working with more clients who challenge us with interesting projects that let our experts put their skills to work.
Plenty has changed here, for the better, at ICND this quarter. As we've been busily creating and launching several websites, our team has been hard at work creating new custom modules for vacation rental firms. One of the newest sites in which we've utilized this customization was Booe Realty. Continue reading →
Get free updates from our blog:

Recent Posts

Get Social With Us!