Vacation Rental Web Site Design
What is a Booking Engine Integration?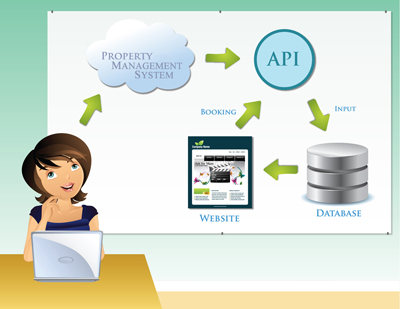 You have your property management software, which your team works off of to enter inventory, property descriptions, and keep track of bookings. You also have your website. A booking engine integration is a way to keep all of the booking and property information in one place, while keeping your users on your site and not linking out to your PMS standard booking engine. Basically, you enter your information into your PMS. Your PMS sends the information via what is called an "API Call" to a server, which sends the information to ICND. ICND can then grab all of your raw data, and place it on your website. It works in the opposite direction as well. Someone books on your website. ICND sends the information to the server via the API call, which is then sent and reflect on your PMS. Its as easy as that (with a bunch of techy stuff in the middle of the process). ICND vacation rental web designs are created to make life easier for you, your owners, and your guests.
Benefits of an ICND Booking Engine Integration
User Friendly
ICND vacation rental web designs have been a/b tested and placed on heat maps to test the most clicked areas. This means that elements such as contact forms, search buttons, book now buttons, etc, are placed in the spot most likely to get your visitors attention. We don't want them to grow frustrated, trying to figure out how to simply book a property. All ICND sites are designed with the guest in mind, to help you convert more leads.
Responsive
All ICND vacation rental web designs are built responsive. This means users can book right there on their mobile device. There is no need for a mobile site when your site has been built responsive from the get go. Google is now recommending sites to be responsive, so this can greatly help with your rankings. To learn more about responsive websites, click here.
Customizable
Your standard PMS Booking Engine Page is generally just that. Standard. The ICND team can work with you to customize your booking engine to fit you and your company's needs. No two companies are the same, why should your website be forced into a standardized version? If you can think it, we can do it. Our vacation rental marketing specialists and project managers have years of vacation rental marketing experience, to help you with ideas along the way.
Search Engine Optimization
Many standard PMS Booking Engine sites are iframed in or put on a sub domain. This means you get no credit for all those pages from an SEO standpoint. By having your booking engine integrated on to your website, you are gaining a lot of information that can help you from a search engine standpoint. First of all, search forms, search results pages, property detail pages, and book now pages are now all on site. That is numerous pages that Google and other search engines will index as on your site. The more pages you have on your site, the more the search engines will count you as an expert, and in turn your rankings will reflect this. It also means more time will be spent on site, which also looks great from a search engine standpoint. The entire time your users are searching and browsing your inventory, they are on your site.
Help Us Help You
ICND does not have access to your property management system, only to the raw data provided by the API. This means we do not see what you see, but a bunch of raw data that we have to sort through and code so it reflects properly on your website. 99% of the time if you see something incorrect on the website, EG an incorrect picture, description, or availability, a missing property, and so on, it is because the PMS is not communicating properly with the API. Please contact your PMS support staff to see if the data has been entered incorrectly prior to contacting ICND. If you see an actual website error, this is the time to contact support@icoastalnet.com. For more support tips, please click here.
Can You Work with my PMS?
Currently ICND is working with numerous different property management systems including Barefoot Technologies, RMS, RNS, VRM, Streamline, Homeaway products (V12, Escapia, Property Plus, etc) and more. If your PMS offers an API call, chances are, ICND will be able to work with them to develop a vacation rental web site with a booking engine integration for you. If you have a question about this, please contact us. Our staff would be more than happy to get in touch with your PMS team and talk technical with them to make sure we can make it happen.
Interested in learning more about ICND vacation rental web design and booking engine integrations? Please contact your account rep today. Don't have an account representative yet? Please click here, or email us and we will be in touch with you shortly.