ICND will soon be jet-setting for conference travel and we're excited to say the least. In September we're attending Streamline Summit and Rezfest, with VRMA International on the horizon in October. In preparation for September travel, we sat down with resident travel expert, April Burns. Come see us on the road!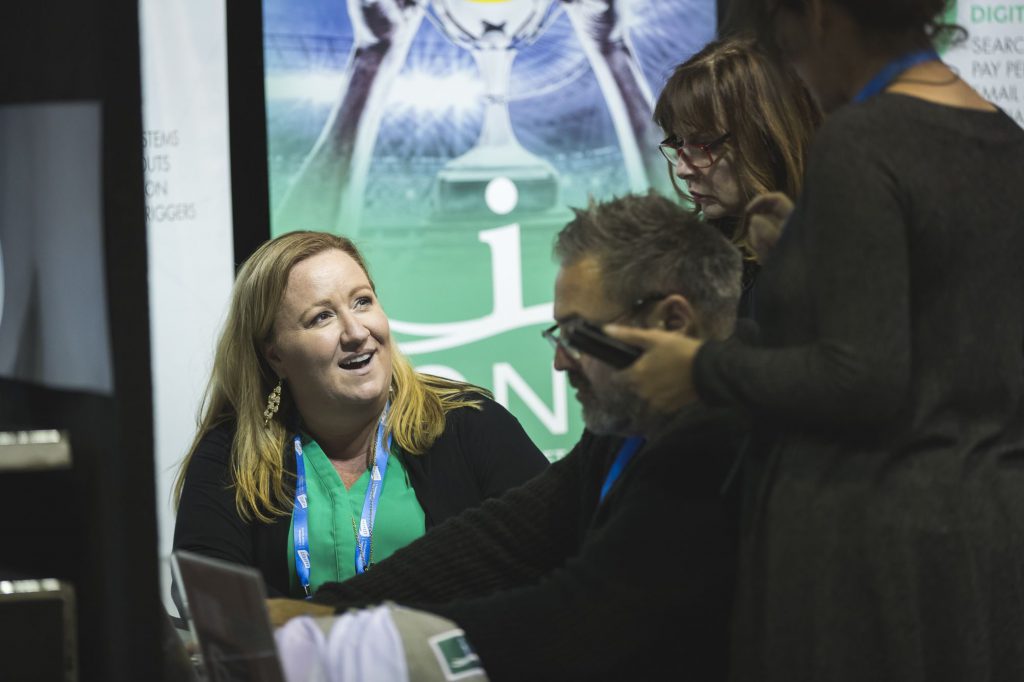 On Conference Travel:
Q: What's your favorite part about gearing up for conference travel? 
AB: It is an exciting time of the year when conference season approaches.  The energy in the office goes up as we work on new campaigns, swag and new products to showcase.
Q: What do you most enjoy while at the conferences?
AB: During a conference it is great to explore a new town and get to see the local sites, but in the end it is the opportunity to see current clients and meet new friends.  There is a core group of vendors that travel to these events and become your second family while you are on the road.  They are there to help in times of need and for a good laugh. We also have our usual attendees that come to each event.  Some of them may be your client, but some become friends that you get to see and catch up with each year.
Q: Tell us a bit about ICND's conference theme for Fall travel.
AB:  Each season we love to come up with new theme and play off them for our swag and booth.  We have many VRM's looking forward to our t-shirts every year and this year will not disappoint.  I think that might be all I can really say…but have you ever seen Better Call Saul(s)??
Q: What are your tips for keeping the conference energy in forward motion after returning to the office/daily routine?
AB: It is important for your team feel the energy when you return to the office. They enjoy hearing about the trip, the people and a little swag for them definitely helps!  I have also found that if you take time to make a list on your return trip it will help you stay focused and energized
There is a core group of vendors that travel to these events and become your second family while you are on the road.

-April Burns, Account Executive
On Streamline Summit:
Q: Is this your first Streamline Summit?
AB: This will be ICND's second Streamline Summit and I have been fortunate to attend both of them.   
Q: What is unique about Streamline Summit?
AB: Streamline really rolls out the red carpet for their clients and vendors.  Each year they have a unique theme and provide great events.
Q: Tips for Scottsdale, AZ?
AB: I have never been to Scottsdale, AZ, so I am very excited to explore this town. I have heard so many positive things about Scottsdale.
On Rezfest:
Q: Is this your first Rezfest?
AB: No, this will be my 3rd time attending RezFest.
Q: What is unique about Rezfest?
AB: RezFest gives us the chance to connect with our current Homeaway clients, while meeting new people.  It also gives us the chance learn about the next exciting steps with Homeaway. RezFest offers a great conference experience while allowing time to really mingle with the attendees and getting to enjoy the area.
Q: Tips for Marco Island.
AB: Marco Island is a gorgeous beach town, so take time and get out to explore.  We get to travel to some gorgeous locations so make sure you take time to get outside and see what they have to offer.
Travel Tips from April:
Q: You're an experienced traveler, how many countries have you been to?
AB: I have been fortunate to go to over 30 countries.
Q: What was your most recent trip?
AB: My most recent international trip was to Australia for RezFest Australia.
Q: Tell us your tips for the novice traveler.
AB: Great question!  I have a few key items that I always do when traveling internationally
Tip #1 –   I try to travel with a carry-on, as I have had my luggage delayed in the past, but when I do have to check my bag, it is important to place a card with your name, phone and where you are traveling to (including airline details) inside your checked luggage – baggage tags can be ripped off and this will give them the chance to locate you and reconnect you with your bag.
 Tip #2 – Make a copy of everything – may passport and travel itinerary, and keep it in a separate location, in the event I lost my documents.
Tip #3 – Be a good ambassador for your country – prepare for long flights, research the location you are going to ahead of time and pack your patience! A smile and a good southern hospitality go a long way!
Be on the look out for April when she hits the road for our September conference schedule. April wears many hats here at ICND, but she's widely known among our crew as the Director of Fun. However, after reading her travel tips we may have to add another title, Director of Travel! We're excited to see you on the road!