InterCoastal Net Designs has just finished redesigning the website for Coldwell Banker Sloane Realty from top to bottom. This is our first client site to go live with the new MLS 3.0 which includes some very exciting features that include the following:
Housing Market Trends
Interactive Flash map complete with route numbers and includes labels and descriptions of towns covered by CB Sloane Realty.
Enotify system will email anyone weekly who has signed up to let them know of additional properties within their search specifications that have come onto the market.
On the bottom of the homepage you'll notice we've added SEO-friendly quick links which the major search engines will reward us nicely for, bringing additional traffic to the site.
The newly redesigned Coldwell Banker Sloane Realty site is social media friendly, as is evidenced by the Facebook symbols on the homepage. Socially interactive websites are the wave of the future and more of our clients are having their websites upgraded to utilize social media plug-in's and the features they provide. It's an cutting edge way to reach a larger market than your website alone could possibly reach.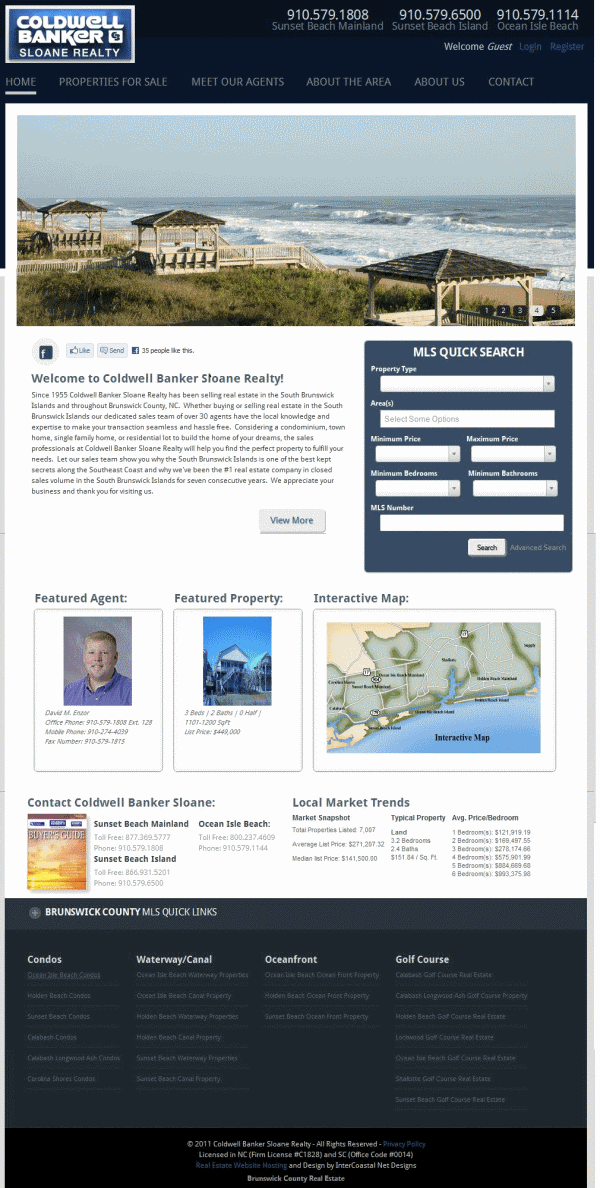 Since 1955 Coldwell Banker Sloane Realty has been selling real estate in the South Brunswick Islands and throughout Brunswick County, North Carolina. The business, started by George A. Sloane II and wife Willa Rae Sloane in 1955, and proceeded by their children George "Tripp" A. Sloane III and Debbie Sloane-Smith, Coldwell Banker Sloane Realty continually strives to be the leader in all facets of real estate sales and management in the South Brunswick Islands. Whether buying or selling real estate in the South Brunswick Islands their dedicated sales team of over 30 agents have the local knowledge and expertise to make your transaction seamless and hassle free. Considering a condominium, town home, single family home, or residential lot to build the home of your dreams, the sales professionals at Coldwell Banker Sloane Realty will help you find the perfect property to fulfill your needs.