With the start of the New Year come new beginnings. Our New Years Resolution across the ICND team is to perform the best quality service to our customers at an affordable price in these tough economic times. We strive to be on top of the most cutting edge technologies that will help your website and online marketing now and in the future. As our clients, we ask that you continue to push open our envelope with more challenges and needs as it only increases our knowledge and strong product base.
That being said, here's what we've been working on:

Announcing New SEO Proprietary Crawler
ICND has created a spider to crawl your site and analyze different aspects of your SEO. It can report back all sorts of useful information like how many pages you have, broken links, duplicate content, duplicate meta data, length of page titles and a plethora of other useful information that the search engines look for. These helps our team analyze 1,000s of pages in just a few hours that would take months for the human eye to look at and record.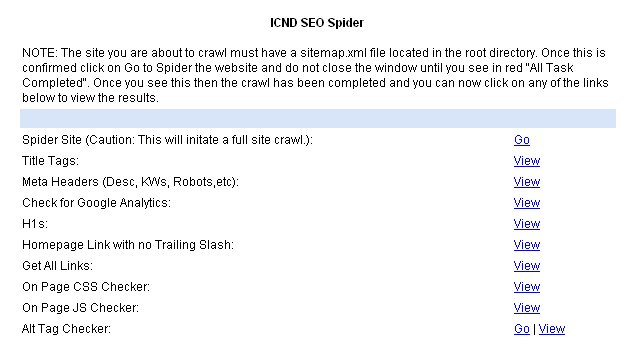 We are currently running these crawls on our SEO clients to identify any thing that we may need to adjust on your sites. If you aren't an ICND SEO client, put your current SEO provider to the test and contact us today!
Launching of the brand new Palace Theatre website.
We started this redesign around the holiday times when the director of marketing, Sabrina Israel, came to ICND with the challenge of launching a new design by mid month of January. They wanted a website that would better channel their flow of traffic and increase online bookings. Their previous website was a challenge for the visitor to navigate. We put in an easy to use navigation with customizable drop downs, new graphics, JQuery rotations on the homepage, and a fully integrated CMS system for easy updates as they add shows frequently.
Launching of the Turtlewood Website
The custom home builders, and long time customers of ICND, Whitney Blair came to ICND for a website design project for their development Turtle Wood of Southport. They wanted to incorporate the southern charm of these custom cottages into the design and create a website that would market as an online brochure. Now Whitney Blair and the developer of the project, Southstar, are able to send interested leads to the website for more information about Turtle Wood. The site also features area information, cottage renderings, a site plan, as well as blog to keep leads and buyers up to date with the community's progression.
Launching of the Ocean Isle Inn Website
The Ocean Isle Inn came to ICND for a website redesign. They wanted something that would have lot of pictures and get the visitors of Ocean Isle Inn excited about their trip and have the ability to book online. ICND was able to create a design that incorporated just that.