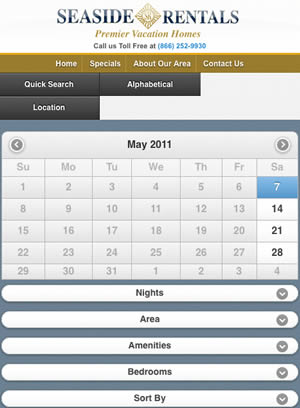 Seaside Rentals, a provider of premiere Myrtle Beach, Surfside and Garden City Beach vacation rentals has enlarged their market to include the mobile Web. ICND is pleased to announce the launch of their Seaside Vacation Rentals Mobile site complete with Vacation Rentals Search Functionality.
With the web becoming more accessible by portable and wireless devices it has recently exceeded desktop computer-based access. The shift to mobile web access has been accelerating with the rise of larger form factor multitouch smartphones and more recently with the emergence of multitouch tablet computers. Both platforms are more conducive to Internet access and better browser- or application-based user web experiences than have been afforded by previous generations of mobile devices.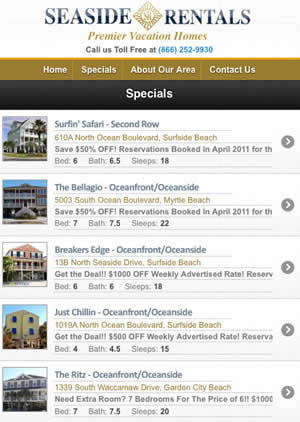 The Mobile Web primarily utilizes lightweight pages written in XHTML and WML to deliver content to mobile devices. Many new mobile browsers are moving beyond these limitations by supporting a wider range of web formats, including variants of HTML commonly found on the desktop web.
ICND expects to be building many more of these web mobile sites in the future to keep up with technology.