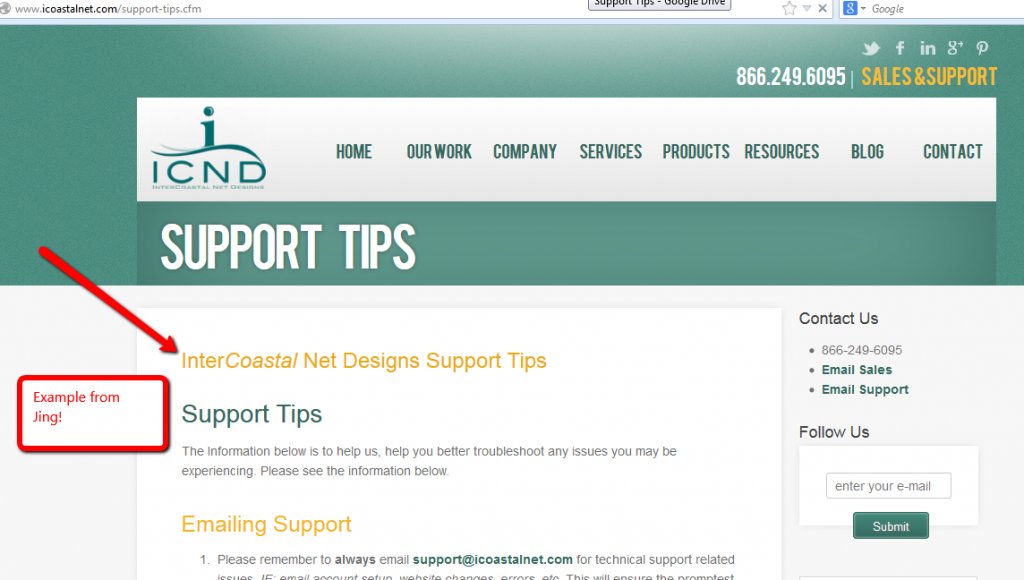 There are a number of quick and easy ways to capture what is on your screen.  By providing ICND with a visual of the exact problem, screenshots are a very effective tool that can help us better troubleshoot any support issue.  In some cases we are unable to duplicate issues our clients may be having, which makes screenshots a very valuable tool!
1) Using the PrtScn button:
The first, and easiest way to just capture your screen is to push the "Print Screen" button on your keyboard, which is often abbreviated as some of the following: Print Scrn, Prnt Scrn, Prt Scn, Prt Scr or Prt Sc. This should copy what is on your screen and place it in your computers' clipboard. You will not be prompted with any sort of notification that the screenshot has been placed on the clipboard, however, from here, simply push "Ctrl V" (or right click and "Paste") to add this to an email or in a word document.
2) Jing:
This is a very popular free download that allows you to annotate (draw, use arrows, add text) and provides a link to view the screenshot online. This way, you can simply share the link with someone and they can view it online. Here is an example of a screenshot from Jing:
Advantages:
– Free easy download – Click Here
– Can share link or download image
– Annotation options
3) Puush:
An extremely simple tool that takes a picture of your screen and automatically creates an online link. Just share the link with others by pasting it in an email or pressing (Ctrl + V).
Unfortunately no annotation options and this one expires after 30 days but it is a very nice option that automatically adds the link to your clipboard and is VERY quick!
Advantages:
– Free easy download – Click Here
– Can share link or download image
– Super quick!
4) Browser Plugins:
– – Awesome Screenshot
– – Screen Capture (By Google)
There are a lot of easy ways to take screenshots on the computer these days and they certainly help when describing to others what you see on your screen. It helps us to determine what error may be occurring, positioning of items on a screen or even showing us how you would like something changed. We strive to provide the highest quality of service and support possible so if you have something you'd like to learn more about, please don't hesitate to let us know in the comments below.