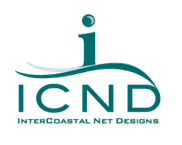 CONTACT FOR IMMEDIATE RELEASE
Brandon Sauls June 5 2013
Phone: (910) 575-6095
Cell: (910) 443-1786
Email: brandon@icnd.net
Local Web Development Company Experiences Rapid Growth
InterCoastal Net Designs of Ocean Isle Beach adds new employees, seeks professionals
Ocean Isle Beach, N.C. — InterCoastal Net Designs (ICND), a prominent website design and online marketing company, is expanding to accommodate for new business and company growth. Since the start of 2013, five employees have joined the ICND team.
In order to better handle business generated from both new and existing clients, ICND has hired for the following positions: Project Facilitator, Lead Support Programmer, Web Engineer, Junior Front End Developer and Internet Marketing Assistant.
"Since the formation of InterCoastal Net Designs in 1999," President Brandon Sauls said, "I've enjoyed watching the team grow as the business does. We've got an energetic and motivated group all working to achieve successful end products and results for our clientele."
ICND is currently seeking to hire a new Project Facilitator, SEO Manager, as well as another Front End Web Developer. The company encourages applicants to send their resumes to resumes@icoastalnet.com.
ICND specializes in the vacation rental and real estate industry; however, the Ocean Isle based company serves a national client base involving various fields of work and specialties. The Internet Marketing department has seen a particularly large amount of growth with more businesses interested in Search Engine Optimization, Social Media and Email Marketing.
"We couldn't be more excited about the opportunity to add three more employees," said Sauls. "I look forward to the process of searching for the best talent our region has to offer in web development and online marketing."
InterCoastal Net Designs offers a wide array of website services, including Web Design, ColdFusion Web Hosting, Search Engine Optimization, Database creation and maintenance, Internet Marketing, and targeted email marketing. At ICND we specialize in ingenuity, innovation and imagination.
-end-