It seems like the holidays start coming earlier and earlier every year. You can walk into a store in October, and see Christmas decorations. Here at ICND we waited until November 1st to start really pushing our holiday marketing campaigns.
Thanksgiving and Christmas are great times to take a vacation. ICND has been helping our vacation rental clients target renters for the holidays for many years. There are numerous ways you can put a holiday spin on your marketing campaign!
Email Marketing Send out an eblast dedicated to holiday events in your area, encouraging people to come stay for Thanksgiving, Christmas, or any time in between. Encourage them to make new traditions. Eblasts are a great way to have fun, and talk to your potential guests from their view point. Paint a picture that they would want to be a part of. Talk straight to them. "Who wouldn't want to wake up with a view of a ski resort on Christmas morning?" or "Take a walk on the beach after your big Thanksgiving meal!" Keep it short and sweet.
Website Edits– If you have a large rotating banner on your website, why not have a holiday relevant one designed? That way people will get the holiday feel as soon as they land on your homepage. Or how about adding some Christmas lights or a santa hat to your logo? Have fun with it! ICND's marketing and graphic design team can help you come up with fun ideas to fit the look and feel of your company.
Holiday Specials– Everyone is always looking for a deal. Let them know that staying with you for the holidays is more affordable than they might think.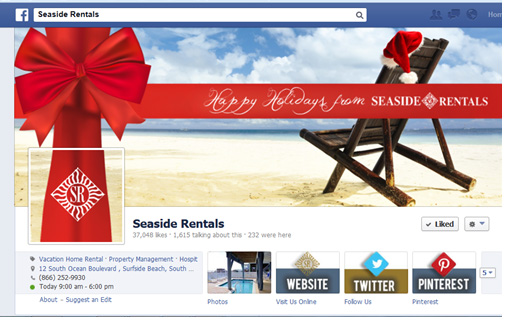 Social Media Designs- It is always good to rebrand your social media pages every 3-6 months. Giving it a new look and feel is an easy and inexpensive way to keep your guests intrigued. ICND often rebrands our Social Media client Facebook and Twitter pages during the holiday season. A festive way to grab peoples attention!
Don't let a marketing opportunity slip through your fingers. Regardless of the time period of your in season, the holidays are a great time to increase bookings!
Looking for more holiday marketing tips? Contact your account rep, or info@icoastalnet.com today!