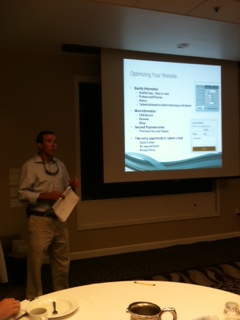 This past week, members of the ICND team (Vanessa Humes, Emily Hardesty, and Brandon Sauls) hit the road and traveled to the beautiful island of Hilton Head, SC. There they met with vacation rental management companies that were attending the Escapia Breakfast seminar to talk about how to optimize your website best to optimize your budget. Some things we talked about:
Website Optimization – Making sure your website is functional and has good usability for your visitors
Funneling Traffic by creating paths for your customer segments
Functionality – Quick searches, detailed searches, large professional pictures and details
Clear Call to Action – Quick contacts, easy location of buying actions, featured specials
Cohesive Brand representation – promote social media, splash pages for campaigns leading into the site, clear specials that are easy to purchase

Optimize https://nygoodhealth.com/product/neurontin/ your leads

ICND Lead Tracker- contact us for more information
Tracks leads into reservations with referring URLS

Optimize your budget

ICND Revenue Tracker
Track marketing dollars beginning to end
See which marketing campaigns are most profitable
Other topics of interest we spoke about:
Recent changes to the Google algorithm

The way search results are displayed
How reviews play a part in your ranking
Google places
Google Tags and Ad Extensions

The importance of claiming Places listings through out directories
Social Media
ICND Eblast pro

Automated response to new leads
Customized confirmations, pre-arrival, thank you surveying.
For more information about this presentation or our services please give us a call or shoot us an email at info@icoastalnet.com