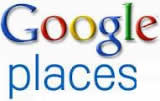 It appears it's no longer enough for local businesses to be ranked well in Google search engine results but now it's of even more importance to be listed in the results of Google Places. With 97% of consumers searching on line for local businesses it's important that your business be there.
It's easy enough to get listed in Google Places. Using an existing Google account for your business, go to Google Places and set up your Google Map listing…for free! If you're not sure if you already have one, just type in your business phone number and your question will be answered. Once you are registered, you get to work towards better ratings on the Places page and we'll tell you what that involves.
Google ranks its results on the Places page based on relevancy. The most relevant are those listings that have the most activity associated with them via citations, reviews and user content. For those who don't know, citations are any mention of your business name, address, and phone number anywhere on the Internet that Google travels. When Google crawls content across the web and finds a citation for your business they give you a point. Those with the most points go to the top of the list. It's as simple as that.
All citations are not created equal though so it's important to get citations from sites that Google values highly for your type of business. Don't know what those are? Let InterCoastal Net Designs bring you to the top of the Google Places results. The SEO professionals at ICND know how to speak the language of Google and look forward to working with you.