Facebook ROI is often one of the biggest struggles to obtain.  With over 900 million people on this social network, we know the need for us to have a presence but measuring it's success is also extremely important.  I'm going to go through a recent success story of one of Intercoastal Net Design's Social Media efforts.
Google Analytics is a great tool for measuring traffic to your site so most marketers look to see how much traffic Facebook is generating to their site.  That's a good first step, but by adding an ecommerce conversion tracking code to your website, you can measure the effectiveness of your Facebook efforts in a real measurable factor; REVENUE!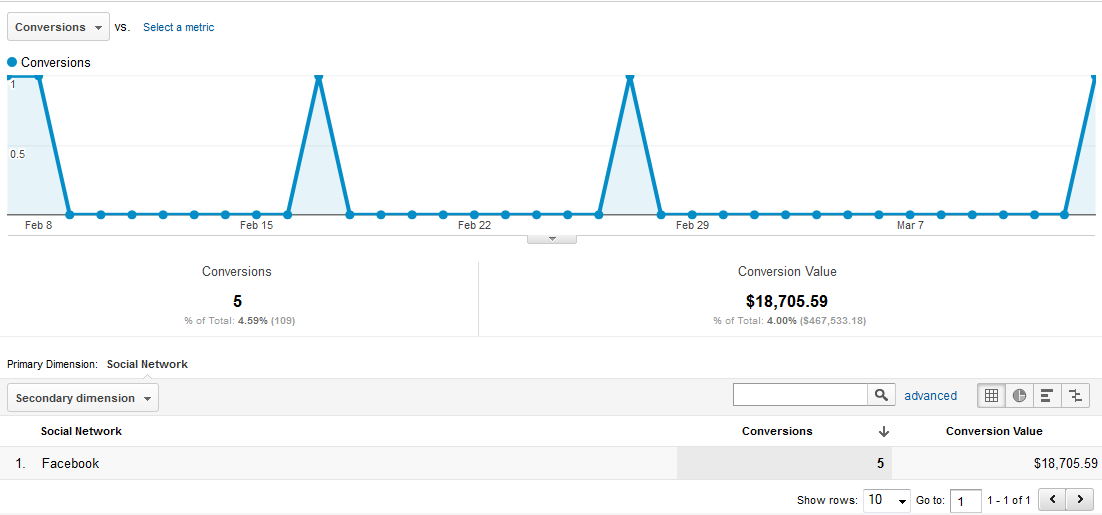 The chart above represents the ecommerce conversion tracking within Google Analytics for a 5 week period between February 7th and March 13th 2012.  The Facebook page for this client generated $18,705 in sales during this 5 week period. Given their profit margin and the costs involved with managing their Facebook page, their ROI for this period was 674%!
Other ways that you can measure the success of your Facebook page and the posts you are leaving is by the interaction you receive and the number of fans you are growing.  Of course, you are looking for good quality targeted fans, not just any person who is willing to click a button on your page.  A strong social media strategy will effectively post visual content at key times of the day and target users in your target market.  In the end, all of this top of mind advertising leads to one thing, conversion which is the result we're showing our clients.
If you're interested in similar results from your social media presence, call the ICND Team today to set up your free business social media audit:  910-575-6095