By Vanessa Humes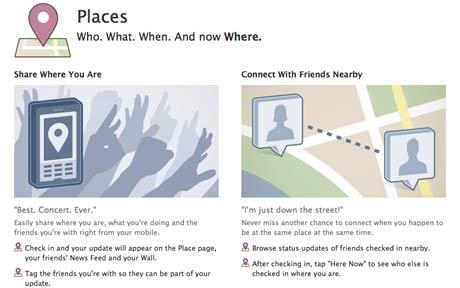 This week Facebook unleashed it's new Facebook Places, a geo-location based feature that allows users to share where they are, check in on people around them, and find out about events and services offered in their area.
Partnering with other location-based networks such as Gowalla, Four Square, Yelp, and Booyah, Facebook has brought on a whole new dimension to Social Media that hasn't had as much hype before. But will it stick?
Even though with partnerships and opening up its API data for developers to create other applications with this Places features, Facebook must overcome privacy concerns that people will like and adapt to this new feature. Users will automatically be "checked-in" to places and this news will post in your friends news feeds. The common concern users face is the question of, if this person was truly my friend, wouldn't they already know where I like to hang out? Facebook stalking has just been taken to a new level.
My first perception of Facebook Places is this is nothing new… Four Square has been doing this for a long time and there are even geo-location social media sites that date back to 2006. But for the majority of internet and social media users, Facebook still hold the share of users time so intergrating with Facebook is a logical solution to push this new media.
What's this mean for businesses and marketing? There is an opportunity to advertise your brick and mortar business to Facebook Places and the partnership subscribers when they are looking for things to do in their location. In addition, businesses will be promoted by the ability for user to share where they are and what they are doing. The integration with Yelp will eventually help ratings pull in for these places and businesses.
How do you plan on taking advantage of the opportunity that presents itself with Facebook Places?