The highly anticipated event from Facebook and the long overdue announcement has arrived – Facebook is launching a search engine! In this blog, we're going to uncover exactly what it is and how your business can find it useful.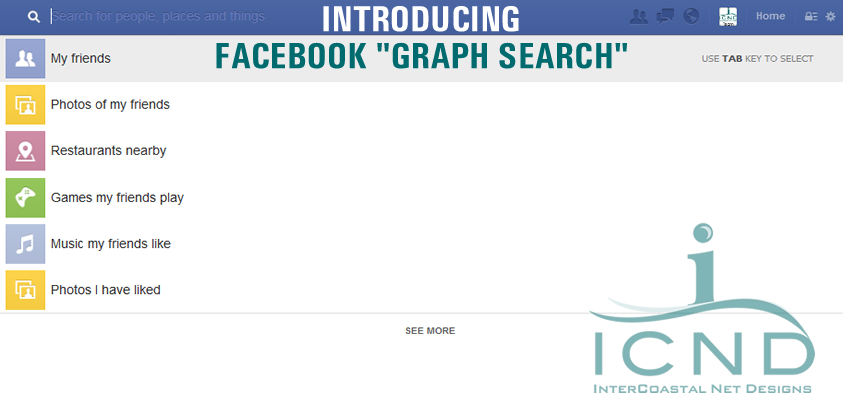 So what exactly is "Graph Search"?
Think about it as more of a structured search that relates to us as individuals than just a keyword that you would typically search on Google. Graph search is built in a way that it will encourage us to get recommendations from friends and friends of friends, and to find people within Facebook who share your interests. This connection is a strong endorsement style, personalized result, unlike anything else you can find on the web right now.
If you've worked in-depth with Facebook ads, you already see the incredibly valuable data that this social network holds. The precise interest targeting you're able to leverage is absolutely incredible and and it's important to note the value in this data when it comes to the new Graph Search. Marketers that know their clients best will be rewarded!
What information is used in "Graph Search"?
The type of information that you will be able to use to enhance your search on Facebook includes: Interests, Photos, Checkins and Likes. Think of the power this holds when you consider the value of a referral!
What do businesses need to keep in mind?
Engagement is STILL key – Your page's social graph will determine visibility in search. So businesses that can successfully engage with fans to create more likes, comments and shares will benefit the most and come up in the most search results. Optimize your edgerank and news feed optimization to increase engagement and the number of "people talking about" your page.
What else is new?
Integrated Bing search results. Bing already owns approximately 16% of the search marketshare – this further integration of Bing with the social giant could be a big opportunity for growth. There are 4 sponsored results that come at the top and 2 sponsored results at the bottom (Bing search is used when the placing a "web search" within the new Facebook Graph Search. The organic listings seem to take social signals into account such as people who have liked and shared the page. Pages with more likes, engagement and "people talking about" the page seem to have higher ranking in this Bing web search – reasonably so!
What does Facebook Graph Search NOT do?
Graph Search does not search for status updates or posts at this time, although it is on the future plans according to Facebook. It will only pull personalized results for your friends and "friends of friends" as well as broad search results for everyone – you cannot opt out at this time although you can significantly increase privacy.
Summary:
Likes are valuable – Run contests, engage fans, encourage sharing of your page and continue to integrate social with your other marketing efforts.
Content is King on Search – Build up more content on your page and optimize it for search. Graph Search is still very new so begin testing and learn what "works".
Engagement is key – It always has been with Social Media and always will be. Your post frequency, timing and optimization will increase this significantly so stay focused on engagement and the number of "people talking about" your page.
If you would like to work with the ICND team to leverage the new Facebook Graph search, manage your social media presence or utilize some of the extremely powerful advertising options available, contact your account rep or get in touch with the ICND Social Media team today!