Sloan Realty is a Myrtle Beach Vacation Rental Company that has been in business for over 30 years and wanted to update their site to make it more user-friendly plus give it a more modern look and feel.
InterCoastal Net Designs improved their web site through design changes, giving them a brand new look and feel. Sloan Realty is one of our existing SEO clients that has successfully improved their placement in search engine results which drives traffic to their site directly as a result of the optimization we periodically perform.
Additionally, we integrated PropertyPlus management solution software into their site. PropertyPlus is a complete rental and property management system for property managers with anywhere from 5 to 5,000 properties. It's the most powerful solution for the vacation rental industry and it's approved by the North Carolina Real Estate Commission. The Endless Summer Vacation Rentals that Sloan Realty offers are a large part of their company and the new booking engine integration will help guests easily find the perfect vacation home to suit their needs.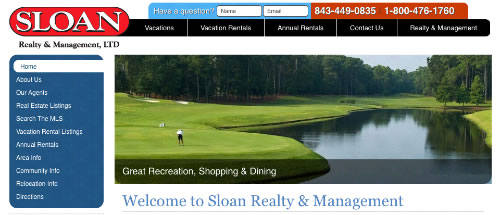 Sloan Realty & Management, Ltd. has been a guiding force in the Myrtle Beach real estate and Myrtle Beach vacation rental markets for over 30 years. Their vast knowledge of the Grand Strand, including Myrtle Beach, North Myrtle Beach, Murrells Inlet, Pawley's Island, and many other communities has provided their customers with the best and most knowledgeable service that the area has to offer. Sloan Realty can handle your needs for Myrtle Beach Vacations, Property Management and a wide range of Real Estate Services.