ICND is not only a website development and design firm, we also specialize in different avenues of online marketing. The below case study discusses one of ICND's clients who increased their marketing efforts 6 months ago. It often takes more than 6 months to see drastic results, but this client chose to work with ICND on SEO, PPC, Social Media Marketing and Email Marketing. All of our efforts worked together to show fantastic results!  This is a vacation rental client, who we have set up on Ecommerce Tracking with Google Analytics. With Ecommerce tracking you can see down to the penny what properties were booked and produced revenue, and what outlet the leads came in from.
| # | Source | Revenue | % of Revenue |
| --- | --- | --- | --- |
| 1 | google/organic | $231,439.78 | 40.21% |
| 2 | direct | $154,584.87 | 26.86% |
| 3 | bing/organic | $60,343.33 | 10.48% |
| 4 | google/cpc | $57,470.53 | 9.98% |
| 5 | yahoo/organic | $40,071.67 | 6.96% |
| 6 | facebook.com/referral | $4,930.91 | 0.86% |
| 7 | blu172.mail.live.com / referral | $4,624.80 | 0.80% |
| 8 | aol/organic | $4,486.81 | 0.78% |
If you add together Google, Bing, Yahoo and Aol, you will see $336,341.59 in revenue from ICND Organic SEO Efforts.
They have converted $57,470.53 from their Pay Per Click Campaign
They've converted $4,930.91 from their Facebook campaign 
They've converted $4,624.80 from their email marketing campagin
This is of course not counting phone calls, which is often attributed to marketing efforts as well. And many of those direct leads (source #2) could have been coming from Facebook or other marketing sources. Marketing isn't about just about converting online, it's about putting your name in the back of people's minds so when they're  ready to book, they find YOU!
Unfortunately, this client did not have ecommerce tracking on their site prior to 6 months ago, so we cannot compare this year's online revenue to last years. However, we can tell that their traffic is up 22.33% from this same time last year (comparing 1/1/13-3/3/13 to 1/1/14-3/3/14). They've had over 6,000 more visitors on their site this year than last!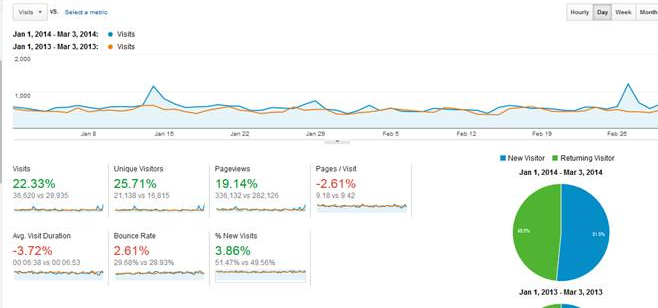 If you're a current ICND client, talk to your account rep and make sure you are set up on Ecommerce Tracking or Goal Tracking. If you're not an ICND client, contact us today for a free marketing analysis. This isn't only for vacation rentals or retail sites. A "goal" can be as simple as someone filling out a contact form. If you don't sell anything online, we still want to be able to track your leads and ecommerce and goal tracking are the perfect way to track this. Goal and Ecommerce tracking are a large part of ICND SEO efforts. It is important to not only see that you are getting traffic to your site, but also to see that the traffic is quality traffic that will convert to revenue.  Numbers don't lie. With the right amount of time and revenue invested into your marketing plan, we can help you grow too!