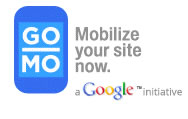 Just because you can see your web site on a mobile phone doesn't mean it's mobile-friendly and a joy to use. In fact, it's quite the opposite! If your website is not mobile-ready you are missing out as your customers will choose the easier site to use over yours time and time again. Your customers are already online using their mobile devices and by the year 2013, more people will use their mobile phones to get online than they will their home and laptop computers.
Google recently published the site — How To Go Mo — to explain their recommendations and "best practices" toward building your mobile site.
InterCoastal Net Designs builds mobile sites following these 10 mobile site best practices. Our sites are accessible across all mobile devices and all handset orientations. Sites are designed for better visibility on a small screen and for larger hands to access small buttons without the aid of a mouse. Navigation is simplified and seamless on these sites, making the mobile version of your site fast and user-friendly to those with mobile devices. Images are compressed to keep them small and help with loading time. Everything is streamlined. Studies have shown users on-the-go prefer to access mobile sites for businesses in their local area.
The wave of the future has arrived and users of mobile devices compare prices of products and services on their cell phones while on the go. The preferred sites they reach time and time again are the mobile versions of desktop sites. Mobile sites are specifically designed for a smaller screen, with the needs of mobile users in mind. A mobile-friendly site can help your business connect with customers and drive conversions.
We can configure your existing site to automatically tell if visitors are using a mobile device and then redirect them to the mobile-friendly version of your site. Your customers will get the best version of your site for their needs and can easily return to the desktop site if that is their preference.

People are also using their mobile devices to help locate businesses in the area. Many businesses are adding GPS coordinates to their mobile sites along with maps and directions to conveniently lead viewers directly to their door.

ICND is busy making mobile sites for our customers among those being seasidevip.mobi, cbsloane.mobi and oceanisleinn.mobi. Give us a call today and we'll tell you what's involved in converting your site to add a mobile-friendly version.